Moong Sprouts, Apple, Mint Chutney Chaat Recipe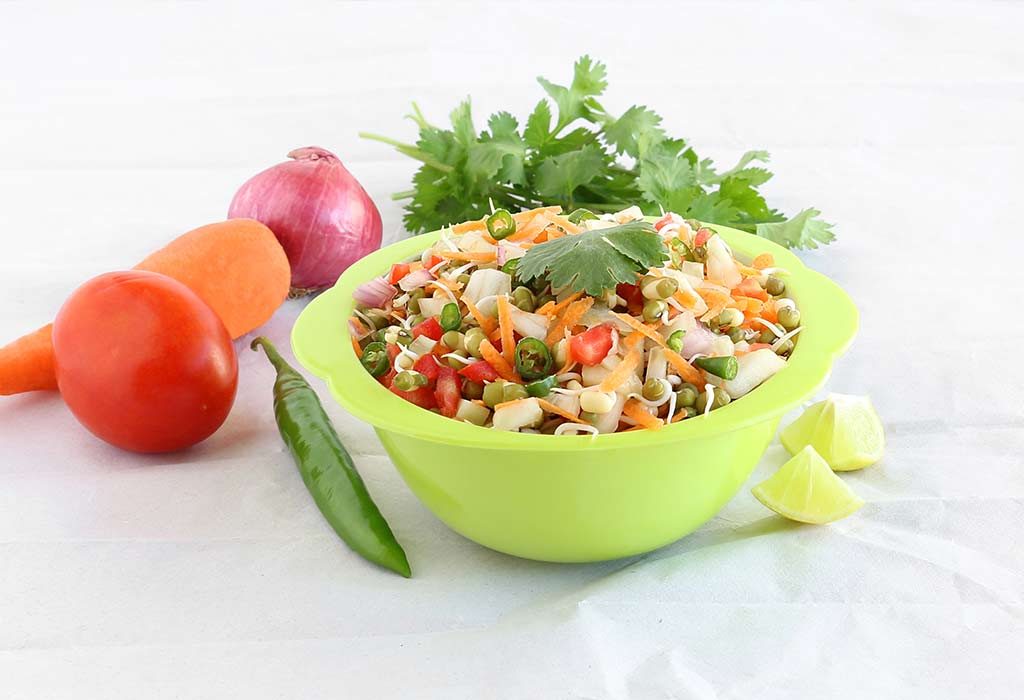 In this Article
Chaat is a savoury food item that is simply mouth-watering. Indians love to eat chaat. Potato tikkis with chickpeas, curd, and chutney on top are hard to resist. But the truth is that chaat is not exactly healthy. If you want to continue eating chaat and not compromise with your health, you can always make a healthier version of the same.
So here we are, sharing with you a very healthy version of chaat. We bring you a healthy savoury chaat recipe which is tasty as well as nutritious. The ingredients used in this recipe include moong sprouts, tomatoes, onion, apple, and mint chutney – all the ingredients are better than the other. Your little one too will enjoy it without throwing any tantrums!
Cooking Time
| | |
| --- | --- |
| Type | Time (hh:mm:ss) |
| Preparation Time | 00:25:00 |
| Cook Time | 00:10:00 |
| Total Time | 00:35:00 |
Cooking Method: Gas stove and mixing in a bowl
Type of Meal: Vegetarian
Suitable for: Toddlers older than 15 Months
Meal Schedule: Breakfast, Mid Morning Snack, Lunch, Evening Snack, or Dinner
Recipe Type: Side dish
Ingredients
| | |
| --- | --- |
| Ingredients | Quantity |
| Green moong sprouts | 2 cups |
| Ginger (finely chopped) | ½ inch |
| Cumin seeds | ¼ tsp |
| Mustard seeds | ¼ tsp |
| Turmeric powder | ¼ tsp |
| Refined oil | 1 tsp |
| Mint leaves | 1 cup |
| Lemon juice | 1 tbsp |
| Salt | as per taste |
| Coriander leaves (finely chopped) | 2 tbsp |
| Onion (finely chopped) | ¼ cup |
| Tomato (finely chopped) | ½ cup |
| Apple (peeled and chopped) | ½ cup |
| Chaat masala | as per taste |
Instructions
Here is a step-by-step guide on how to make moong apple mint chutney chaat:
Moong Sprouting
The most basic requirement of this chaat is to prepare moong sprout. Follow the steps below:
Wash whole green gram 3 to 4 times with water.
Soak the dal in a bowl of water overnight and cover it.
Next morning drain the water completely. Cover the bowl again and leave it for a day in a dark area.
If you want thick sprouts, leave it covered for two days.
The sprouts should be ready for the chaat.
Mint Chutney
The next key ingredient required to make a delicious chaat is mint chutney. Here's how you can make mint chutney at home.
In a grinder, take 1 cup of mint leaves. Add 1 tbsp of lemon juice, half an inch of ginger, and salt as per taste.
Add ¼ cup water or as required to make a smooth paste.
Blend and keep aside.
How to Make Chaat
All the necessary ingredients are ready, so find out how you can make the chaat!
Take 1 tbsp of oil in a pre-heated pan. Add in the cumin seeds and mustard seeds and let them splutter.
Once they splutter, add some ginger and turmeric powder and stir for a minute.
Next, add in the sprouted moong, salt, and 2-3 tbsp of water. Cover the pan. This ensures the sprouted part gets cooked partially.
After 2-3 minutes take off the lid. Transfer the mixture to a bowl.
Let the dal cool a little bit.
To prepare the chaat, add in the chopped onions, tomatoes, and apple into the bowl. Drizzle 2 tbsp of prepared mint chutney. Garnish with chopped coriander leaves and squeeze some lemon juice.
Sprinkle a little chaat masala and salt, and mix well.
Serve immediately!
Recipe Tips
Following points need to be taken care of while preparing simple moong sprouts, apple, mint chutney chaat recipe.
Dal and vegetables should be washed properly before use.
The chaat should be consumed immediately post preparation or else the vegetables will leave the water, and this may hamper the taste.
Apples might be coated with wax to make them look appealing. Please peel the apple and use them in the recipe.
Nutrition Information (Per 100 Grams)
| | |
| --- | --- |
| Type | Value |
| Energy | 357 kCal |
| Protein | 22.5 grams |
| Dietary fibre | 19 grams |
| Carbohydrates | 71 grams |
| Fat | 1.1 grams |
| Vitamin B6 | 0.38 mg |
| Vitamin C | 11 mg |
| Calcium | 25.3 mg |
| Potassium | 260 mg |
Health Benefits
Following are the benefits your child gets when he/she eats this healthy recipe:
From the nutrition chart, the high amount of carbohydrates keeps the child energetic for long.
As chaat has a high quantity of water content, which improves bowel movement and also keeps the child hydrated.
A high quantity of potassium regulates fluid balance and keeps the kidney healthy.
Buying Guide
While buying the ingredients for the chaat, look for organic ingredients. Fruits and veggies purchased from organic stores ensure safer methods of farming, so always choose organic.
The chaat recipe given above is very healthy. Make it at home and let your toddler enjoy it with his entire family. A bowl of this healthy chaat once or twice a week will be very good for your little one's immune system. This chaat is a bowl of nutrition – so let your kiddo enjoy it!