Millet Porridge With Curd Recipe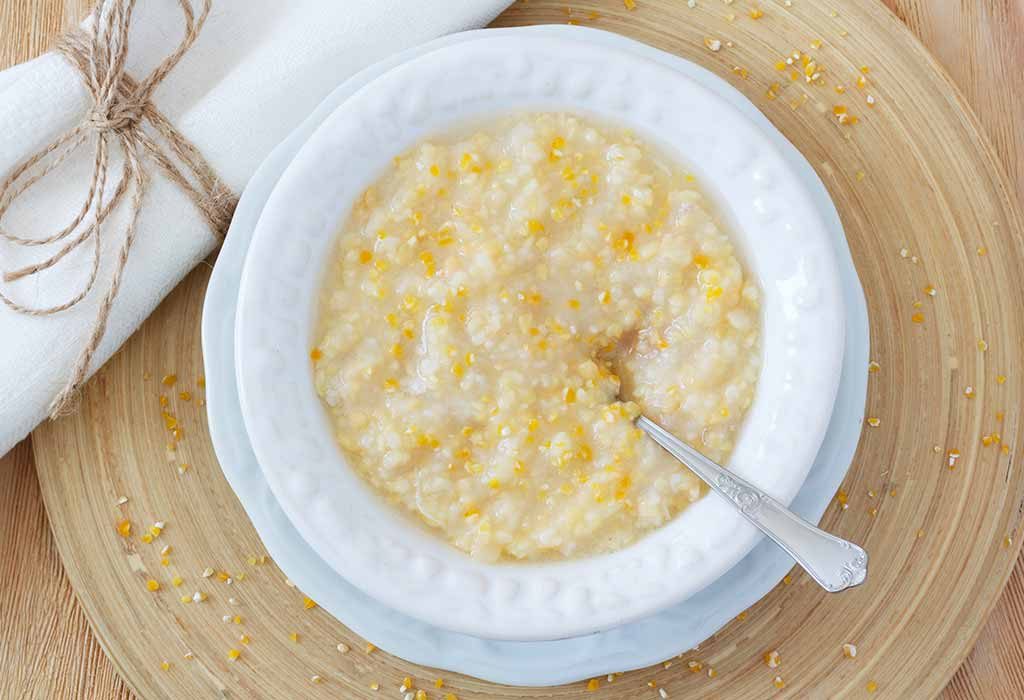 Loaded with calcium, iron, and fibre, millets are a good meal option for your baby. A great weaning food option for your munchkin, the flavour, and the texture of millets is ideal as one of the first food options for your baby. In this post, we shall acquaint you with an easy millet porridge recipe that you can serve with curd. Read on to learn this yummy recipe!
Video : Millet Porridge With Curd Recipe for Baby and Toddlers
Cooking Time
| | |
| --- | --- |
| Type | Time |
| Preparation Time | 00:10:00 |
| Cooking Time | 00:10:00 |
| Total Time | 00:20:00 |
Cooking Method
Gas
Type of Meal
Vegetarian
Suitable For
Babies over 7 months of age.
Meal Schedule
Breakfast, Lunch, or Dinner
Recipe Type
Main Dishes
Ingredients
Here is the list of ingredients that you to make this easy millet porridge with curd recipe:
| | |
| --- | --- |
| Type | Quantity/volume |
| Millet | 3 tablespoons |
| Clarified Butter | 1 teaspoon |
| Cumin seeds | ½ teaspoon |
| Asafoetida | A pinch |
| Salt | To taste |
| Water | 1 cup |
Instructions
Follow these step-by-step instructions to make this yummy porridge recipe for your little one:
Take millet pearls and grind them into fine powder in a blender jar. Keep aside.
Heat clarified butter in a pan, add cumin seeds and asafoetida. Cook for a few seconds until the tempering becomes fragrant and aromatic.
Add millet powder in the pan. Roast on medium flame until it turns slightly brown.
Add water while stirring the mixture continuously to avoid forming lumps.
Add salt and cook on medium flame until you get the desired consistency or for 3 to 4 minutes.
Remove from heat. Let the porridge become cool down a bit before you serve it to your baby.
Once it cools down, serve it to your baby with fresh homemade curd.
Recipe Tips
Here are some recipe tips for making homemade millet porridge with curd baby food recipe:
You can roast millet pearls for a few minutes before grinding. This would render a fine aroma and flavour to the porridge.
You can add boiled and chopped vegetables such as carrots, peas, beans, etc. to lend more nutritive value and texture to the porridge.
If your baby likes sweet porridge, you can replace water with milk and salt with jaggery, palm sugar, date sugar, or honey. Skip the cumin and asafoetida and replace it with cardamom powder.
You can store the leftover porridge for a day or two in the fridge. Make sure you heat it well before serving it to your little one.
Nutrition Information (Serving Per 100 Grams)
After mastering the recipe of how to make millet porridge with curd, read this section to know what all nutrition it contains!
| | |
| --- | --- |
| Type | Value |
| Energy | 160 calories |
| Carbohydrates | 22 g |
| Protein | 2.8 g |
| Fibre | 3.5 g |
| Sodium | 2.8 g |
| Fat | 6.1 g |
The above stated nutritional values are present in approximately 100 grams of millet porridge. The actual nutritional content can vary!
Health Benefits
Here are some of the many health benefits of millet porridge with curd for toddlers:
Millet is loaded with fibre, which aids in keeping the digestive system in place in babies and toddlers.
A form of complex carbohydrates, consuming millets helps in producing serotonin in the body. The release of this hormone helps in calming babies and putting them in a good mood.
High amounts of calcium in millets aids in proper bone and teeth development in babies and young kids.
An excellent source of iron, feeding millet on a regular basis helps in improving any iron deficiencies in babies.
The presence of phosphorus in millets helps in aiding the utilization of fats, protein, and carbohydrates, and thus, helps in performing various functions in the body.
Millet does not contain any traces of gluten; thus, it is a healthy meal option for babies who are allergic to gluten.
Buying Guide
Keep the following points in mind when buying ingredients for making millet porridge for babies:
Buy organic millets, that are readily available in most grocery stores.
Make sure you check the date of packing on the pack to ensure you are buying a fresh product for your baby.
Use homemade curd as far as possible when it comes to giving curd to babies. If you need to buy curd from the market, make sure to check the date of packing or best before date on the pack.
Make this super simple and nutritious recipe for your munchkin and introduce your baby to the world of healthy eating!