Veg Soup Recipe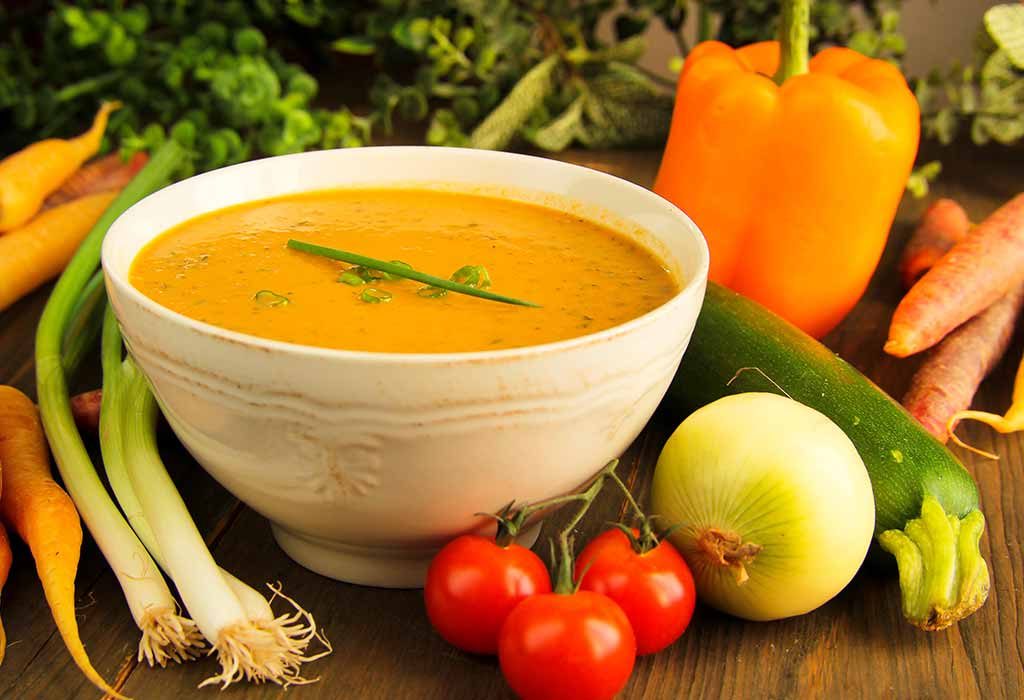 In this Article
This delicious veg soup for toddlers is a great way of introducing varied textures, tastes and colours. A great way of introducing vegetables to your baby this recipe combines the richness of vegetables and also keep your baby hydrated for longer. The unique combination of cauliflower, bottle gourd, tomatoes and carrots combine to give this soup a sweet and tangy taste that your toddler will enjoy.
Cooking Time
| | |
| --- | --- |
| Type | Time (hh:mm:ss) |
| Preparation Time | 00:10:00 |
| Cook Time | 00:15:00 |
| Total Time | 00:25:00 |
Cooking Method:
Stove, Pressure Cooker, Blender or Mixer Jar
Type of Meal:
Vegetarian
Suitable For:
Toddler older than 21 months of age
Meal Schedule:
Lunch or Dinner
Recipe Type:
Main Dish
Ingredients
For pressure cooking:
| | |
| --- | --- |
| Type | Quantity |
| Cauliflower florets | ¼ cup |
| Bottle Gourd peeled and chopped | ¼ cup |
| Carrots peeled and chopped | ¼ cup |
| Tomatoes- deseeded and chopped | ¼ cup |
Instructions
Learn to make this homemade veg soup baby food recipe by following this easy step-by-step guide:
Rinse the cauliflower, bottle gourd, carrots and tomatoes.
Deseed the tomatoes and chop them finely.
Peel the carrots and chop them into small cubes.
Peel the bottle gourd and chop them into small pieces.
Remove the leaves from the cauliflower and separate them into florets. Chop these florets into tiny pieces.
Empty these vegetables in a pressure cooker. Add a cup of water and mix well. Pressure cook for about 2-3 whistles.
Let the steam escape before opening the lid.
Let the cooked vegetable cool and blend them.
Transfer this blended mixture into a pan and cook on a medium flame for about 1-2 minutes.
Remove from the gas and serve the soup in lukewarm temperature.
Recipe Tips
Now that you have learnt how to make veg soup, follow these additional tips to perfect this recipe :
Wash the cauliflower florets very well under running water. Soak it in a bowl of water with some salt. This process will help to get rid of any worms in the cauliflower.
Peel the bottle gourd completely and make sure that there are no green parts in the bottle gourd while cooking.
Peel the carrots thoroughly so that no fibrous parts for your baby to chew.
You can use any cheese that you prefer- mozzarella, cheddar or plain cow's cheese.
Nutrition Information (Per 100 Grams)
| | |
| --- | --- |
| Type | Value |
| Calories | 41 kCal |
| Carbohydrates | 7.6 gms |
| Protein | 1.7 gm |
| Fibre | 4.3 gms |
| Fat | 0.3 gms |
| Cholesterol | 0 |
| Sodium | 39.2 mg |
Health Benefits
This easy veg soup recipe for babies has its share of health benefits. Read on to find out more:
Cauliflower is high in nutrients, fibre, antioxidants and Vitamin C. The Vitamin C helps to build immunity and fight symptoms of common cold and flu. Vitamin B6 helps in the development of the brain.
Bottle gourd is again rich in Vitamin C and maintains the water content in the body. It also helps to boost the immune system and the fibre aids in digestion.
Carrots are rich in immunity-boosting vitamins and antioxidants. Vitamin A in carrots helps to develop the eyesight and help improve night vision. Carrots are also beneficial for the teeth and gums.
Tomatoes are rich in Vitamin C. They are rich in lycopene that are powerful antioxidants for the body to keep free radicals at bay. Tomatoes are also packed with Vitamin A, calcium and potassium.
Buying Guide
Follow these bits of advice when sourcing ingredients for veg soup:
When buying cauliflowers make sure they are light and cream coloured. The florets must be tightly packed and compact arranged. There should be no dark spots and the leaves must be firm and straight.
Bottle gourds must be pale green in colour and must have smooth skin. The bottle gourd must be free from cuts, spots and blemishes. The vegetable must be firm and the flesh should not be soft when pressed.
Carrots must be firm, ripe, smooth, straight and bright in colour. Carrots that are excessively bruised or cracked must be avoided.
Tomatoes must be bright, round, full with smooth skin. Avoid tomatoes with wrinkled skin, bruises, soft spots or cracks.
Veg soup is a multi-vitamin delicacy primarily rich in folic acid, Vitamin A and Vitamin C. Since it is for babies, you need not add salt. For some variation, you can add some freshly ground black pepper powder to enhance the taste.