Paneer Curry Recipe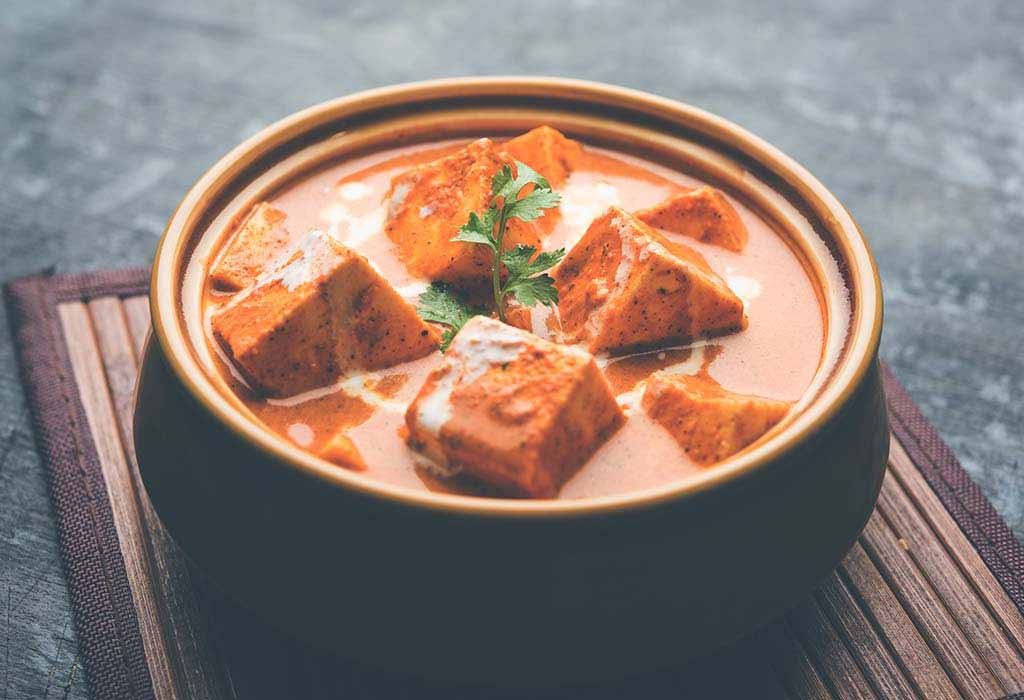 In this Article
If you are a mother looking for a protein substitute for your child, then paneer can be the best option. This dairy by-product contains essentials nutrients required for a child's physical and mental development. Paneer curry is a popular Indian delicacy that is made with soft cubes of paneer cooked in an aromatic onion tomato flavoured gravy with spices. This North Indian style recipe is ideally served with rice, chapatti or parathas. When it's time to include spices in your baby's daily diet, learn how to make paneer curry most simply and see how your baby can be weaned into developing a taste for regular meals without many tantrums.
Cooking Time
| | |
| --- | --- |
| Type | Time (hh:mm:ss) |
| Preparation Time | 00:30:00 |
| Cook Time | 00:25:00 |
| Total Time | 00:55:00 |
Cooking Method
Gas
Type of Meal
Vegetarian
Suitable For
Any toddlers above 21 months of age
Meal Schedule
Lunch or dinner
Recipe Type
Side Dish
Ingredients
| | |
| --- | --- |
| Type | Quantity |
| Oil | 3 tsp |
| Paneer | 200 grams |
| Turmeric Powder | 1/4 tsp |
| Coriander Powder | ½ tsp |
| Salt | As Per Taste |
| Tomato | 2 Large |
| Cashew | 12-15 Soaked in Water |
| Garam Masala | ½ tsp |
| Low-Fat Cream | 2 tsp |
| Coriander Leaves | 1 tsp |
| Ginger-Garlic Paste | 1 tsp |
| Onion Paste | 1 tsp |
| Kasuri Methi | 1/2 tsp |
Instructions
The step by step directions given here will surely help in preparing the yummiest paneer curry for your child and the entire family.
Soak the cashew in hot water for 30 minutes.
Chop the tomatoes. Crush the ginger and garlic cloves in a mortar pestle.
Take a chopped onion and grind it into a smooth paste in a blender. Set it aside.
Grind the tomatoes and soaked cashew in a grinder by adding little water.
Heat oil in a Kadai. Add the onion paste and sauté it on a low flame till the raw aroma goes away.
Now add the tomato, cashew paste, and little water and mix everything well till the masala becomes glossy.
Add spice powders like turmeric powder, coriander powder and garam masala to the curry.
Season with salt and simmer the curry till it thickens.
Throw in the paneer cubes and add the low-fat cream.
Sprinkle the coriander leaves and crushed Kasuri methi on top.
Cook the curry for a minute and your paneer curry is ready to be served.
Recipe Tips
This simple paneer curry recipe can be spiced up using green chillies or chilly powder for older children who are ready for bolder and spicier tastes.
Instead of cream, you may add coconut milk.
The gravy may be made thinner by adding more water.
This homemade Paneer curry baby food recipe can be made tastier by adding green peas.
The curry may be gently spiced depending on the age or digestion capacity of your child.
Most importantly, the ingredients used in making this paneer curry are easily available in your kitchen shelf.
Pre-fried paneer cubes can also be added to curries.
If the paneer turns sour after a few days of refrigeration, avoid giving it your child.
Avoid using tomatoes that are too sour as it might ruin the taste of the curry.
You can add steamed potatoes along with paneer.
Nutrition Information (Per 1 Serving)
| | |
| --- | --- |
| Type | Value |
| Carbohydrates | 21 gm |
| Calories | 421 kcal |
| Protein | 12 gm |
| Sodium | 911 mg |
| Fibre | 2 gm |
| Fat | 36 gm |
| Potassium | 248 gm |
| Calcium | 338 mg |
| Vitamin C | 14.2 mg |
| Calcium | 338 mg |
| Iron | 0.9 mg |
| Cholesterol | 50 mg |
Health Benefits
The health benefits of paneer curry for children can never be undermined. Its rich taste, bright colour will certainly appeal to kids of all ages.
Adequate calcium in paneer ensures strong bones and teeth for children. Its magnesium content is good for the immune system, improves digestion and has a laxative effect that eases bowel movements for babies. Its potassium content improves concentration and memory.
As the lactose in paneer is quite low, babies with lactose intolerance can certainly eat it without any problem.
The fatty acids of paneer keep your baby's skin soft and hair healthy.
Being high in protein, paneer acts as an instant energy booster for your child.
Buying Guide
The shopping guide given here will help consumers to get a reality check on the ingredients that they intend to buy for making the best paneer curry with maximum health benefits.
Buy organic vegetables (if possible) as they have been grown without the use of pesticides.
Make sure that the spices used are not too old or expired.
It is always better to make the paneer at home using pasteurised milk.
Cubed paneer bought from stores should be firm so that it doesn't crumble. If your paneer turns up to be rubbery, then immerse in hot water for attaining softness.
Homemade Paneer Curry for babies is sure to be a hands-down favourite dish for your family compared to any takeout curries bought from restaurants that may cause digestive issues due to excessive oil. So opt for this exclusive paneer curry recipe that will always win unlimited compliments for your culinary skills.