20 Easy and Creative Rangoli Designs for Kids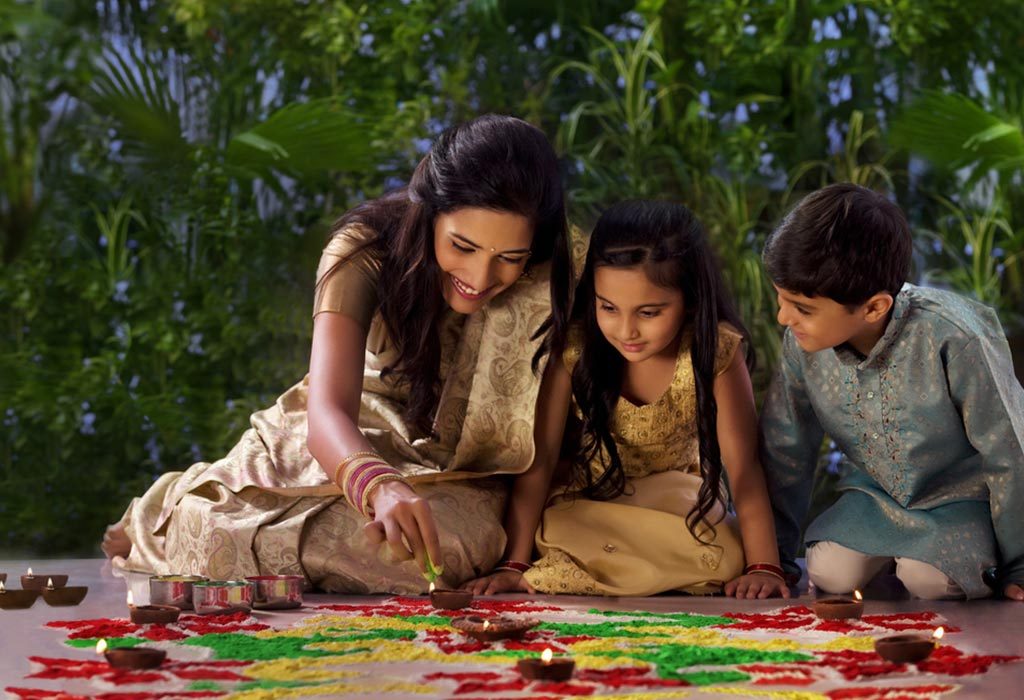 What is the best way to tap into a child's creative side? Drawing, painting, sewing, craft are all great activities for kids to develop their motor skills. Amongst drawing and painting, Rangoli making is a form of art that stimulates the imaginary side of a child's brain and results in enchanting creations.
Kids need an opportunity to indulge in creative work and get their hands on colours. Although it sounds a little tough, Rangoli making can actually be an exciting activity for kids that will be easy, fun and enjoyable too. It also teaches kids about our ubiquitous Indian culture, where Rangoli is a form of art to infuse positive energy into the house and also add festive colour to any occasion or festival. A Rangoli can transform a very ordinary place into a beautiful one. It may seem a little daunting for kids to aim perfection at Rangoli making however with a little bit of practice and patience they could achieve a steady hand and churn out magnificent designs.
Video: 5 Easy and Creative Rangoli Design Ideas for Kids
Simple and Beautiful Rangoli Designs for Children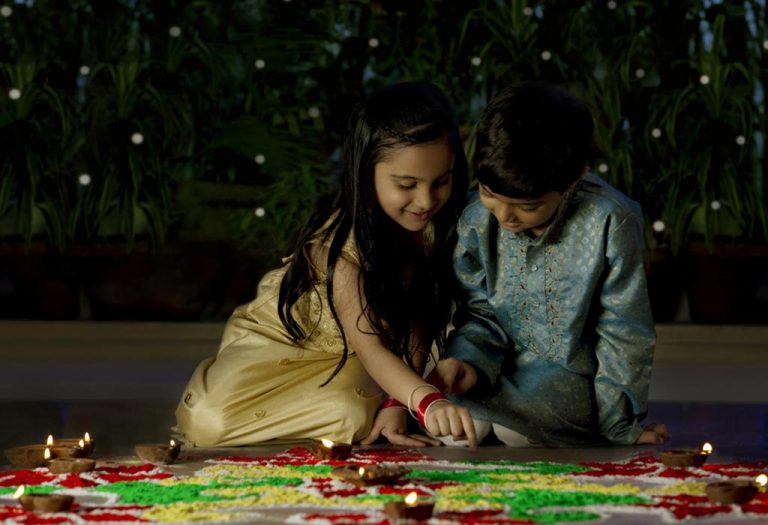 Kids master the art of doing things very quickly as their minds are swift and agile to grasp things. Rangoli for kids can help them relieve stress and unleash their artistic side in an enthralling manner.
1. Geometrical Design
Geometric patterns are great, and kids find it easy as they find it simple to draw lines and join them in a non-traditional manner. One of the easy rangoli designs for Diwali for kids, it can be easily filled with colour between the lines making it suitable for any festive occasion.
2. Dotted Rangoli
Dots make it easier for kids to join and complete a pattern without any difficulty of drawing perfect lines without help. You will get several designs and patterns for simple rangoli designs with dots for kids over the internet or books where a Rangoli will be explicitly explained from the first dot to the last, method to join them and complete the pattern. This way kids can make a beautiful pattern following the dots and join them together.
3. Ganpati Rangoli
Lord Ganesh, a favourite among kids, is great to draw as a Rangoli. The remover of obstacles can be drawn by simple spreading some colour on the floor and rotate it with their finger to shape it like a Ganesha. Kids can make a square and then draw Lord Ganesh in the middle with their finger.
4. Lotus Rangoli
The lotus spreads its enigma around the dirty pond it grows, and a lotus rangoli will surely steal the show in front of your house. The sheer brightness and radiance the rangoli will spread with the colours will leave a deep impact.
5. Marigold magic Rangoli
The mystical marigold flower with its resplendent colours of green, yellow and orange make a powerful combination for a rangoli. Get your kids to arrange the flowers in a floral pattern and keep some diyas in the centre to add to the look.
6. Rangoli patterns for kids
One of the easiest Rangoli patterns for kids the blazing sun is a design that displays a riot of colours and resonates the resplendence of the sun. Ask your children to use bright yellow and orange to make it a bright rangoli.
7. Rangoli with flowers
Very common in Kerala during the Onam festival, it is delightful for kids to make a rangoli with flower petals, buds and leaves. Get your kids to use loose flower petals, buds and leaves in a symmetrical pattern to make an attractive and fragrant rangoli.
8. Pulses and seeds rangoli
If your child is not too confident in handling colours, try giving them some pulses and seeds. Pulses and seeds come in different shades, and kids could best make it on a piece of cardboard. Kids can use glue to affix the pulses on the cardboard, and the finished piece can be placed at the desired location.
9. Playdoh Rangoli
A really innovative rangoli, playdoh could conjure up some lovely designs. Kids are wonderful at creating figurines with play-doh. The concept of making rangoli with play-doh is thrilling. The final piece gives a 3D effect, and tea candles or Diya add to the beauty. The play-doh could be reused too!
10. Easy Bangle and Colour Rangoli
Very simple and easy, get kids to place bangles in a pattern. Once done, get them to fill up the centre spaces of the bangles with colours to create a design. The distinct appearance and pattern look appealing.
11. Coloured Rice Rangolis
Extremely popular, coloured rice rangolis are great for older children. It could get a little messy, so younger kids could make it on a plate. Coloured rice is available at many stores. If not, you could get kids to mix rice with some paint and leave it to dry. Engage in this activity with your kids to try this piece.
12. Shaded Diya Rangoli
Diya can make the simplest of rangolis shine luminescent in splendour. Just get your kids to make a small geometrical pattern filled with colours ( a diamond shape would be ideal) and line up the corners, and the edges of the shape with mud diyas lighted with tea candles.
13. Spiral Rangoli
An easy and simple rangoli that kids can make by just rotating their fingers on rangoli powder in a circular motion. Spread some powder on the floor and ask your kids to make concentric circles. They can then fill some colour in between the gaps to give a colourful look.
14. Crystal Rangoli
Make use of old compact discs to form a base for a rangoli. Get kids to stick crystal gems and embellishments on them in a pattern. This rangoli serves two purposes- creates a beautiful artwork and helps kids make use of craft supplies too.
15. Om Rangoli
"Om" is a prominent symbol in Hindu philosophy and it is a simple design for kids to make as a rangoli. Get kids to draw the symbol with chalk and then line it neatly with coloured powder. You may need to help them as they may not have very steady hands.
16. Chalk Rangoli
Scribbling with chalks is something kids love and use this opportunity to get them to make a lovely pattern. Just a simple floral design or a motif that will have large spaces for kids to colour with different colours will do the trick.
17. Diya Rangoli
Just as the "Om" symbol, the diya is also a simple design to draw. Get your kids to draw the outline with chalk and then fill it with bright colours. Get them to use orange for the flame to illuminate radiance.
18. Tin foil rangoli
An innovative idea to get kids to work with foil and roll it into shapes. Get kids to roll the foil into different shapes and stick it on cardboard with glue. It is not messy and can be made easily by kids.
19. Star Shaped Rangoli
Get your kids to draw two triangles, first the right way down and another inverted one on top of that. They can then make some petals at the corners to give it an added appeal. Ask your kids to fill the spaces with bright colours and add the words "WELCOME" to mesmerize your guests.
20. Circles and Lines Rangoli
Another easy design, it just involves kids to spread different colours in circles at a measured distance. The space between the circles could be filled with V-shaped lines in coloured powder. You could keep diyas in the centre and the corners to enhance the aesthetic look.
Young and thoughtful minds come up with the best works of art. Children have unique minds which when tapped bring out the best in them. Art is one of the best forms of exercise to tap the latent creativity in kids. Rangoli is all about fuelling the imagination of kids beyond boundaries and there are several ways in which we can guide and instruct children to create powerful and aesthetic work of art. Rangolis need not be restricted to chalk, colours and rice powder. You can help your child to create rangolis with flowers, petals, crystal embellishments and bangles. You could help them create stunning pieces of art with myriad objects and things.
Also Read: Rakhi Making Ideas for Kids