Mix Fruit Milkshake Recipe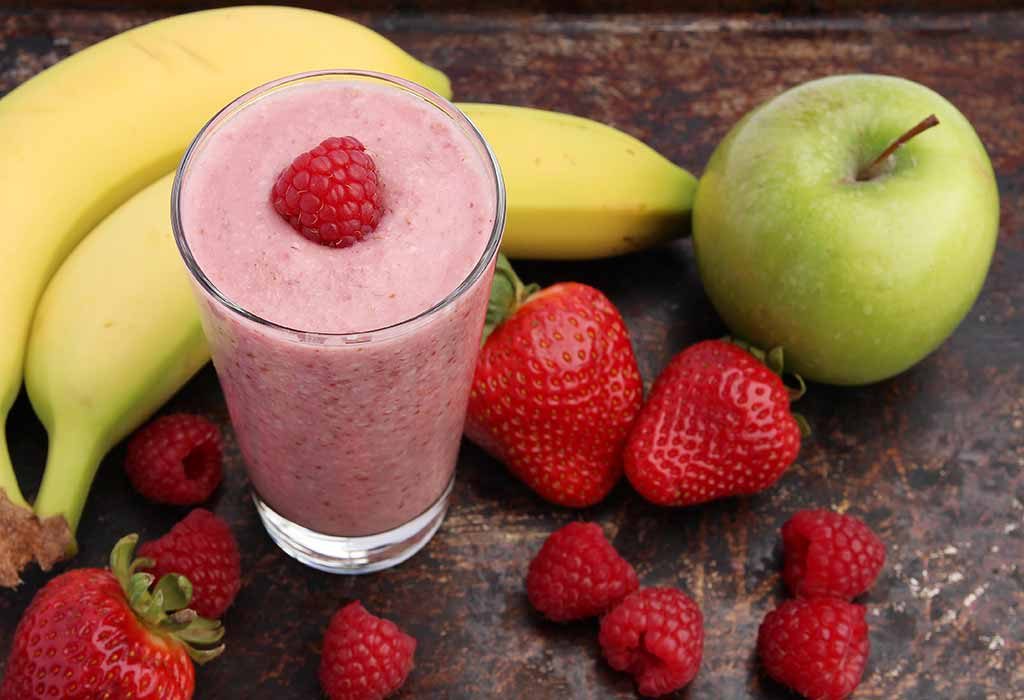 In this Article
A mix of bananas and strawberries are just perfect for satisfying your baby's sweet tooth in a healthy way with this mix fruit milkshake recipe. Bananas, strawberries, and apples are loaded with vitamins and minerals that boost your munchkin's immunity. So, without any further delay, let's learn to make this yummy mix fruit milkshake for babies. Fruits are an essential part of a baby's diet for proper growth and development. If are you wondering about how to make mix fruit milkshake, then read on.
Cooking Time
| | |
| --- | --- |
| Type | Time(hh:mm:ss) |
| Preparation time | 00:10:00 |
| Cooking time | 00:05:00 |
| Total Time | 00:15:00 |
Cooking Method
Mixer or blender
Type of Meal
Vegetarian
Suitable For
Any baby above 15 months of age
Meal Schedule
Mid-morning snack and evening snack
Recipe Type
Beverages
Ingredients
| | |
| --- | --- |
| Ingredient | Quantity and Volume |
| Banana | 1 ripe |
| Strawberries | 1/2 cup |
| Apple (medium-size) | 1 |
| Milk | 1 ½ cup |
Instructions
Here are the step by step directions for making a yummy milkshake:
Take a ripe banana and peel the skin.
Chop the bananas roughly and keep it aside.
Wash the strawberries thoroughly and remove the stalk before chopping them.
Peel the skin of an apple, remove the seeds and cut the apple into dices.
Boil and cool the milk to room temperature.
In a mixer or blender add all the fruits and half a cup of milk and blend smooth.
Now, add the remaining milk and check for the consistency of the milkshake.
You can add sugar if you prefer; otherwise, the sweetness from banana and apple should be great.
Pour the milkshake in a glass and serve.
Recipe tips
While mix fruit milkshake for babies is a great beverage option, check out the following points to make your recipe more enjoyable for your munchkin:
You can opt for other variants of fruits in place of strawberries like chickoo or mangoes.
Ensure that you blend the milkshake well to avoid any lumps in it.
Always boil the milk and bring it to the room temperature before using it in milkshakes for better flavour and consistency.
Avoid cold milk as it may trigger cough or cold in babies.
Cut the apples just before you begin the recipe as the colour of cut apple changes as it comes in contact with the air.
Nutrition Information (Per 100 Grams)
| | |
| --- | --- |
| Nutrient | Value |
| Calories | 250 Cal |
| Proteins | 6.5 g |
| Fats | 3.5 g |
| Carbohydrates | 50.1 g |
| Vitamin A | 7.9 g |
| Folate | 6.5 g |
| Magnesium | 10.3 g |
Health benefits
Making healthy choices to feed your baby is a vital aspect of nurturing your baby's health. Let us find out the various health benefits of this simple mix fruit milkshake recipe:
Bananas are an excellent source of fibre and Vitamin B6 essential for a good bowel movement in babies.
Bananas are nature's perfect food that is rich in potassium and helps in preventing stomach ulcers.
Strawberries are a vital source of vitamin C and folate, which are necessary for building and repairing the tissues in the body of the babies.
Strawberries are also loaded with antioxidants and plant compounds that largely contribute to good heart health in your little one.
As the saying goes, an apple a day keep the doctor away, the rich content of antioxidants and flavonoids in the apple makes a superfood for babies.
Milk is an excellent source of calcium that is vital for stronger bones in the development of babies.
Buying guidelines
Here is a simple buying guide which you are essential while you pick your ingredients for this mix fruit milkshake recipe for babies:
Always choose a well ripe banana as semi-ripe bananas can cause indigestion in babies.
Ripe bananas should be yellow and easy to peel the skin. If it is semi-ripen banana, then prepare your milkshake after a couple of days.
Opt for fresh fruits than frozen ones to feed your baby with fresh produce is a wise option.
Do not buy apples with black spots and soft spots. Buy bright red and firm apples that are organically grown.
Buy good quality certified milk for your baby.
At times you may find your baby disinterested in eating, well, even during those times this milkshake is a great option to bring back the energy in your little one. So, instead of opting for store-bought canned juices, this homemade mix fruit milkshake baby food recipe is a bundle of good health for your baby.