Ragi Oats Banana Pancake Recipe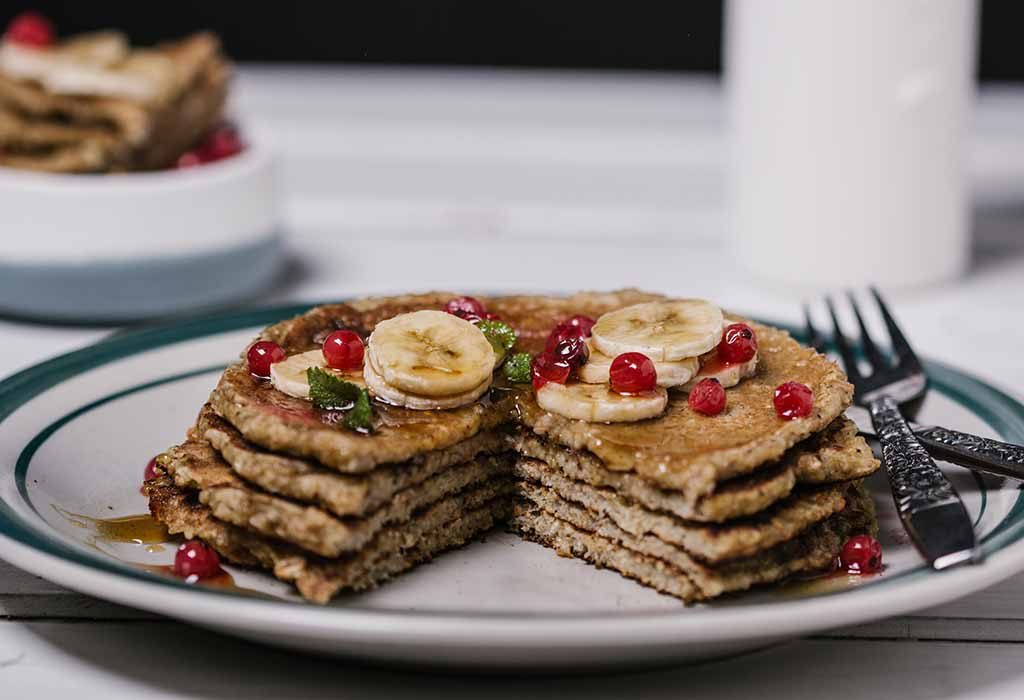 In this Article
Searching for a recipe which is delicious and supremely healthy too? Here come, Ragi Oats Banana pancakes for your little one! These pancakes are easy to prepare and will provide complete nourishment to your child. The fantastic combination of ragi and oats avoids the use of all-purpose flour and wheat flour for making pancakes.
We have to keep in mind that this recipe is only for kids. Hence, we have avoided the use of baking powder and baking soda. Also, this recipe keeps away from using artificial sweeteners to make the pancakes sweet. Instead, banana is used to provide fluff and sweetness.
Pondering on how to make ragi oats banana pancakes? Let's get started:
Cooking Time
| | |
| --- | --- |
| Type | Time (hh:mm:ss) |
| Preparation Time | 00:30:00 |
| Cook Time | 00:15:00 |
| Total Time | 00:45:00 |
Cooking Method:
Gas Stove
Type of Meal
Vegetarian
Suitable For
Toddlers above 19 months of age
Meal Schedule
Breakfast or Mid-Morning Snack or Lunch or Evening Snack or Dinner
Recipe Type:
Main Dish
Ingredients
| | |
| --- | --- |
| Ingredient | Quantity |
| Rolled Oats | ½ cup |
| Ragi Flour | ½ cup |
| Banana (ripe, mashed) | 1 in number |
| Buttermilk | 2 cups |
| Ghee | For cooking |
Instructions
Following are the step by step instructions to prepare delectable pancakes for your kid:
Peel and mash a banana by a fork in a bowl.
Take another big bowl and sieve ragi flour into it. Add rolled oats and mashed banana into the bowl. Mix everything very well.
Add buttermilk to the mixture to prepare the batter for pancakes. Keep the batter aside for 20 minutes.
Take a non-stick pan and keep it on medium flame. Add ghee to the pan.
Take a ladle full of pancake batter and put it on the pan. Do not spread it over the pan else the pancake will become thin. Pancakes should be a little thick.
Cover the pancake with a lid and let it cook for 2 minutes. Flip the pancake to cook the other side as well.
The pancake is ready to eat. To make it even healthier, prepare homemade date syrup. Drizzle it over the pancake and let your kid relish it!
Recipe Tips
Follow the below steps to enhance the taste of this easy ragi oats banana pancake recipe and make perfect pancakes for your little munchkin:
It is advised that you do not add baking powder and baking soda to this recipe. This might be harmful to the kid and may cause indigestion.
Wash your hands and the utensils used in this recipe carefully before starting to prepare this recipe.
Nutrition Information (Per 100 Grams)
| | |
| --- | --- |
| Type | Quantity |
| Energy | 184 kCal |
| Carbohydrates | 33 g |
| Protein | 6 g |
| Fat | 3 g |
| Dietary Fiber | 2 g |
| Vitamin C | 2.5 mg |
| Iron | 1.4 mg |
| Calcium | 80 mg |
| Potassium | 306 mg |
| Sodium | 349 mg |
Health Benefits
Now note down the health benefits of ragi oats banana pancake for toddlers:
This recipe work wonders on kids. The recipe is rich in nutrient content. It is filled with calcium and protein. These two are responsible for the development of bones and teeth in growing children.
The high potassium content of this recipe keeps the child hydrated, boosts immunity and improves metabolism.
This recipe is delicious and an energy booster at the same time. The high carbohydrate content keeps the child full for long.
The recipe is known to improve digestion and helps in regulating bowel movement issues in kids.
The recipe also has a good quantity of iron in it. This keeps a check on haemoglobin level of your kid.
The recipe is also known to promote sleep because ragi acts as a natural relaxant.
Buying Guide
Make a note of following points and buy correct ingredients for this recipe Homemade Ragi oats banana pancake:
Buy bananas from organic stores. Organic ingredients are a product of safer ways of farming, which in turn helps to avoid ingestion of harmful chemicals by your kid.
Only buy ripe bananas for this recipe. It will not be easy to mash the banana, and natural sweetness of this recipe will vanish.
Prepare buttermilk used in this recipe at home. Store-bought buttermilk is not good for your child as it contains preservatives.
This recipe is wonderful for your growing child. It is highly recommended to try this recipe at home and serve a plate full of nutrition in a single dish!