Palak Dhokla Recipe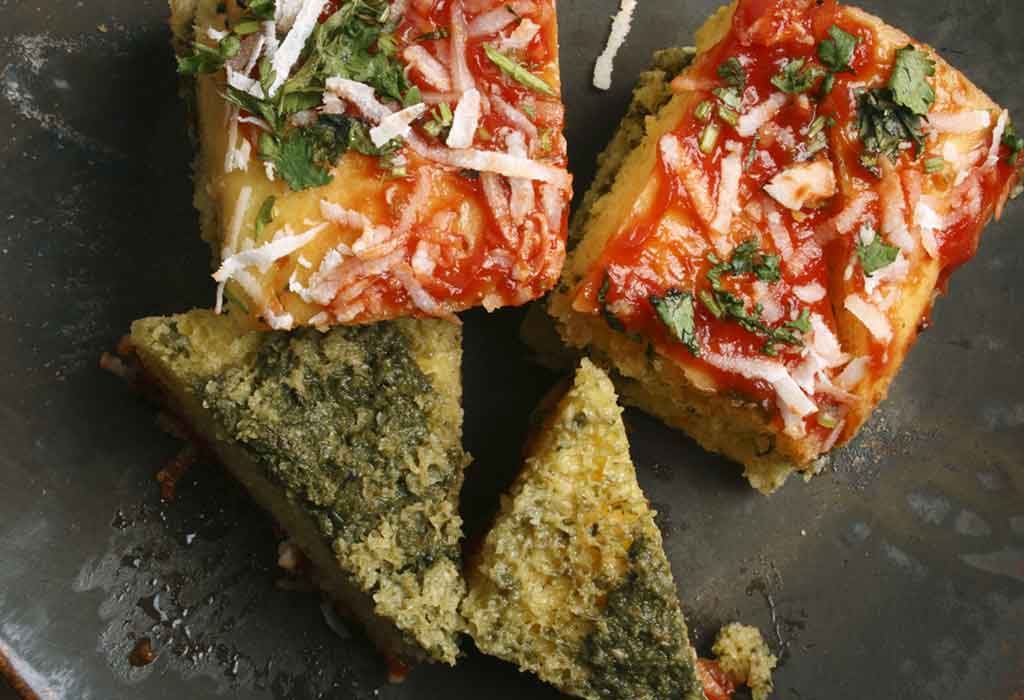 In this Article
Dhokla is a popular Gujrati snack liked by all the age groups. Adding spinach to this snack will increase the health quotient of this recipe. This is a simple and healthy dish made with a combination of spinach and gram flour. This side dish is best served with sweet tamarind chutney along with green chutney. The colour of the dhokla will attract the kids and since this is a steamed dish, not only is it tasty but also a healthy option to serve to your child.
A perfect yummy evening snack, it can be made anytime as it involves very less effort, and your kid is sure to enjoy it.
Read on to learn how to make this simple Palak Dhokla instantly.
Cooking Time
| | |
| --- | --- |
| Type | Time (hh:mm:ss) |
| Preparation Time | 00:35:00 |
| Cook Time | 00:15:00 |
| Total Time | 00:50:00 |
Cooking Method
Steamed
Type of Meal
Vegetarian
Suitable For
Babies above 10 months of age
Meal Schedule
Morning / Evening
Recipe Type
Snack
Ingredients
| | |
| --- | --- |
| Type | Quantity |
| Gram flour / Besan | 1 cup |
| Spinach Puree | ½ cup |
| Low-fat curd | ½ cup |
| Sugar | 1 tsp |
| Lemon Juice | 1 tbsp |
| Salt | As per taste |
| Eno fruit salt (Optional) | 1 tsp |
| Water | ½ cup |
For Seasoning
| | |
| --- | --- |
| Type | Quantity |
| Oil | 1 tbsp |
| Mustard Seeds | 1 tsp |
| Sesame Seeds | 1 tsp |
| Curry leaves | ½ cup |
| Coriander leaves | ½ cup |
| Water | 2-3 tbsp |
| Red chili powder | 1 tsp |
Instructions
Palak Dhokla is one perfect evening snack ideal for all age groups, especially kids. Let us check out the step by step procedure to make this easy palak dhokla for your kid:
Take a deep bowl, add gram flour, salt, sugar, and curd. Give a nice stir and then add spinach puree. Mix it well to form a batter without any lumps.
Add lemon juice and oil, mix it and set aside for 10 minutes.
Now place a large pan on the stove with 2 cups of water and place a ring inside and bring it to boil.
Take a cake tin or a container and grease it with oil, keep it aside for a while.
Add little Eno fruit salt to the batter and mix it well. Pour the batter into the greased container.
When the water starts to boil in the pan, place the container inside the pan.
Now close the lid of the pan and steam it for about 15-18 minutes. You can now remove it from the heat and set it to cool down.
For seasoning, take a pan and add some oil. Let the flame be on medium. Once the oil is heated, add mustard seeds, sesame seeds, and chopped curry leaves.
Turn off the flame, add some chili powder, sugar, and water. Mix it well.
Spread this mix on top of the dhokla with the help of a spoon.
Garnish this yummy snack with freshly grated coconut and coriander leaves.
You can now let your kid enjoy this yummy palak dhokla with green chutney, sweet tamarind chutney or with some tomato ketchup.
Recipe Tips
Fresh baby spinach leaves bring on more taste to the recipe.
For spinach puree, take the spinach in a blender, add some water and grind it to a puree.
You can also add garlic and ginger paste which will help in your kid's digestion.
You can skip red chili powder if you haven't introduced spices to your kid.
If you don't have a dhokla maker, steam the batter using an idli cooker.
Nutrition Information(Per 100 Grams)
| | |
| --- | --- |
| Energy | 159 Cal |
| Fat | 8.9 gm |
| Potassium | 165 mg |
| Protein | 3.9 gm |
| Carbohydrates | 16.3 gm |
| Sodium | 400 mg |
| Cholesterol | 5 mg |
Health Benefits
Palak Dhokla is a fluffy, healthy steamed snack that is easy to prepare. Let's see the secret of each ingredient used in this recipe.
Palak or Spinach is rich in vitamin A, good for eyes and skin. Iron contents help in building hemoglobin.
Besan flour contains more fat than whole wheat flour making it an energy-rich source for young babies. It is also rich in protein content.
Besan is also a good source of complex carbohydrates and is a heart-healthy too.
Yogurt or curd, is rich calcium, vitamin D and potassium which is an essential nutrient in the development and growth of your kid.
It is also good for a child's bone health.
Buying Guide
Here are some important points that must be kept in mind while buying the ingredients for making homemade palak dhokla for your baby.
Pick fresh and green baby spinach.
Use fresh curd, preferably homemade.
Try this simple and easy palak dhokla recipe for your baby and enjoy it.
Also read: Dhokla with Green Chutney Recipe