Egg Omelette Recipe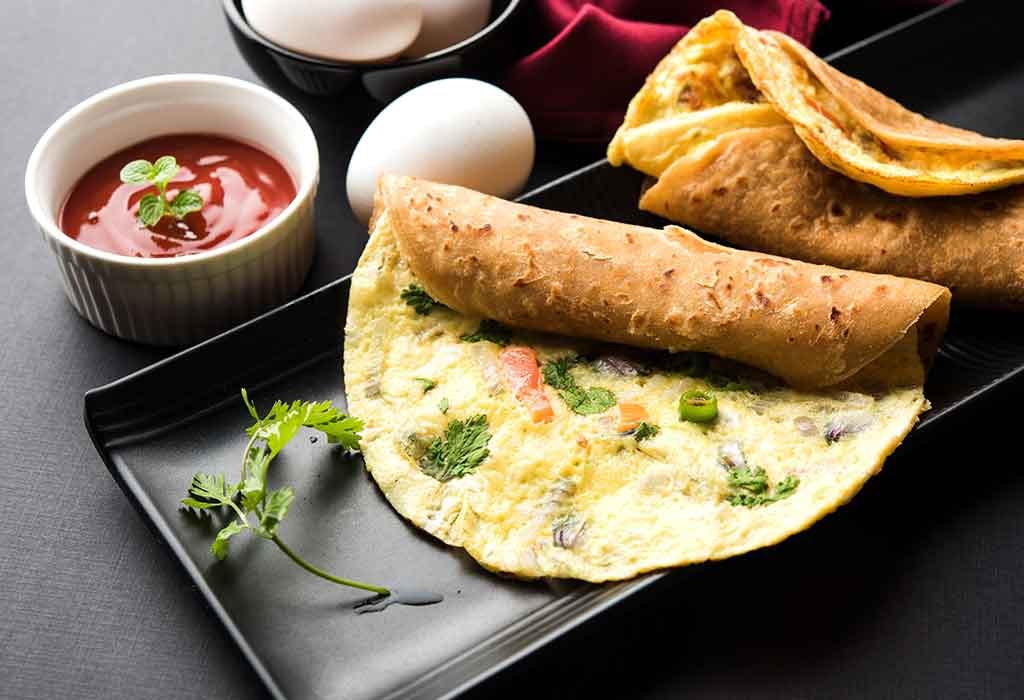 In this Article
Omelet is a preparation that is made in a variety of ways across the globe. The Indian style, however, has its distinct taste and flavour with its combination of chopped vegetables, dried herbs, and green chillies. Cooked in a pan with lots of butter, this egg omelette for kids is an exciting and filling breakfast option for your munchkin!
Cooking Time
| | |
| --- | --- |
| Type | Time (hh:mm:ss) |
| Preparation Time | 00:10:00 |
| Cook Time | 00:10:00 |
| Total Time | 00:20:00 |
Total Servings
3 to 4
Cooking Method
Gas Stove or Induction
Type of Meal
Vegetarians and Non-Vegetarians
Suitable for
Any toddler above 12 months of age
Meal Schedule
Breakfast
Recipe Type
Main Meal
Ingredients
| | |
| --- | --- |
| Ingredients | Quantity & Volume |
| Onions | 1 tbsp, finely chopped |
| Tomatoes | 1 tbsp, deseeded and finely chopped |
| Capsicum | 1 tbsp, finely chopped |
| Cheese | 1 tbsp, finely grated |
| Eggs | 2 |
| Green chillies | 1 tsp, finely chopped (Optional) |
| Dried Mixed herbs | ½ tsp |
| Butter | 2 tsp |
| Pepper powder | 1/4th tsp |
Instructions
A wholesome meal, this home-made egg omelette baby food recipe is simple and easy to make. The cheesy topping adds a lovely sticky and gooey texture that your baby will love. Follow this step-by-step guide to make a healthy breakfast:
Combine the eggs, salt, and pepper in a bowl and whisk well with a fork.
Add the onions, tomatoes, capsicum, and green chillies and mix well.
Heat the butter in a pan. Let the butter melt and spread it evenly all around the pan.
Pour the egg mixture as soon as the butter melts.
Cook on a medium flame for about 2 minutes.
Once you see the sides getting cooked (turning golden brown and coming off the pan), flip the mixture to the other side and cook for 2 more minutes.
Once cooked, sprinkle the cheese and dried herbs over the omelette.
Fold the omelette into a semi-circle and cook lightly on a low flame for about 30 seconds.
Serve immediately with bread slices or ketchup.
Recipe Tips
The dish tastes better with vegetables and is healthier. You can add vegetables of your choice, and your baby wouldn't even realise he ate some.
Whisk the eggs well until they froth. If the eggs are whisked well, the omelette will turn out soft.
You can opt to skip the dried herbs if you want. But, adding them will give a nice aroma and flavour to the omelette.
You can also choose to skip the cheese, but adding the cheese will make it tastier, and your kid will like the creamy texture.
You can add a dash of milk to the mixture before making the omelette as it tends to make it richer in taste.
Nutritional Facts Per Serving (2 eggs)
| | |
| --- | --- |
| Nutrient | Value |
| Calories | 202 kCal |
| Protein | 13 gm |
| Carbohydrates | 3.8 gms |
| Fiber | 0.8 gms |
| Fat | 15 gms |
| Cholesterol | 17.5 mg |
| Sodium | 152.9 mg |
Health Benefits
Here are some health benefits of this simple egg omelette recipe:
Eggs are a rich source of protein. Eggs are also a great source of calcium, Vitamin D and phosphorous.
The protein in eggs helps in the generation and regeneration of cells.
Vitamin D helps in the development of bones.
Omega 3 boosts brain development.
Onions are rich in folic acid and aid digestion.
Tomatoes are rich in Vitamin C and lycopene. Vitamin C is needed to boost immunity, and the lycopene provides the body with antioxidants.
Capsicums are superfoods for the skin and the bones.
Buying Guide
Now that you know how to make an egg omelette follow these tips when you are sourcing your ingredients to ensure you make one that is tasty and extremely nutritious.
Wash the vegetables before you chop them. Try to buy organic vegetables as they are free from chemicals and pesticides.
Buy fresh eggs available in the supermarket. Try to buy free-range eggs or organic ones as they will be free from any bacteria, pesticides, and chemicals. Make sure to check the expiry date of the eggs.
You can buy butter available in the supermarket that are sold by reputed brands. In case you do not want to use butter, you can replace it with ghee. Make sure you check the expiry date on the packaging.
Made with everyday ingredients, egg omelette combines vegetables and eggs to create a zesty flavour. The texture and tang is something that your child will relish thoroughly. A simple dish that can be whipped up in any Indian household pantry as the ingredients are staples in all shelves and refrigerators.