Wheat Porridge Recipe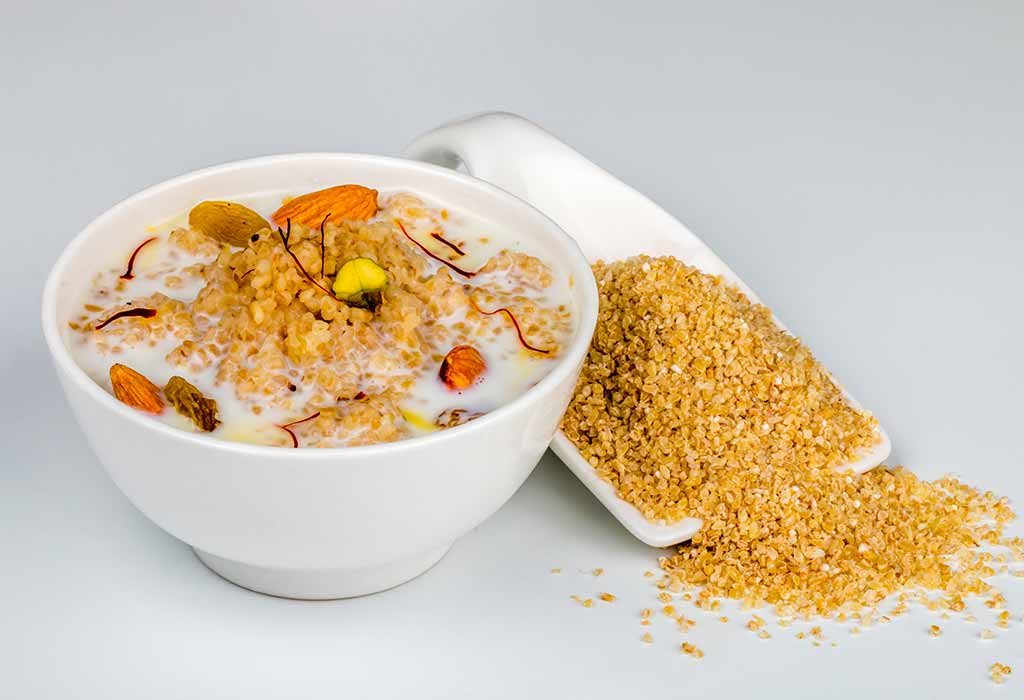 Wheat is the most widely available cereal grain and is an immense source of energy. Porridge is a popular baby food across all cultures. Some make it salty with lots of green and colourful vegetables and some make it sweet with lots of dry fruits and milk. Adding a wholesome cereal meal to your baby's diet is very important and this simple wheat porridge recipe will make your work easy. Your baby will reap numerous health benefits from this recipe.
Video: Wheat Porridge Recipe for Babies
Cooking Time
| | |
| --- | --- |
| Type | Time (hh:mm:ss) |
| Preparation Time | 00:30:00 |
| Cook Time | 00:15:00 |
| Total Time | 00:45:00 |
Cooking Method
Stove
Type of Meal
Vegetarian
Suitable for
Babies above 11 months of age
Meal Schedule
Breakfast or mid-morning, Lunch
Recipe Type
Main dish
Ingredients
| | |
| --- | --- |
| Type | Quantity |
| Wheat (Coarse) | 1 cup |
| Moong dal (yellow) | 1/2 cup |
| Almonds | 1/4 cup |
| Wheat mix | 1/4 cup |
| Powdered jaggery | 1.5 tsp |
| Water (hot) | 1/2 cup |
| Milk (hot) | 3/4 cup |
Instructions
Here are step by step directions to make wheat porridge for toddlers.
First, learn to make wheat mix for the porridge:
Take a thick bottom pan and heat it.
Then dry roast the almonds for 5 minutes on low-medium flame.
Take out the roasted almond, allow it cool and coarsely grind it.
Wash the moong dal thoroughly and allow it to dry under the sun for 20 minutes.
Add sundried moong dal to the pan and roast it until it gets golden brown.
Now grind the roasted moong dal and mix it with coarse almond powder.
Now roast the coarse wheat until it releases a nice nutty aroma.
Mix everything and the grains are ready for making wheat porridge.
For making wheat porridge:
Take a pan and add 1/4 cup of water and jaggery powder or unrefined sugar to it.
Allow it to boil until it melts completely.
Filter out the jaggery water using a strainer and pour it into a saucepan.
Take 1/2 cup of wheat mix in a saucepan.
Allow it to cook for 10-15 minutes.
Stir it continuously while cooking, or the porridge may stick to the vessel.
If you can press and mash the wheat easily with the back of the spoon, then it is cooked completely.
Now add milk to this.
Allow it to simmer for another 5 minutes.
Check for the consistency of the porridge and switch off the flame.
Serve it lukewarm.
Recipe Tips
You can mix the porridge with other healthy elements like powdered cashew or almonds to elevate the taste as well as nutrition.
If you are introducing your kid with wheat porridge for the first time, then try making a semi-fine powder for the wheat mix.
You can add fruits like banana, chikoo, and apple to this recipe.
Use unrefined sugar or jaggery powder in place of white sugar. It is more beneficial for the health of your babies.
Do not add milk to this recipe if you are making it for babies younger than one year.
Nutritional Information (Serving Per 100 Gram)
| | |
| --- | --- |
| Type | Value |
| Energy | 3.5 cal |
| Fat | 4 gm |
| Sodium | 340.7 mg |
| Potassium | 150.1 mg |
| Dietary Fiber | 3.7 gm |
| Sugars | 8.5 gm |
| Protein | 8 gm |
| Magnesium | 15.5 gm |
| Phosphorus | 18.3 gm |
| Calcium | 1.9 gm |
Health Benefits
Wheat porridge is loaded with healthy nutrients and vitamins. Lets us talk about some of the well-known health benefits of this homemade wheat porridge baby food recipe.
The Vitamin B content and various nutritive constituents of whole wheat provide energy to the body for a longer period.
It is a powerhouse of carbohydrates and, hence, an important source of energy.
It is good for bone strength and keeps your bones healthy.
It helps in streamlining the digestive process in the babies and helps in relieving constipation.
It helps in stimulating proper physical development in babies.
It prevents the occurrence of metabolic disorders in the body.
Since it is rich in fibre, it increases the metabolism of the body.
Buying Guide
Now that you know how to make wheat porridge, know about how to select the right ingredients for making this delicious recipe.
Always buy fresh and organic grains for your toddlers.
Do not buy grains with added preservatives.
Always check for the expiry date before buying it.
Feeding wheat porridge is the best and easiest way to see how your child responds to solid food. Start small and notice their reaction if they like it or not. Let your baby enjoy this fulfilling meal and grow up to be a healthy toddler.
?>