Drumstick Soup Recipe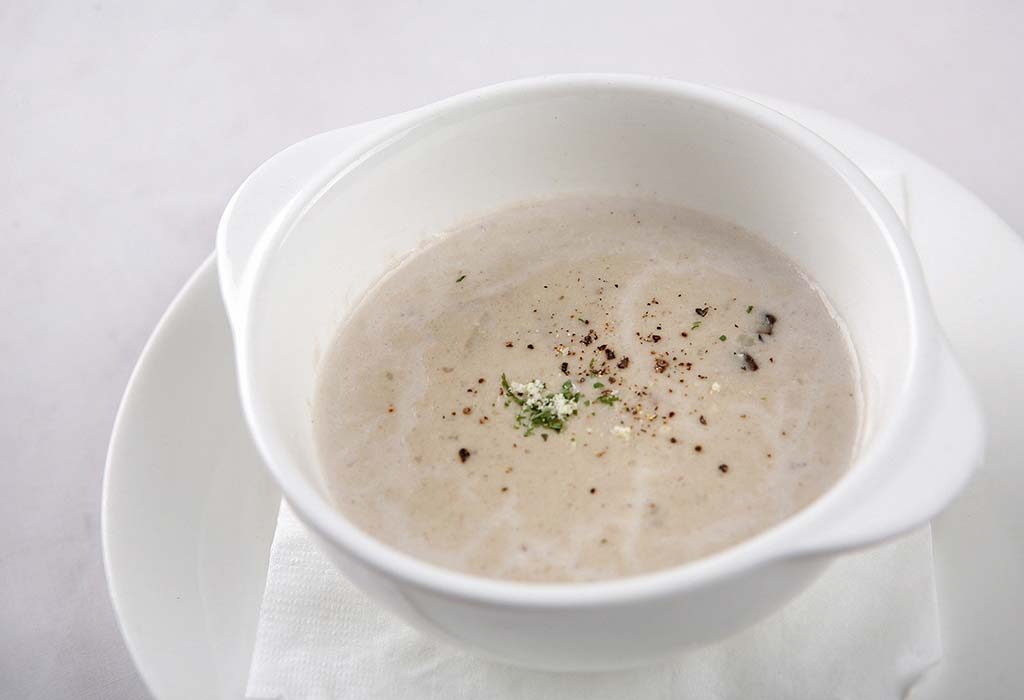 In this Article
What better way to introduce a nutrient-rich ingredient in a bowl than a drumstick soup? Commonly referred to as 'super plant', or Moringa Oleifera, the drumstick is a plant species with unique medicinal plant properties that help in preventing and curing different kinds of ailments. Native to India and widely popular in the tropical and sub-tropical Asian and African regions. Used for centuries, the fabulous aroma and flavour of a bowl of drumstick soup boosts immunity and treats mood disorders. As soups are a tasty and wholesome meal for babies, drumstick soup can be safely given to small babies and toddlers as it does not require them to chew and get digested easily. Drumstick Soup for babies is a traditional South Indian dish that will make any mealtime a joy for not only your babies but your entire family.
Cooking Time
| | |
| --- | --- |
| Type | Time (hh:mm:ss) |
| Preparation Time | 00:10:00 |
| Cook Time | 00:10:00 |
| Total Time | 00:20:00 |
Cooking Method
Gas Stove
Type of Meal
Vegetarian
Suitable For
Any toddlers above 15 months of age
Meal Schedule
Lunch, evening play-time or dinner
Recipe Type
Main Dish
Ingredients
| | |
| --- | --- |
| Ingredient | Quantity and Volume |
| Drumstick | 2 |
| Onion (finely chopped) | ¼ cup |
| Garlic | 2 cloves |
| Butter | 1 tsp |
| Cumin Powder | 1 tsp |
| Salt | To taste |
| Pepper | To taste |
| Coriander Leaves (finely chopped) | 3 tbsp |
Instructions
Let's get to 'how to make drumstick soup' in a surprisingly easier and faster way. Here are the step by step directions to prepare delicious drumstick soup.
Trim and chop drumsticks into finger-long pieces and boil them in 2 cups of water until they become soft.
Scoop out the pulp with a spoon and blend it in a mixer until smooth.
Heat butter in a pan and add jeera along with hing. Wait for it to sputter and add chopped onion and garlic. Sauté for a minute and add drumstick flesh to mix well. Make a smooth puree in a blender and puree it till smooth.
Take the drumstick stock and puree it in a pan.
Add salt, pepper and cumin powder. As it boils, remove the scum and simmer for 5 more minutes.
Garnish with coriander leaves and serve it at a lukewarm temperature.
Recipe Tips
Make sure you remember the below-mentioned points before you start preparing the healthy and simple drumstick soup recipe for your baby.
Adding salt to water fastens the softening process of drumsticks. Remember to use only clean filtered water for cooking.
You can add vegetables like tomato or potato to it to enhance its taste and nutritional value.
Make sure the drumstick pulp is properly removed to avoid choking the baby with its drumstick fibre.
Washing your hands before cooking for good hygiene and maintaining the health of your child. Only clean utensils should be used for making the drumstick soup.
Nutrition Information (Per 100 Grams)
| | |
| --- | --- |
| Nutrient | Value |
| Energy | 81 KCal |
| Protein | 3.1 g |
| Carbohydrates | 10.6 g |
| Fibre | 3.9 g |
| Fat | 2.3 g |
| Cholesterol | 5.9 mg |
| Sodium | 14.2 mg |
Health Benefits
This home-made drumstick soup baby food recipe will add variety to your culinary skills and ensure an overall healthy diet for your baby.
As drumsticks are low in calories and carbohydrates, they can be enjoyed in as much as quantity as you want.
Its high fibre content assists in preventing constipation in babies and improves digestive health.
Drumstick is a good source of protein that works towards maintaining skin health, regulating metabolic activities and building antibodies to promote immunity against chronic illnesses in both babies and adults.
As children need proper nutrients for their growth, drumsticks have the essential vitamins and minerals that promote brain development and treats mood swings.
Calcium in drumstick helps in building strong bones, teeth and improving overall stamina and health.
Spices used in this recipe like pepper and jeera are also digestive agents.
The anti-inflammatory properties of the drumstick with its presence of Vitamin C helps in relieving respiratory disorder and congestion in children.
As drumstick has a potent antibiotic agent, it helps to streamline blood circulation.
Giving drumstick soup during winter can keep your baby's body warm and keep them energetic all day.
Buying Guide
Buying organic vegetables is always advisable as it ensures the best quality.
Look for tender drumsticks that have a greenish and smooth skin. Avoid buying too rigid and hard drumsticks as they are old with hard and dry seeds and can make your soup taste bitter.
Choose a suitable vegetable store that sells locally grown produce that is fresh.
Check the expiry date of the spices selected before buying them.
Avoid pre-cut drumsticks that are available at the super-market as they do not guarantee freshness.
The best way to get a child to eat a vegetable is through a yummy bowl of soup. A cozy bowl of drumstick soup will surely warm up a baby's heart, fill their belly but also keep them active all day. So, instead of depending on dried instant soup packets that have disguised flavour enhancers and toxic colouring agents, it is always better to serve home-made drumstick soup to your beloved baby. Just remember to gradually increase the quantities and start with a strained soup of drumstick leaves before introducing the pulp to a baby to facilitate their digestive system.