Rajgeera Ladoo Recipe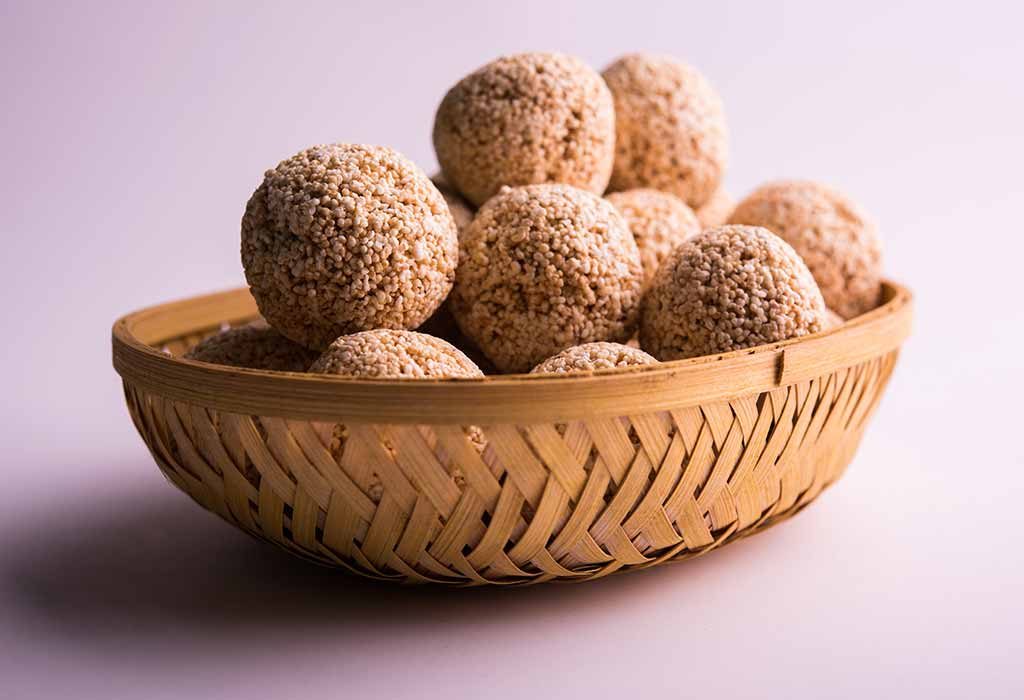 In this Article
Amaranth seeds, also known as Rajgeera or Ramdana in Hindi, are loaded with the goodness of protein and calcium. If you have been searching for ways to add these nutritious seeds in your baby's diet, you can do so it many ways, and one such way is by making this delicious sweet delight called Rajgeera ladoo. Read the following post to learn how to make Rajgeera ladoo!
Cooking Time:
| | |
| --- | --- |
| Type | Time (hh:mm:ss) |
| Preparation Time | 00:10:00 |
| Cook Time | 00:15:00 |
| Total Time | 00:25:00 |
Cooking Method
Gas Stove
Type of Meal
Vegetarian
Suitable For
Toddlers over 12 months of age
Meal Schedule
Mid Morning Snack or Evening Snack
Recipe Type
Desserts / Snack
Ingredients
| | |
| --- | --- |
| Type | Quantity/ volume |
| Rajgeera seeds (popped) | 1 ½ cup |
| Jaggery | ½ cup |
| Cardamom powder | ¼ teaspoon |
| Ghee | One tablespoon |
| Water | 1/8 cup |
Instructions
Here are the step by step instructions for making Rajgeera laddoos:
Take a heavy-bottomed pan and heat it.
Add jaggery and water in the pan—Cook the mixture on low heat for some time.
To check whether or not the syrup is ready to make ladoos, you can put a drop of jaggery mix in a bowl of water. Take the mixture between your fingers and try to make a ball. If you can make a ball from the mixture, It is ready otherwise you need to cook it for some more time.
Once the jaggery mixture is done, remove it from the heat.
Add popped seeds to the jaggery syrup and mix thoroughly.
Grease your hands with ghee and scoop out a little mixture with the help of a spoon to roll into small ladoos.
Make ladoos out of the entire mixture.
On cooling, the ladoos will turn crunchy and crispy.
Serve as a yummy snack or dessert to your little one.
Recipe Tips
Follow these simple recipe tips when making homemade Rajgeera ladoo baby food recipe:
In case the jaggery mixture cools down or thickens a bit before adding popped rajgeera seeds, you can heat the mixture for a few seconds to get it to a liquid consistency.
Keeping a tab on the consistency of the jaggery syrup is crucial as it may make the ladoos too hard or difficult to bind.
You can store the ladoos in an airtight container for up to a week.
If you wish to add more texture, you can add finely chopped roasted nuts such as almonds, cashew nuts, pistachios, etc. for older kids.
Nutrition Information (Serving Per 100 Grams)
The following table shows the nutritional content present in Rajgeera ladoo for toddlers:
| | |
| --- | --- |
| Type | Value |
| Energy | 150 Cal |
| Carbohydrates | 30 grams |
| Protein | 6 grams |
| Potassium | 300 milligrams |
| Sodium | 3 milligrams |
| Calcium | 90 milligrams |
| Iron | 5 milligrams |
| Vitamin C | 3 milligrams |
| Fibre | 3 grams |
| Sugar | 60 grams |
The above table shows approx nutritional facts present in 100 grams of Rajgeera ladoos. Actual nutritional content may vary sometimes.
Health Benefits
Here's how you can benefit your munchkin's health with this simple Rajgeera ladoo recipe:
Rajgeera contains ample amounts of iron, which is an essential nutrient for cognitive and behavioural development in babies. Adding these nutritious seeds in your baby's regular diet may help in taking care of any iron deficiencies.
Being rich in fibre, regular intake of rajgeera may help in regulating your baby's bowels by keeping constipation and other digestion issues at bay.
Power-packed with manganese, which is an essential nutrient in brain development and functioning, adding this in your baby's diet may improve brain functioning and may also prevent neurological disorders.
Naturally loaded with antioxidants, rajgeera seeds may help in protecting your baby against free radical damage.
Buying Guide
Here are some tips on buying ingredients for making rajgeera ladoos for your baby:
Pick up popped seeds for making ladoos. Raw seeds may get a tad bit difficult to manage and may double up your work.
Pick up branded seeds from the supermarket and refrain from picking up locally manufactured or unpacked varieties.
Also, make sure you pick up organic rajgeera seeds and jaggery for making ladoos. Do check the best before date on the packet to avoid picking up stale product.
Now that you have all the information on this yummy recipe, make sure you try it out and serve to your babies at least twice a week this bowl, instead of relying on the packaged food and treat your munchkin with the goodness of Rajgeera seeds!