Pasta for Babies – When and How to Introduce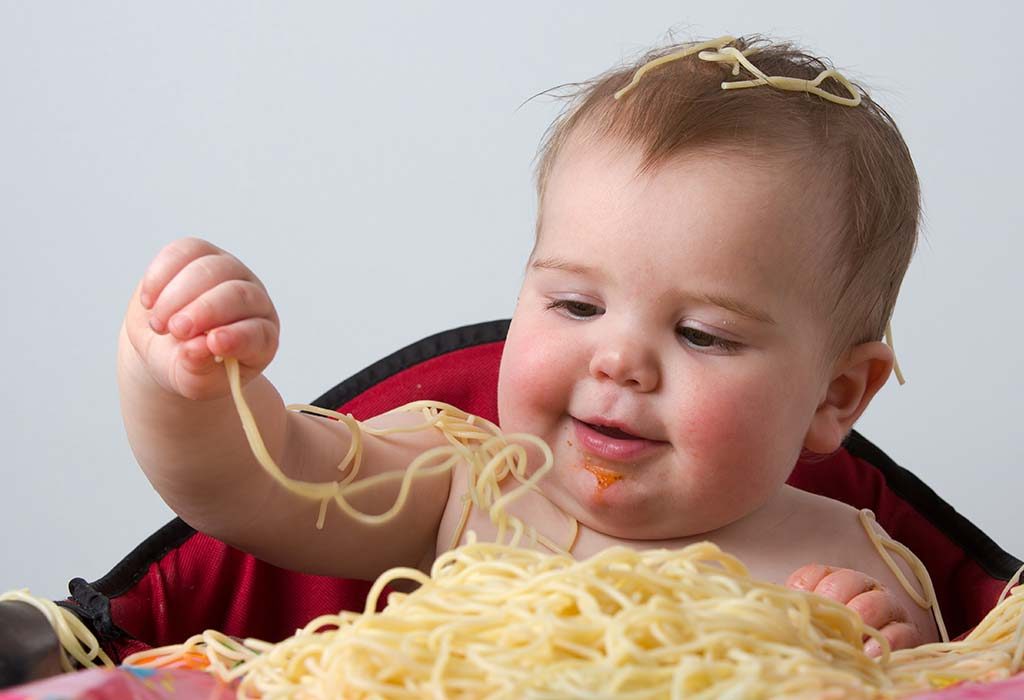 It comes as a surprise that pasta is a great food to introduce babies to solid foods. It is made from whole grain and has its own health benefits. But, some parents might worry about introducing carbs too soon into their baby's diet. While there is no need to worry because babies need carbs for their growth and development, parents also need to understand that pasta, when fed in limited quantities and with other nutritious foods, can be a healthy meal option for their little ones. You will, therefore, find this article very helpful as here, we will talk about when and how you can feed pasta to your little one and much more. Let's get started!
Right Age to Give Pasta to Babies?
Pasta is best introduced during the solid food period, that is after the initial introduction of purees after your baby turns 7 months old. Pasta, which is usually eaten al-dente is NOT how it is introduced to the babies. When cooking pasta for babies, remember that it should be fully cooked and preferably in a sauce so that it can be mashed if required.
You can get creative by choosing different kinds of pasta such as stars, bows, or elbow-shaped, and make mealtime fun for the baby.
So, what is it that your baby gains by eating pasta? Read below to know the nutritional value of pasta.
Nutritional Contents in Pasta
Pasta is high in flavour and taste but not on calories. It is not heavy on the stomach, and hence it makes a good meal for babies.
| | |
| --- | --- |
| Nutrients | Quantity |
| Kcal | 353 |
| Energy | 1476 J |
| Protein | 10 g |
| Carbohydrates | 35.2 g |
| Fat | 8 g |
| Riboflavin | 0.20 mg |
| Niacin | 2.50 mg |
| Calcium | 22 mg |
| Iron | 1.40 mg |
| Phosphorous | 189 mg |
| Magnesium | 51 mg |
| Potassium | 192 mg |
| Copper | 0.32 mg |
| Selenium | 2.70 mg |
| Zinc | 1.15 mg |
The best pasta to feed your little one is homemade pasta. However, some mothers may not have time to make it at home and would prefer store-bought pasta instead. They may then select the safest kind, and cook it at home with some nutritious ingredients that have already been introduced to their little ones. We will talk about selecting and storing pasta below.
How to Select and Store Pasta
It is essential to know your pasta, especially if it is not a staple food in your region. Here's what you need to bear in mind when selecting pasta for your little one –
Make sure the kinds of pasta you pick are not instant, processed or made from all-purpose flour (maida)
The kinds of pasta given to babies need to be made of whole wheat, durum wheat, or rice flour pasta
It is best to purchase organic pasta if you cannot make some at home.
Always check for the expiry date on the pasta packet before buying it. Discard any expired product.
Ensure there are no additives or artificial flavouring as they could affect your baby's health.
Store the package according to the instructions given on the package or empty the contents in an airtight container and store it in a cool and dry place, preferably your pantry.
As mentioned earlier, pasta needs to be cooked in a particular way to make it easy for the babies to digest it. The recipes given below will help you make different pasta dishes your little would never resist.
Easy Pasta Recipes for Babies
Below are some recipes on how to cook pasta for baby –
1. Pasta and Avocado
The recipe is dense with vitamins and minerals. The taste is fresh and savoury. Remember that the pasta needs to be cooked well and not al-dente so that your little one can digest it easily.
Ingredients:
Whole wheat pasta – 1 cup
Avocado – 1 cup
Garlic Cloves – 2 large
Lemon Juice – 2 tsp
Oil – 2 tsp
Salt (optional)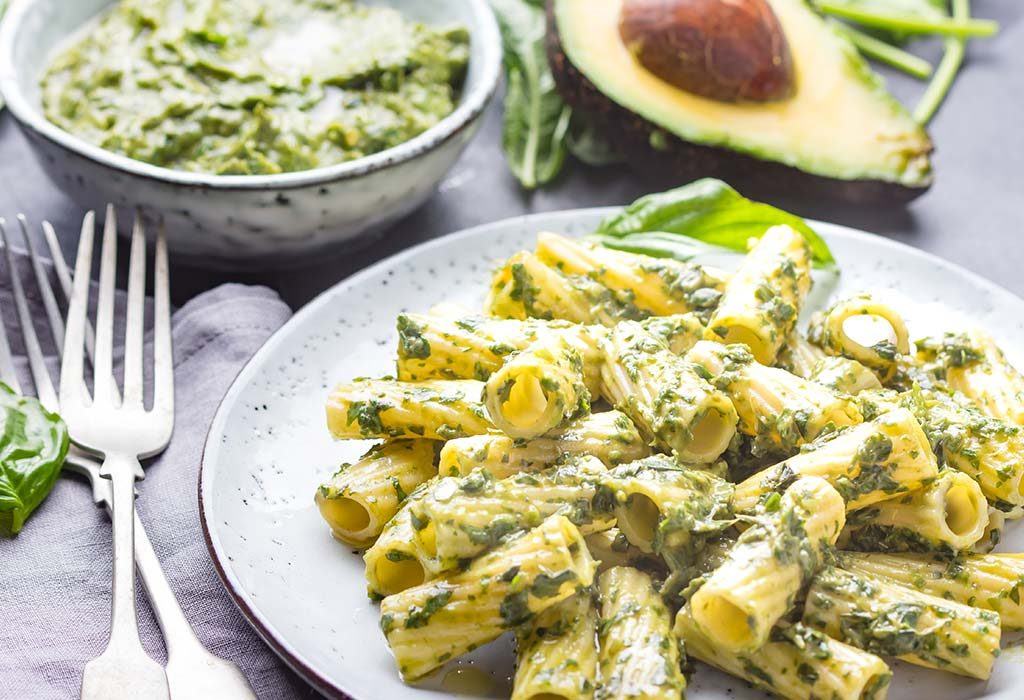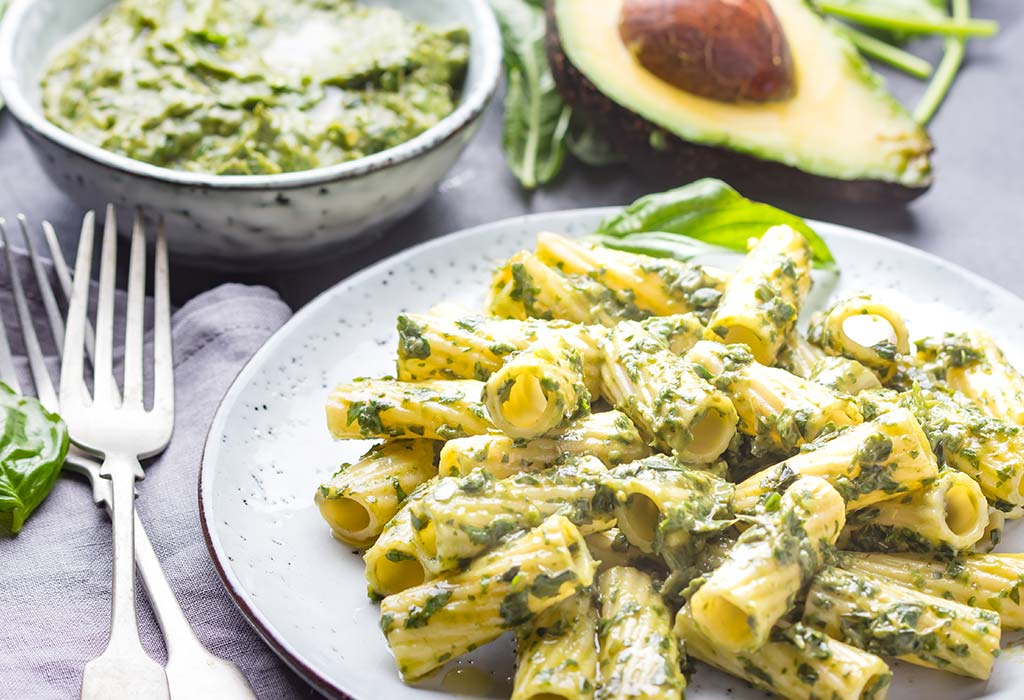 Method:
Sauté the garlic in a tsp of oil.
Add the avocado and stir.
Add the lemon juice and stir for a minute.
Turn off the flame and let the sauteed avocado cool a bit.
Then, grind it to a paste.
Now, strain the excess water from the cooked pasta and toss it in the pan with a tsp of oil. Stir it for a minute.
Add the avocado paste and mix it thoroughly.
2. Tomato Pasta Stars With Mozzarella and Basil
Build baby bones with Mozzarella! And the stars are just the beginning of the fun. You may choose to puree all the vegetables depending on your baby's age and preference.
Ingredients:
Pasta – 1 cup
Mozzarella – 0.5 cup, grated
Carrot – 1 chopped, steamed
Potato -1 chopped, boiled
Tomatoes Puree – 3 to 4 tbsp
Garlic – 1 clove
Oil – 1 tsp
Basil – a pinch, dried
Water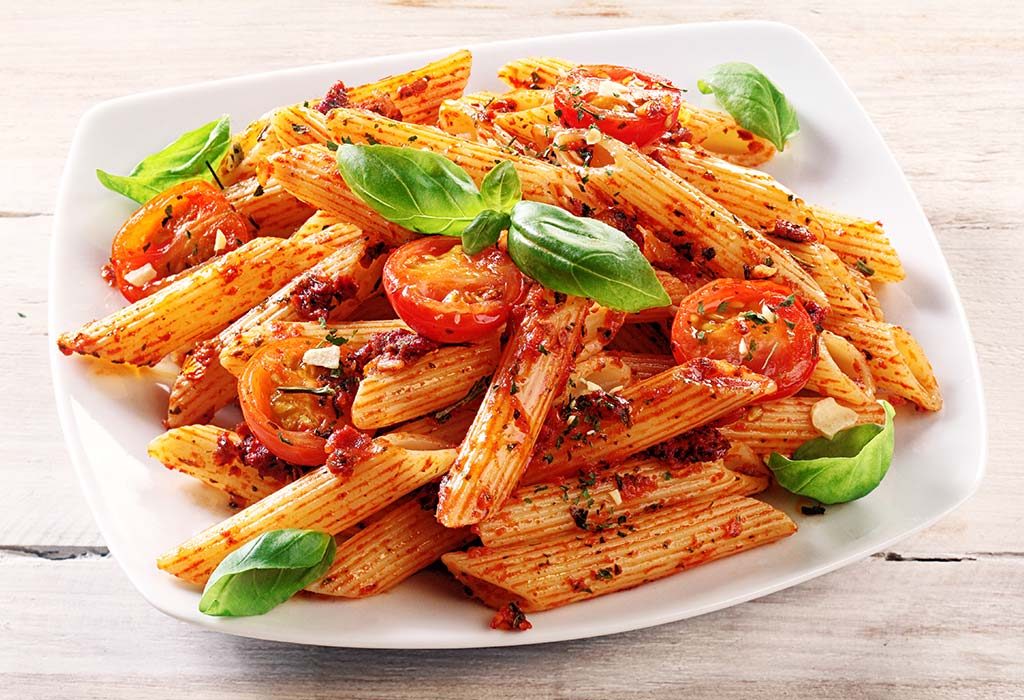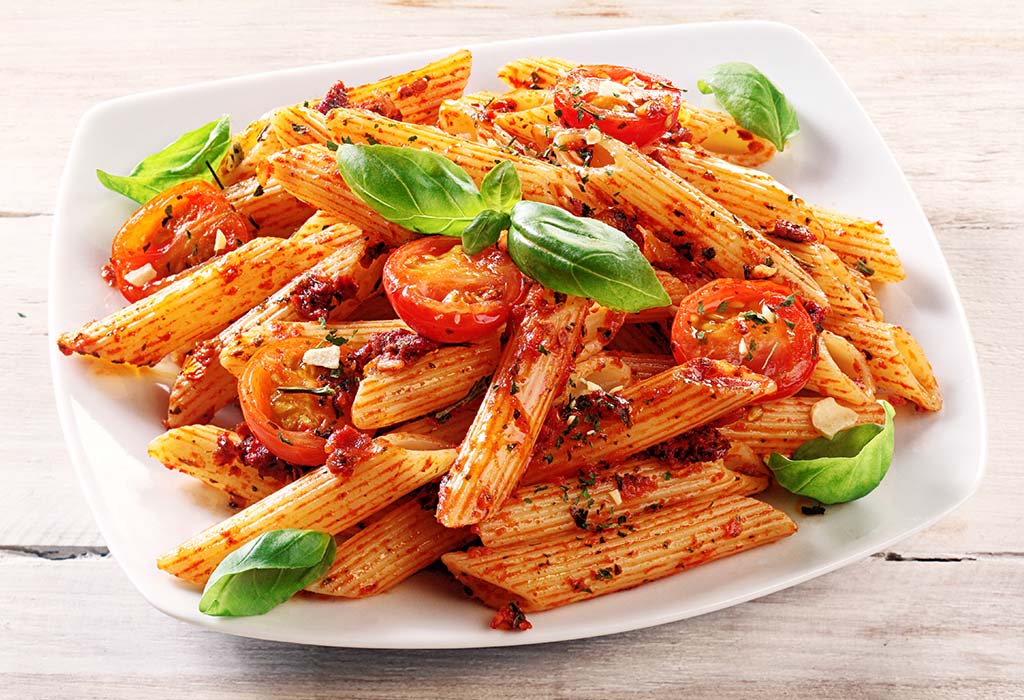 Method:
Cook the pasta till its soft and mashable.
Drain the pasta and set it aside.
In a pan, heat a tsp oil and sauté the carrot, potato, and garlic for a minute.
Add the tomato puree, basil, and water if required. Let it come to a boil.
Add the pasta and give it a good mix.
Then add the grated cheese and stir it till all the flavours mix completely.
You may mash the dish before feeding it to your baby at room temperature.
3. Cheesy Carrot Pasta
A carrot a day keeps bad vision away! This has vitamins, calcium and carbs.
Ingredients:
Pasta- 1 cup, cooked
Carrots – 0.5 cup, pureed
Grated cheese – 0.5 cup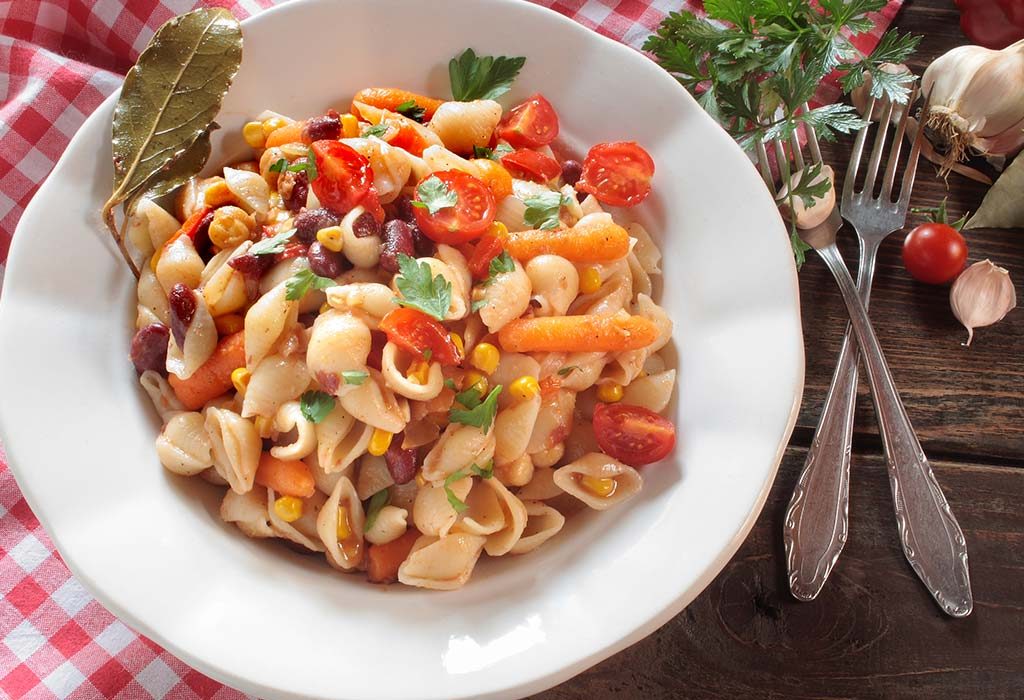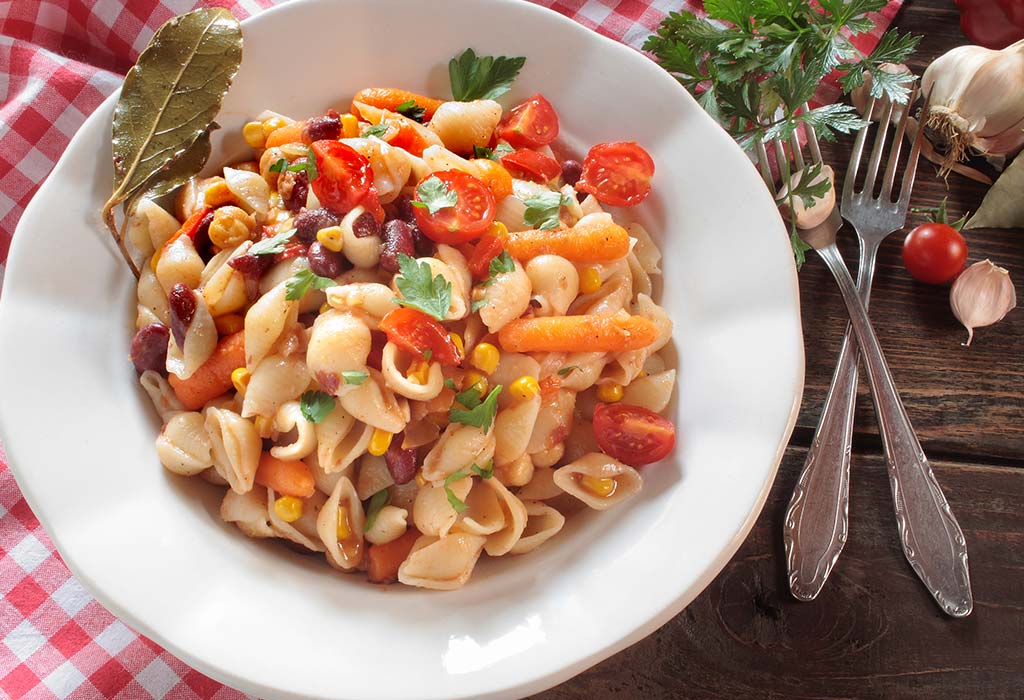 Method:
Heat the carrot puree in a pan.
Add the cooked pasta and stir it well.
Add the grated cheese and cook till it melts.
Serve the dish to your little one at room temperature.
4. Pasta Chicken Stew
This is the quickest chicken and pasta dish with enough flavour for your baby to relish.
Ingredients:
Chicken broth (homemade) – 2 cups
Pasta – 0.5 cups
Chicken breast – 0.5 cups, cubed
Peas – 0.25 cup
Cheese – 2 to 3 tbsp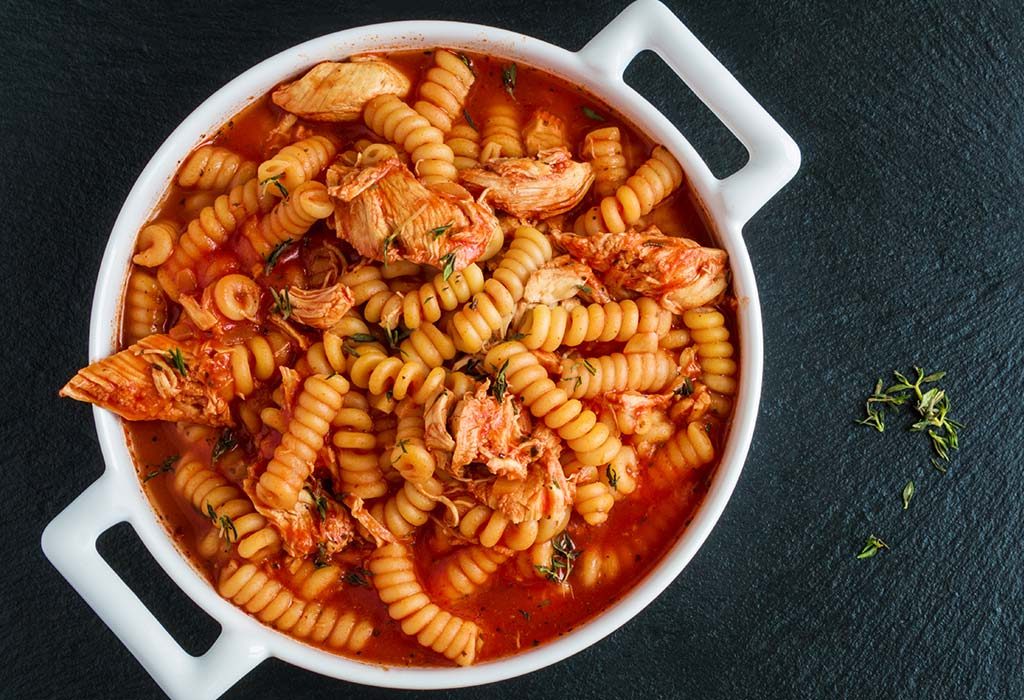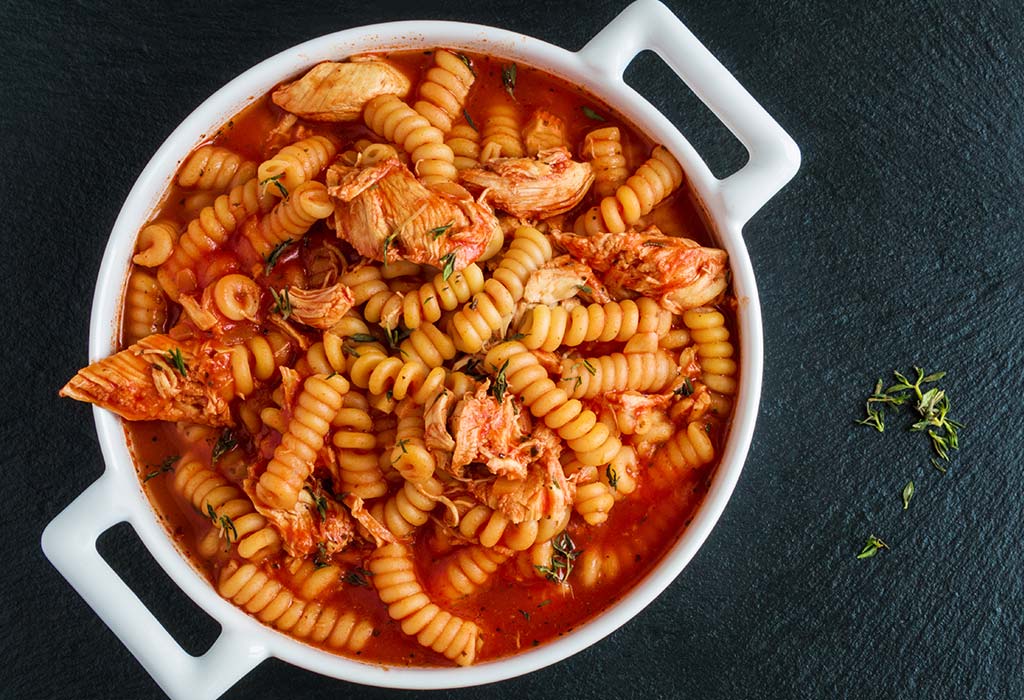 Method:
Boil chicken broth in a pan.
Add the pasta, chicken, and the peas.
Simmer on low flame until the chicken is cooked and all the flavours come together.
Mash the food and garnish with cheese.
5. Cheesy Pasta
This is a simple and classic way of serving pasta to your little one.
Ingredients:
Whole wheat pasta – 1 cup
Unsalted butter – 1 tsp
Cheese – 0.5 cup
Tomato Puree – 4 to 5 tbsp
Mixed herbs – as needed (optional)
Garlic powder – a pinch (optional)
Salt (optional)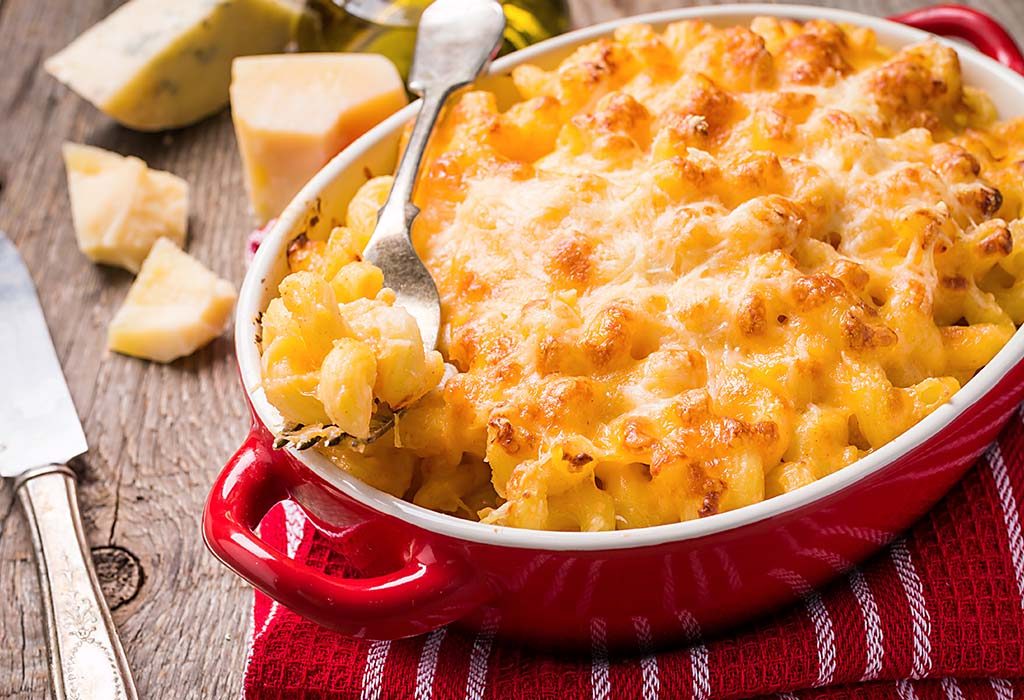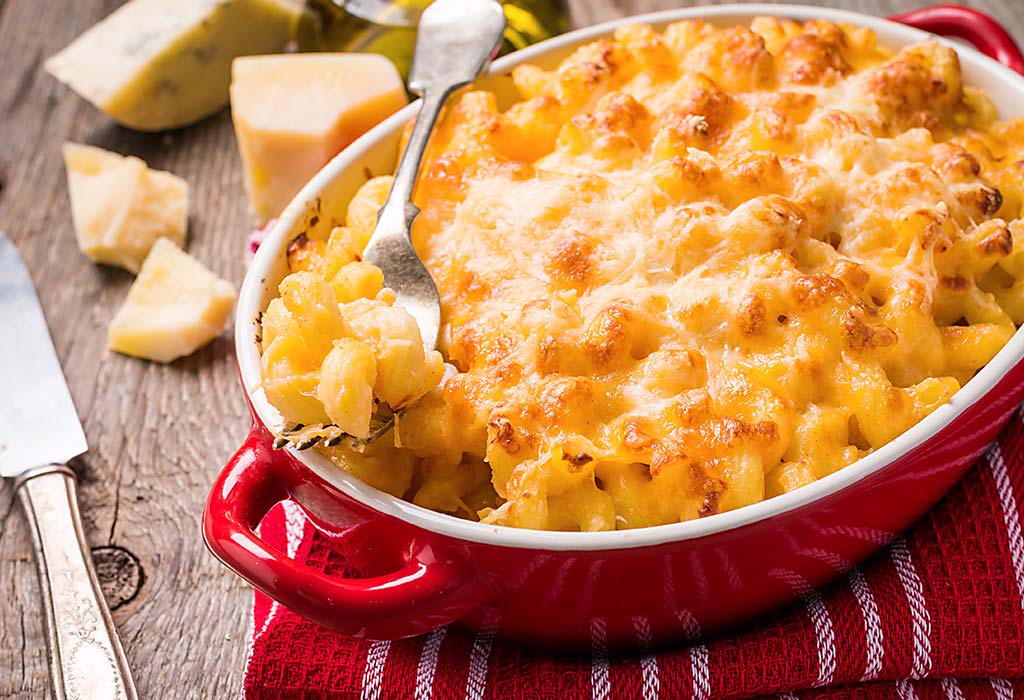 Method:
Cook the pasta, drain and set it aside.
Heat some butter in a pan and add the tomatoes puree.
Then, add the garlic powder and the herbs.
Once the tomatoes are cooked, add the pasta and mix well.
Add the cheese and turn off the flame once it melts.
Feed your baby this dish at room temperature.
We hope you like these recipes. They are easy to make and are sure to become your kid's favourite. Having said that, you must remember to check for a few things before you introduce pasta to your little one.
A Few Things to Remember
Check for wheat allergy in your baby before you feed pasta.
Always seek advice from the doctor before introducing this as a new food.
Pasta has a different flavour, and your child may not like it immediately. Therefore, makes sure you repeat the same recipe a few times on schedule for the baby to be familiar with the taste.
Check the package for the main ingredients before you buy.
Pasta like any other whole grain product is good for health if cooked with caution. Try these recipes and add some of your creativity to make the dishes more nutritious for your little one.
Also Read: Introducing Solid Foods to Infants