Murmura (Puffed Rice) Porridge Recipe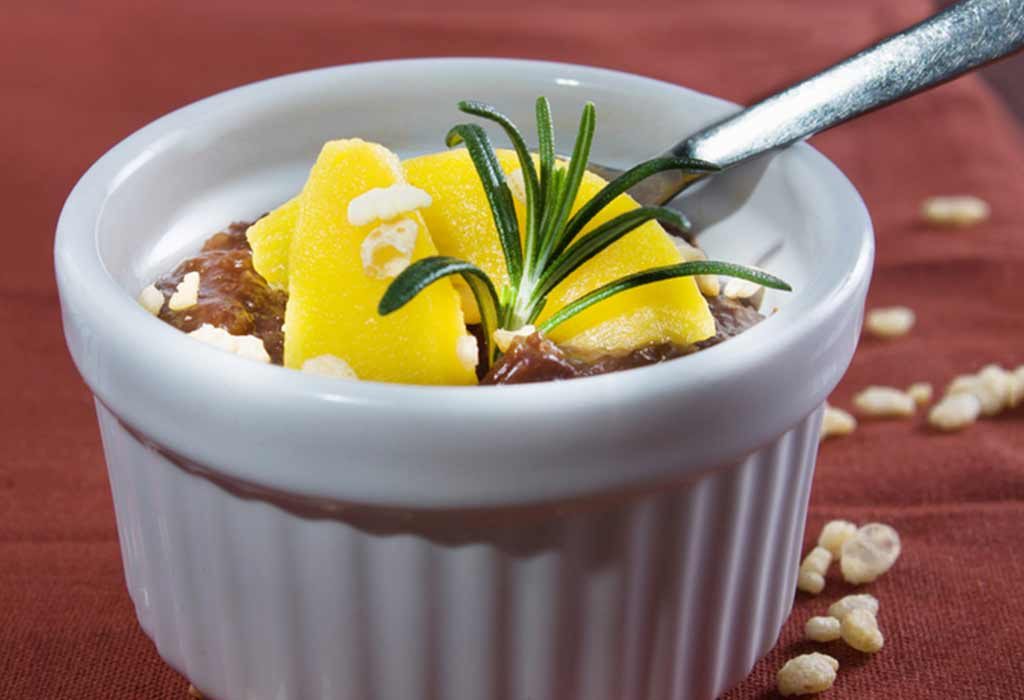 In this Article
A big bowl of nutritious porridge is the best meal for babies and toddlers above 8 months of age. Murmura (puffed rice) porridge is a recipe which you can include in your baby's diet without worrying about its nutritious value. Puffed rice is very nutritious with vitamin D, calcium, iron, and fibre and can be easily made into tasty recipes. It is easy to digest and helps in aiding a high amount of energy to babies. Read on to find out how to make puffed rice porridge for your little munchkin!
Cooking Time
| | |
| --- | --- |
| Type | Time (hh:mm:ss) |
| Preparation Time | 00:05:00 |
| Cook Time | 00:15:00 |
| Total Time | 00:20:00 |
Cooking Method
Gas or induction
Type of Meal
Vegetarian
Suitable For
Any baby above 15 months of age
Meal Schedule
Lunch, mid-evening snack, or dinner.
Recipe Type
Main Dish
Ingredients
| | |
| --- | --- |
| Type | Quantity |
| Puffed Rice (Roasted and de-husked) | 100 grams |
| Bengal gram (Roasted and de-husked) | 30 grams |
| Hot Water | ¼ cup or as needed |
| Jaggery syrup | ½ teaspoon |
Instructions
Follow the below-mentioned step by step directions to make yummy murmura (puffed rice) porridge:
Put a pan on the gas stove to heat.
Add roasted puffed rice to the pan, let it heat and saute.
Now add roasted gram to the pan.
Let all the mixture cool for a while.
Add all the mixture in a grinding jar and grind well.
Your puffed rice powder is now ready, which you can store in a fine airtight container and save for almost 3-4 Months.
Take 2 tablespoons of puffed rice porridge powder in a bowl.
Add very hot water to the mixture.
Keep stirring to avoid any lumps.
Add jaggery syrup for an added flavour.
Your yummy puffed rice porridge recipe is ready to serve!
Recipe Tips
This simple murmura (puffed rice) porridge recipe is easy to make and can be made easily using home-roasted freshly ground puffed rice and bengal gram powder. You can easily store the leftover blended mixture in an airtight container and use it for 2-3 months.
Instead of jaggery syrup, you can also use roasted cumin powder and a pinch of salt for an added flavour.
To avoid any lumps, pour hot water slowly and keep stirring till it gives a soupy texture. And let it cool down for a while before feeding it to the baby.
This homemade puffed rice porridge baby food recipe thickens over time so make sure that you add an adequate amount of water to adjust the consistency.
Do make sure that the ingredients you are using are already introduced to the baby before, to avoid any allergic reaction.
Consulting with your paediatrician before you introduce any new food or ingredient to your baby is highly recommended.
Nutrition Information (1 Cup Serving or 200 ml)
| | |
| --- | --- |
| Type | Value |
| Carbohydrates | 12 grams |
| Calcium | 115.5 milligrams |
| Iron | 7.26 milligrams |
| Protein | 10.96 grams |
| Fat | 1 gram |
| Sodium | 1 gram |
Health Benefits
These are some of the great health benefits that are associated with this yummy and healthy puffed rice porridge recipe:
Puffed rice has fewer calories than the rice, and it is filled with protein and a small amount of dietary fibre as well as iron which makes it ideal for babies.
Bengal gram is also very nutritious. It has a good amount of iron, selenium, sodium, as well as zinc, copper, and manganese. They are also a rich source of protein, folic acid, and fibre and contain phytochemicals (saponins), which acts as high antioxidants. It is also very important for babies during the growth period.
Jaggery is packed with health benefits. It has vitamins and minerals in good amounts and is rich in iron. It is packed with minerals like Magnesium, Calcium, Potassium, Manganese, Selenium, and Zinc.
Buying Guide
Below mentioned are certain buying tips while choosing the right ingredients for puffed rice porridge baby food recipes:
If possible, buy good quality organic Bengal gram from a trusted source to avoid any harmful chemicals or pesticides.
Go for fresh puffed rice and jaggery to make the porridge and avoid buying premade puffed rice porridge powder for this recipe.
Try to make the jaggery syrup fresh at home to avoid any contamination.
You can make this puffed rice porridge for babies hassle-free and in no time at home. This warm bowl of porridge will feel like a warm hug to your baby's belly and is perfect for those summer evening meals!