Mix Veg Soup Recipe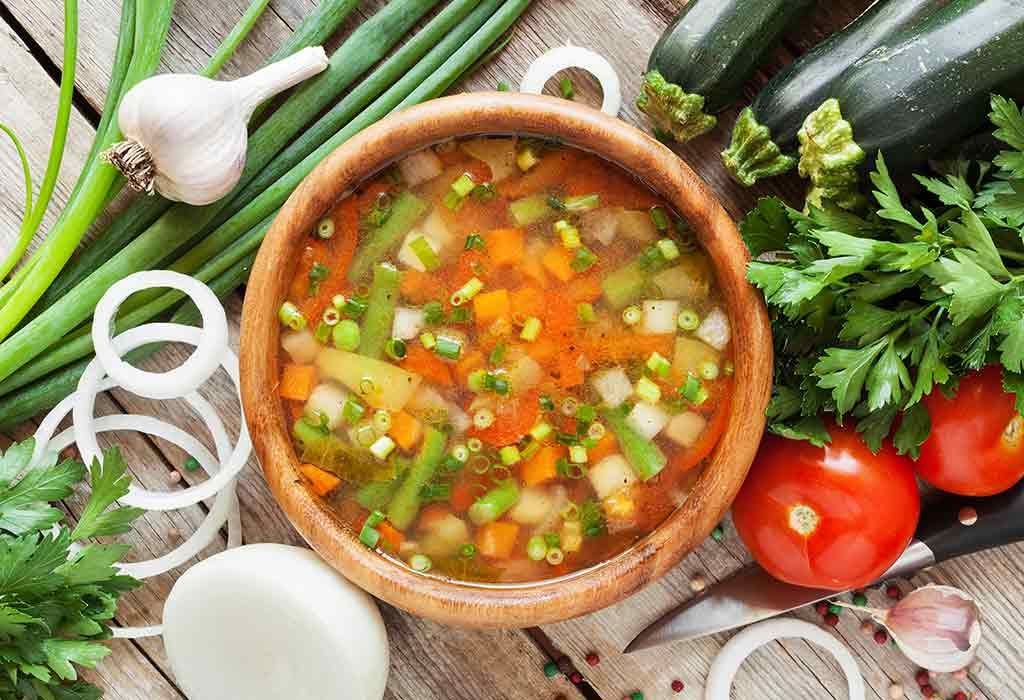 In this Article
Soup is a great way to provide wholesome nutrition to your child. When it comes to serving your kid a snack that is delicious as well as healthy, mix-veg soup is one of the best options. Your child gets to eat so many vegetables and at the same time relish vegetable stock. Not much chewing is required, and it is easy to digest.
Usually, in the early days of motherhood, moms are concerned that their babies do not sleep. This soup is considered to promote good sleep.
Most soups are considered tedious to be prepared at home. Unlike those, the recipe shared here is easy to follow, takes no time and can be customized easily according to your child's taste. Wondering about how to make mix veg soup at home? Get ready to know about it all!
Cooking Time
| | |
| --- | --- |
| Type | Time (hh:mm:ss) |
| Preparation Time | 00:15:00 |
| Cook Time | 00:20:00 |
| Total Time | 00:35:00 |
Cooking Method
Gas Stove
Type of Meal
Vegetarian
Suitable For
Weaning babies older than 17 months of age
Meal Schedule
Mid-Morning Snack, Lunch or Dinner
Recipe Type
Appetizer
Ingredients
| | |
| --- | --- |
| Ingredient | Quantity |
| Spring Onion/ Onion (chopped) | 2 tbsp |
| Minced Garlic | 2 tsp |
| Carrots (chopped) | 1/3 cup |
| Green Cabbage (chopped) | 1/3 cup |
| French Beans (chopped) | 1/3 cup |
| Sweet Corn Kernels | 1/3 cup |
| Vinegar | ½ tbsp |
| Corn flour | 2 tbsp |
| Ground Black Pepper(optional) | ¼ tsp |
| Butter/Oil | 1 tbsp |
| Water/ Vegetable Stock | 2 ½ cup |
| Salt | As per taste |
Instructions
Read on to find the step by step directions to prepare yummy mix veg soup:
Cut all the vegetables – Carrot, French beans, spring onions or onions and green cabbage into small pieces.
Now take a bowl and add 2 tbsp cornflour to it. Add 3 tbsp of water to the cornflour and mix well.
Take a heavy bottom pan and keep it on medium flame. Add 1 tbsp oil or butter to it.
Add chopped onions and minced garlic to the pan. Saute it for 1 to 2 minutes.
Next add French beans, green cabbage, sweet corn kernels and carrot to the pan. Add some salt that makes it perfect for the vegetables to cook.
Stir and cook the vegetables for 4-5 minutes.
By this time the vegetables must be partially cooked.
Next, add 2½ cups of vegetable stock or water. Mix well and bring it to boil. Once the mixture has started to boil, add salt. Bear in mind that salt was added for cooking the vegetables too. Make sure you do not overdo it.
Add black pepper powder if your child is comfortable with it.
Now add the cornflour water mixture. Keep stirring continuously so that no lumps are formed.
Stir and cook until the soup turns thick and the raw smell of cornflour vanishes. This may take around 7 to 8 minutes.
Now add vinegar and mix thoroughly.
Your soup is ready to serve!
Recipe Tips
These tips will enhance the taste of your homemade mix veg soup baby food recipe:
This recipe can be customized easily. You may add whatever vegetables you feel like and skip the ones mentioned in the recipe. You can include green peas, cauliflower, cucumber and tomatoes as well.
Cornflour is added to thicken the soup. If you like watery soup, you can reduce the quantity of cornflour as well.
Please avoid buying ready-made soup packets from the market for your child.
Nutrition Information (Per 100 Grams)
| | |
| --- | --- |
| Type | Value |
| Energy | 32 Cal |
| Protein | 1.1 grams |
| Dietary Fibre | 1.9 grams |
| Carbohydrates | 3.7 grams |
| Fat | 1.5 grams |
| Vitamin C | 38.6 mg |
| Calcium | 40 mg |
| Magnesium | 12.7 mg |
| Iron | 0.8 mg |
| Phosphorus | 71 mg |
| Potassium | 97.1 mg |
| Sodium | 15.5 mg |
Health Benefits
Following are some health benefits your child will get out of this simple mix veg soup recipe:
The soup is an excellent source of fibre which helps to regularise bowel movements.
The chopped vegetables add antioxidants to the soup, which help in cleansing the body.
The soup also fulfils the water requirement of your child's body.
It is an excellent remedy to relieve cold and cough and provides nutrition as well.
It keeps the child full and energetic for long.
Buying Guide
To prepare mix veg soup for toddlers, you must take precautions while buying the ingredients:
Try to buy organic vegetables from the market. This prevents the intake of harmful chemicals used during farming.
Your child will love this bowl full of nutrients, and it will definitely tickle his/her taste buds. Do try it at home and bring a smile on your little ones face!