Paneer Anjeer Laddoo Recipe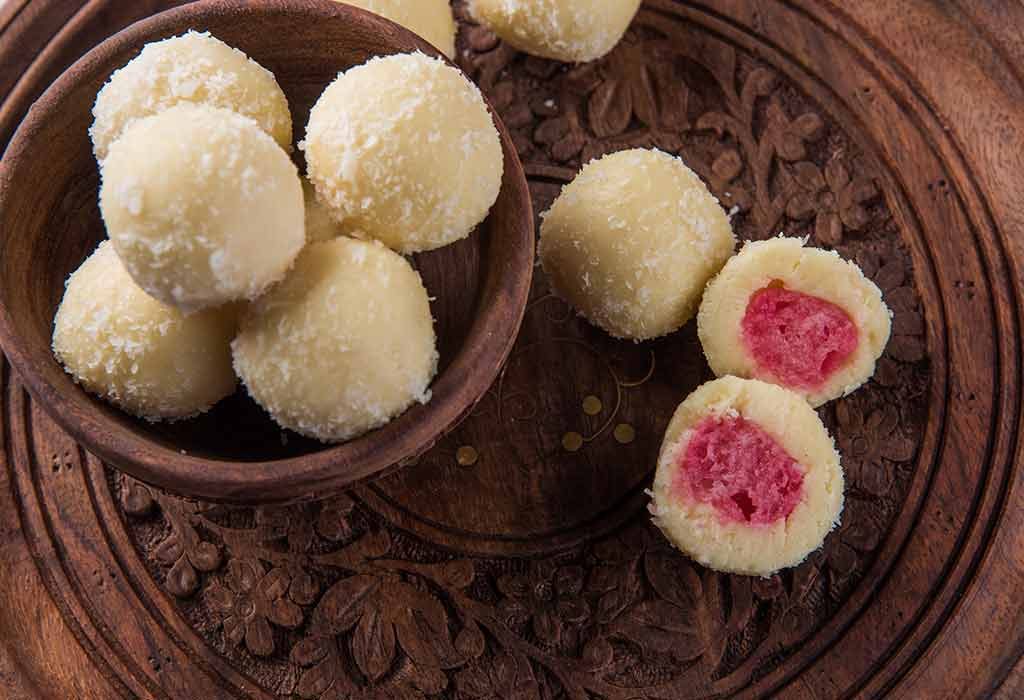 In this Article
Indians have a weakness for sweets and it's well known. Our festivals are incomplete without sweets of different types. While many of these are time-consuming and challenging to make, others are relatively easy to prepare. One of these is paneer anjeer laddoo. These laddoos are not only fantastic in taste, but also have wholesome nutrients as well for the kids. Paneer anjeer laddoo recipe can be tweaked a little as per your convenience, and the taste remains the same. The anjeer stuffing which a crunchy taste takes the recipe to a different level. With the paneer anjeer laddoo for babies, you have one delectable sweet that everyone will love.
Cooking Time
| | |
| --- | --- |
| Type | Time (hh:mm:ss) |
| Preparation Time | 00:15:00 |
| Cook Time | 00:15:00 |
| Total Time | 00:30:00 |
Cooking Method:
Gas Stove
Type of Meal:
Vegetarian
Suitable For:
Weaning babies older than twelve months of age
Meal Schedule:
Mid Morning Snack, Evening Snack.
Recipe Type:
Side-Dish / Dessert / Snack
Ingredients
| | |
| --- | --- |
| Ingredients | Quantity and Volume |
| Paneer | 250 gms |
| Plain flour (maida) | 500 gms |
| Ghee | 1 Tbsp |
| Milk | As required |
| Cardamom powder | 1 tsp |
| Sugar | 2 cups |
| Anjeer (Dry figs) | 5-6 |
| Almonds | 5-6 |
Instructions
If you want to know how to make paneer anjeer laddoo, we have this quick recipe for you. It is easy, and you need just a few ingredients to prepare these tasty laddoos. Go through our step by step directions to make these:
Mash the paneer with a spoon or whisk it in a mixer.

Now add it to the flour along with ghee and mix well.

To this mixture, pour milk gradually to ensure no lumps are formed.

Now take this mixture to the pan and cook it on low heat. Keep stirring till it dries and gets thick.

Keep stirring the mixture else it can easily get burnt.

Now take it off the stove and add cardamom powder and let it cool.

Prepare the stuffing of the mixture with chopped anjeer and almonds.

When the mixture is cool enough, shape them into small balls of reasonable size.

Do it by taking a tbsp of the mixture and shape it into a ball. Make a dent in the centre with a thumb and fill it with ½ tsp stuffing of chopped anzeer and almonds.

Once the filling is done shape it back into a ball.
Recipe Tips
With this simple paneer anjeer laddoo, you are ready to serve a treat for your kid and others in the family. Consider a few essential points during the preparation of these laddoos.
Mash the paneer properly to create a coarse mixture.

The milk, paneer and flour should be mixed properly to maintain consistency in the mixture.

While cooking, stir regularly else the mixture tends to get burnt easily.

Use a spoon instead of your hands when mixing the ingredients.

Use polythene gloves while making the laddoos to maintain hygiene.

Ensure that the laddoos are made gentle and firm.
Nutrition Information (Per 100 Grams)
| | |
| --- | --- |
| Nutrient | Value |
| Energy | 69 kCal |
| Protein | 1 g |
| Carbohydrates | 8 g |
| Fibre | 1.6 g |
| Fat | 3 g |
| Vitamin A | 5 mcg |
| Vitamin C | 0.1 mg |
| Vitamin B2 (Riboflavin) | 0.0 mg |
| Calcium | 8 mg |
| Iron | 0.4 mg |
| Sodium | 2 mg |
| Potassium | 106 mg |
Health Benefits
Read on to find out the benefits of health with this home-made paneer anjeer laddoo baby food recipe:
Paneer is an excellent source of protein for your baby.
It strengthens bones and teeth and improves digestion too.
Anjeer works wonders in improving digestive health of your baby. It also gets rid of constipation.
Anjeer is full of minerals that are vital for your child's growth.
Almonds in the laddoos are an excellent source of Vitamin E, magnesium and essential fatty acids and help in maintaining a clean gut.
Buying Guide
Avoid buying paneer from the market. It is always better to prepare it at home.
Buy fresh almonds and anjeer for the laddoos.
Buy organic plain flour (maida) for the laddoos.
Homemade ghee is the best option to use for preparing these laddoos.
These paneer anjeer laddoos will bring a different taste to your baby's palate. These are soft for your baby to devour. Sweets are a big favourite with Indians, and you do not need any occasion to prepare these at home. The taste of these laddoos is for the whole family to enjoy. You can add your flavour to this preparation by adding a little twist to the ingredients. The best thing is that you can store these laddoos easily for a few weeks.
?>