Masala Makhana Recipe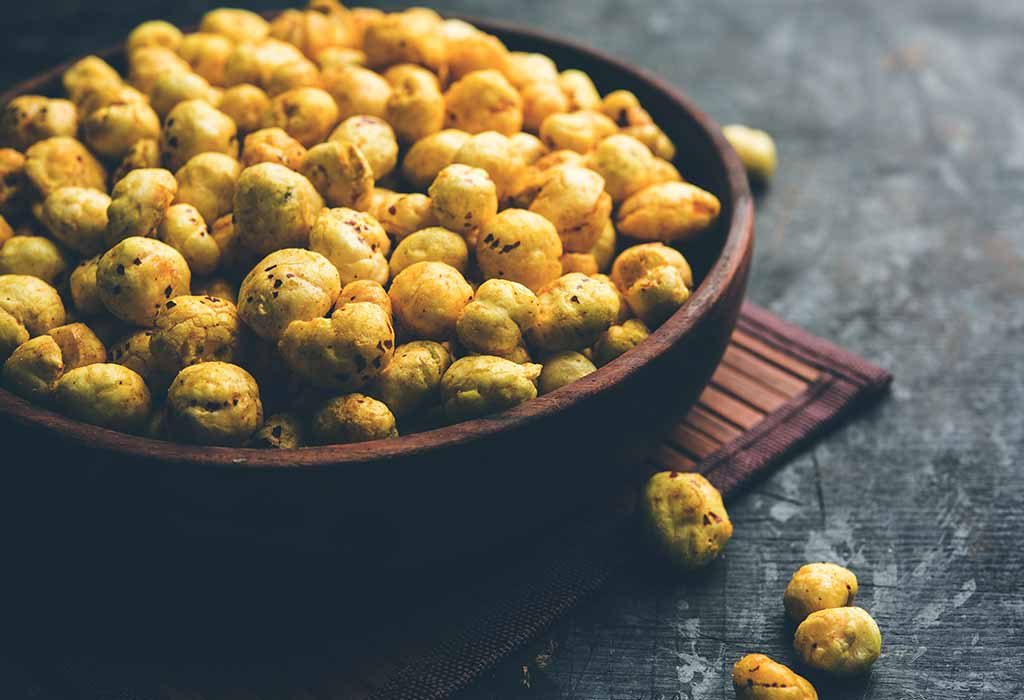 In this Article
If you're looking for any healthy snack option that will help your child graze through the day, enjoying a never-ending snack time, masala makhana is the best choice. Makhana or fox nuts are edible kernels of the lotus plant. These seeds are commonly used in Asian cuisines and are sold in dried or shelled forms. This simple snack is easy to make contains essential nutrients and keeps hunger at bay for both children and any other family member. This well-timed snack adds variety to your child's diet with its soft texture and spicy flavour. Wondering how to make masala makhana? This detailed recipe given here will help you serve up a yummy bowl of snack that will boost your child's energy level.
Cooking Time:
| | |
| --- | --- |
| Type | Time (hh:mm:ss) |
| Preparation Time | 00:02:00 |
| Cook Time | 00:10:00 |
| Total Time | 00:12:00 |
Cooking Method: Gas
Type of Meal: Vegetarian
Suitable For: Toddler older than 19 months of age
Meal Schedule: Breakfast, Mid-Morning Snack, Evening snack
Recipe Type: Snack Dish
Ingredients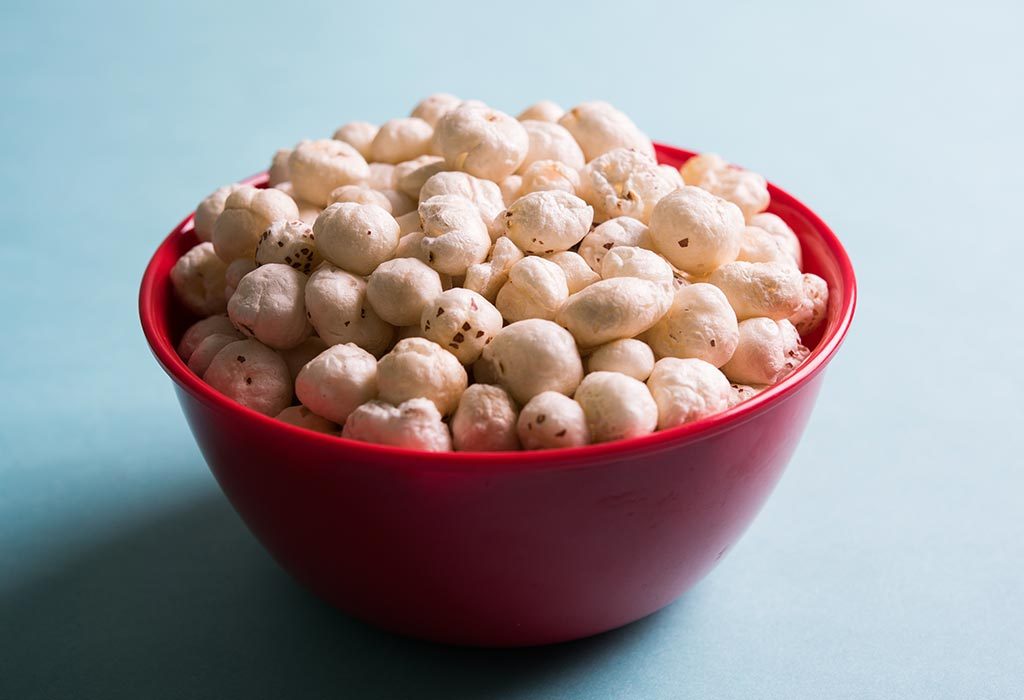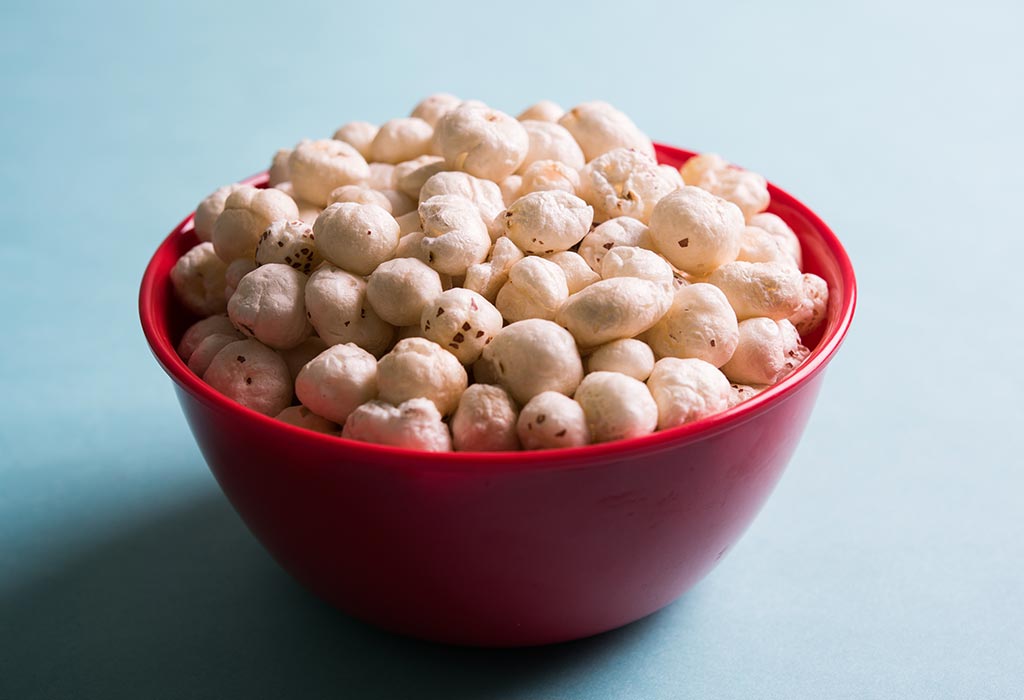 | | |
| --- | --- |
| Type | Quantity |
| Ghee/Clarified Butter | 1tsp |
| Phool Makhana | 2 Cup |
| Cumin Powder | ¼ tsp |
| Pepper Powder | ¼ tsp |
| Chaat Masala | ½ tsp |
| Salt | ¼ tsp |
| Garam Masala | ¼ tsp |
| Turmeric Powder | ¼ tsp(Optional) |
Instructions:
The step-by-step directions for making the tastiest and easiest masala makhana recipe would enhance your cooking skills and ensure that your child develops healthy snacking habits.
Heat 1 tsp of ghee in a large kadai and dry roast makhana for at least 5-10 minutes in low flame until it turns crunchy.
Switch off the flame and add the required salt along with the other spice powders to one tsp of ghee.
As it slightly bubbles, add the roasted makhana and toss it well so that the spices are well coated.
Remove the kadai from the gas and serve the masala makhana immediately or store them in an airtight container for later use.
Recipe Tips
This masala makhana recipe can be altered to suit your child's palate for spice levels and preference.
This homemade masala makhana baby food recipe can be perked up with the use of differently flavoured Indian spices or herbs commonly used for continental dishes.
For older babies you can use red chilli powder, cheese powder or onion powder for a refreshing flavour.
Make sure to cook everything on a low flame to make sure the spices do not burn.
Roast the makhana well. Taste one before adding the spices.
Raw and fresh lotus seeds are sweet, while dry seeds are delicious and crunchy after they're baked.
This popped seeds are highly versatile and can be a part of your baby's weekly diet in various forms.
Nutrition Information (Per 100grams)
| | |
| --- | --- |
| Type | Value |
| Carbohydrates | 64.47gram |
| Fat | 1.97 gram |
| Protein | 15.41gram |
| Sodium | 5mg |
| Potassium | 1368 gram |
| Carbohydrates | 10gram |
| Vitamin A | 50IU |
| Calories | 64kcal |
| Riboflavin | 0.150mg |
| Calcium | 163mg |
| Iron | 3.53mg |
| Energy | 332kcal |
| Phosphorus | 626mg |
| Zinc | 1.05mg |
Health Benefits
The health benefits of a bowl of instant masala makhana for babies are listed here below:
Packed with the goodness of calcium, makhana is good for the development of the bones and teeth of growing babies.
These seeds are gluten-free which make them safe for babies with less likelihood of causing allergies.
As makhana has medicinal properties, it is recommended for treatment of diseases of digestive, excretory and respiratory problems.
It is a wonder crop that makes it comparable to other dry fruits like almonds, walnut and cashew nuts.
Its rich protein content makes it an ideal snack to strengthen the baby's muscles and boost cell growth.
Being calorie-dense, makhana keeps your child's tummy full for a long time, especially during travels.
Abundant in fibre, makhana prevents constipation in children.
It prevents kidney related problems.
Buying Guide
Keep this buying tips in mind while you go shopping for the right ingredients required for making this masala for your baby:
Buying organic makhana (if possible) from a good store is advisable.
Dry makhana seeds are uniform and compact in shape. Avoid buying small-sized shrivelled makhana, as they are poor in quality.
Using homemade ghee instead of packaged ghee.
Masala makhana for babies is the best finger food that can be offered to a baby with the bonus of its goodness. Cut the makhana into small pieces to prevent a choking hazard and watch how your little munchkin relishes on this irresistible and addictive snack that tickles his taste buds.