Jowar (Sorghum)- Paneer – Palak Paratha Recipe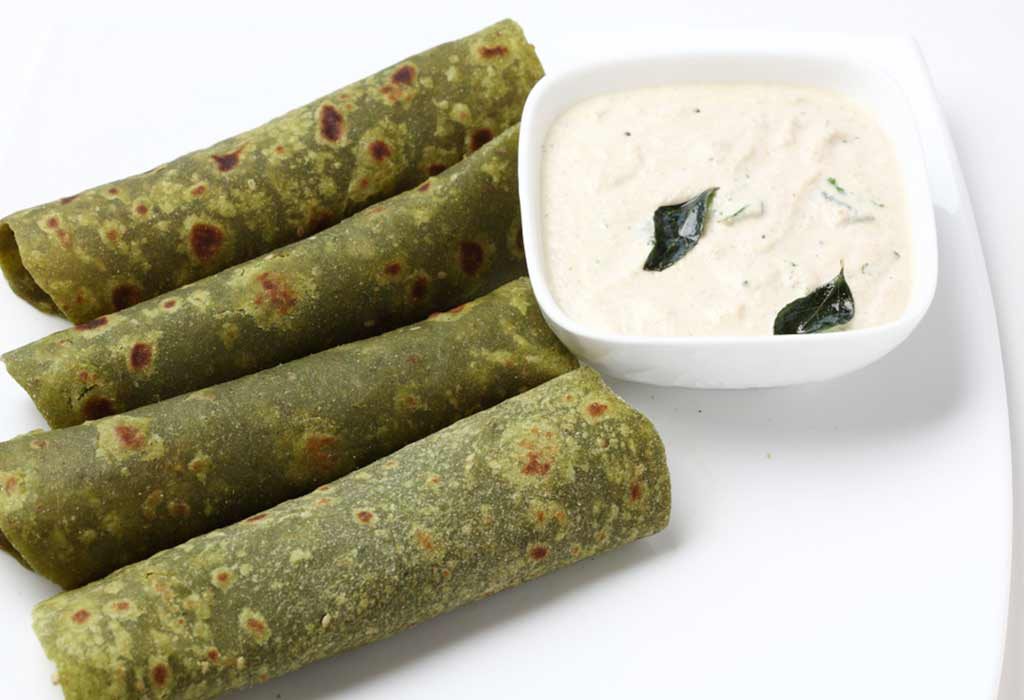 In this Article
A staple in North Indian households, parathas are a lip-smacking breakfast or even had for lunch or dinner. Generally made with whole wheat flour, these are essentially stuffed roti. The stuffing is made from vegetables mixed with spices to make a delicious dish. However, with the growing intolerance for wheat and gluten-based stuff, people are looking for healthier replacements to whole wheat flour. Jowar( Sorghum) is a millet that is packed with nutrients and rich in fibre. This variation of jowar(Sorghum) paneer palak paratha for babies is something that your munchkin will love once in a while.
Cooking Time
| | |
| --- | --- |
| Type | Time (hh:mm:ss) |
| Preparation Time | 00:10:00 |
| Cook Time | 00:30:00 |
| Total Time | 00:40:00 |
Cooking Method
Gas Stove, Induction
Type of Meal
Vegetarian
Suitable For
Any toddler above 13 months of age
Meal Schedule
Breakfast, Lunch or Dinner
Recipe Type
Main Meal
Ingredients
For the dough
| | |
| --- | --- |
| Ingredients | Quantity and Volume |
| Jowar (Sorghum) flour | 2 cups |
| Spinach finely chopped | 1 ½ cups |
| Green chilies | 1-2 |
| Salt | 1 teaspoon |
For the filling
| | |
| --- | --- |
| Ingredients | Quantity and Volume |
| Paneer | 200 gms |
| Salt | As per taste |
| Onion finely chopped | ¼ cup |
| Ginger grated | 1 teaspoon |
| Green Chilli | 1 teaspoon |
| Coriander leaves finely chopped | 2 tablespoon |
| Dry Mango Powder or Amchur Powder | 1 teaspoon |
| Roasted Cumin Powder or Roasted Jeera Powder | ½ teaspoon |
| Ghee | For frying |
Instructions
It is a simple step-by-step process to follow to learn how to make jowar(sorghum) paneer palak paratha
Add the spinach and green chilies in a mixie jar and blend it to make a smooth paste. You can add a few drops of water to make it a paste.
Mix this paste with the jowar(sorghum) flour and knead it into a dough with enough salt. Make sure the dough is soft. Once done, cover it and keep it aside.
Take a large bowl and pour all the ingredients for the filling. Give it a good mix so that it all blends well together.
Divide the dough into round balls of the size of lemons.
Dust flour and roll into a small circle of diameter of 4 inches.
Place about 2-3 tablespoons of filling in the centre. Fold the ends of the together and seal it.
Use some more flour and roll this into a circle to make a paratha that is 6 inches in diameter.
Now heat a tawa or a griddle. Place the paratha and cook it on a medium flame.
Once you see brown spots appearing, apply some ghee, and flip it over.
Now apply some ghee on the top part and cook until both sides are cooked well.
Serve hot with some pickle, preserve, or raita.
Recipe Tips
To get this simple jowar (sorghum) paneer palak paratha recipe right, just follow these tips:
You can simply add the chopped spinach and green chilies into the flour and knead them. You can eliminate the process of grinding it.
The jowar should be finely ground so that it kneads well into a soft and pliable dough.
Grate the paneer so that you can mix the ingredients for the filling finely.
Nutrition Information (Per 100 Grams)
| | |
| --- | --- |
| Nutrient | Value |
| Energy | 361 kCal |
| Protein | 15 gm |
| Carbohydrates | 47 g |
| Fiber | 7 g |
| Fat | 12.4 g |
| Cholesterol | 33 mg |
| Sodium | 641 mg |
| Fat | 14 gm |
Health Benefits
Now that you know how to make home-made jowar (sorghum) paneer palak paratha recipe, learn about its numerous benefits too:
Jowar is packed with fibre and regulates digestion.
Jowar is also a rich source of protein and helpful in building muscles and generating cell development.
Jowar is a powerhouse that is packed with antioxidants, minerals, and vitamins.
Jowar is gluten-free and a healthy wheat alternative.
Spinach is a great source of Vitamin A, Vitamin K, Vitamin C, and folate. Vitamin K helps in improving bone health. It is also good for the skin and hair.
Spinach strengthens your eyesight and immune system.
Buying Guide
Buy organic jowar flour as it will be free from pesticides and chemicals.
Try to buy organic spinach as it will be cultivated with natural ingredients.
Try to buy spinach which has tender and fresh leaves.
Buy paneer from supermarkets and make sure you use it before the expiry date.
This paratha is great to have for breakfast, lunch, and dinner. It is a great way to pack protein, fibre, and essential vitamins and minerals from vegetables into your kid's diet. So go ahead and try this recipe to offer a fulfilling meal to your toddler.