Stewed Pear Recipe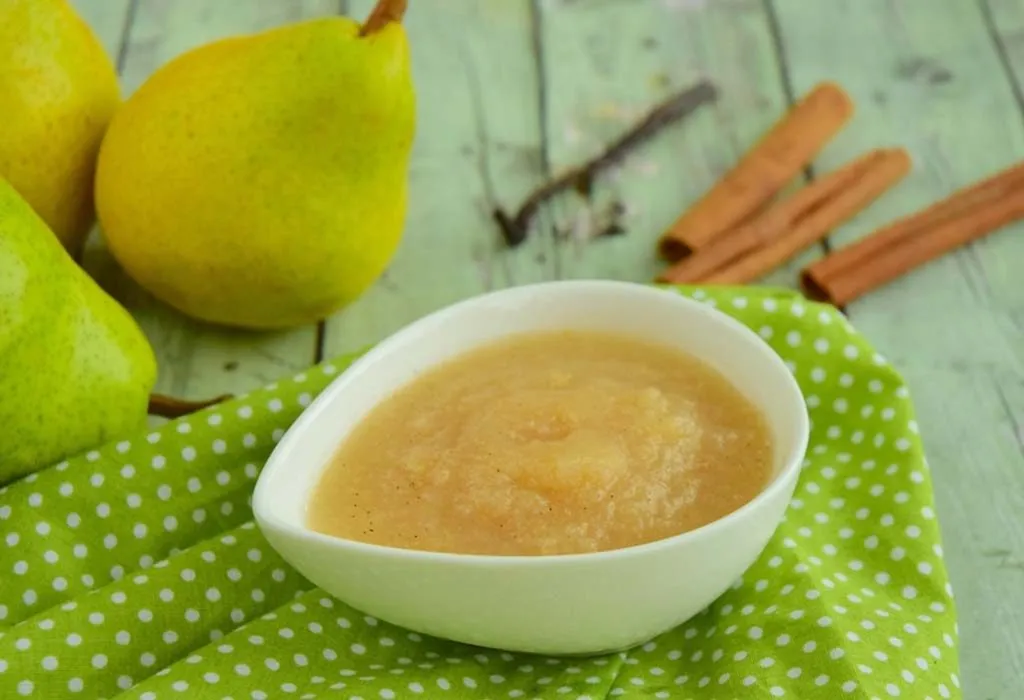 In this Article
A new mommy is always in search of healthy and nutritious, and tasty recipes for her baby. If your baby has just started on solids, then even you must be looking for some healthy dishes that you can make for your baby. Stewed pear is a healthy baby food that is low in sugar and can be enjoyed warm or cold. Juicy pears can be introduced as early as 4-6 months of age. Naturally sweet stewed pears can make a wholesome snack idea for weaning babies. This easy to make stewed pear is also gentle on baby's tummy. It has a soft texture and tastes delicious. Made with spices like cinnamon sticks, sugar, and root ginger, this recipe gives specific instructions on how to make stewed pear.
Video : Stewed Pear Recipe for Babies and Toddlers

Cooking Time
| | |
| --- | --- |
| Type | Time (hh:mm:ss) |
| Preparation Time | 00:05:00 |
| Cooking Time | 00:20:00 |
| Total Time | 00:25:00 |
Cooking Method
Gas
Type of Meal
Vegetarian
Suitable For
Babies above 8 months of age
Meal Schedule
Breakfast, lunch or dinner
Recipe Type
Main dish
Ingredients
| | |
| --- | --- |
| Type | Quantity |
| Ripe pears | 2 |
| Water | 1 Cup |
| Cinnamon sticks | 1-2 |
| Cloves | 6 |
Instructions
The step by step directions given here helps mothers to make the yummiest stewed pear that a baby will eat without any fuss:
Peel and chop the pear into halves or quarters. Then remove the seeds and stem.
Place the chopped pear in a saucepan and cover it with water in medium flame.
Add in the cardamom sticks and cloves.
Bring it to a boil by simmering for 15 to 20 minutes.
Stir occasionally until the pear turns tender and is ready to be pureed.
Turn off the flame and transfer the cooked pear in a bowl. Mash the pear well or blend it in a blender.
Drizzle a pinch of cinnamon powder and serve warm.
Recipe Tips
Below are some tips that you should follow to make healthy and tasty stewed pear.
You can also add a stewed apple to this dish to make it taste even better.
Although this homemade stewed pear baby food recipe is wonderful on its own, it can be made into a layered parfait by adding fresh yoghurt, a drizzle of fresh cream, a dollop of coconut yoghurt, crunchy granola or some chopped nuts.
Adding sweeteners like maple syrup or honey can enhance its taste. But you should either of the two only if your child is above 1 year of age.
Sprinkle any toasted seeds of your choice to this dish that can be served as a dessert.
You can cook with the pear's skin as it is easily digestible.
Make sure you blend the fruit well after steaming as its fibres might choke small babies.
You can serve stewed pear with breast milk or formula milk.
Allow pears to ripen in a warm area if you want stewed pear to taste better.
Oatmeal and chopped dates can be added while boiling the pear. It will give it a soupy texture.
You can even add an inch of root ginger or a dash of vanilla to give the stewed pear a distinct flavour.
Instead of boiling, you can bake this stewed pear in a pre-heated oven for approximately 25 minutes at 350 degrees F.
Apple juice can be used to boil the pear instead of sugar or water.
Nutrition Information (Per 1 Serving)
| | |
| --- | --- |
| Type | Value |
| Carbohydrates | 271.1 gram |
| Calories | 101 calories |
| Protein | 1 gram |
| Sugar | 17.4 gram |
| Fibre | 5.52 gram |
| Fat | 0.249 gram |
Health Benefits
Stewed pear is considered a part of a baby's balanced nutritious diet Here we look into the specific health benefits that this versatile dish may provide:
Stewed pear is a wheat-free, dairy-free, gluten-free dish. Hence it does not cause any allergic reactions in babies.
Pears contain pectin which is a fibre nourishing gut bacteria.
The antioxidants present in pears can boost the immunity level of your child.
Its high dietary fibre content can help ease bowel movements.
Low in calories, pears are packed with essential vitamins and minerals that help fight chronic illnesses.
Cloves alleviate toothache and help in maintaining your child's oral health. It treats and cures common cold and respiratory disorders.
Buying Guide
When it comes to your child, you would surely want to buy the best quality ingredients. This buying guide compiles a list of suggestions that would make shopping fun and stress-free.
Buy certified organic whole cinnamon sticks if possible. While buying cloves remember that the cloves should have a spicy strong smell. Check the use-by date mentioned in the spice packet.
Too hard pears are under-ripe and too soft ones are over-ripe. Gently push the flesh near the stalk to check for its freshness.
The right choice of fruits and vegetables is key to the overall health of your baby. Homemade stewed pear is highly recommended for babies as it is easy to swallow and has a mild aroma. So try this recipe and give it your baby, he will surely enjoy it.