Mini Kanchipuram Idlis Recipe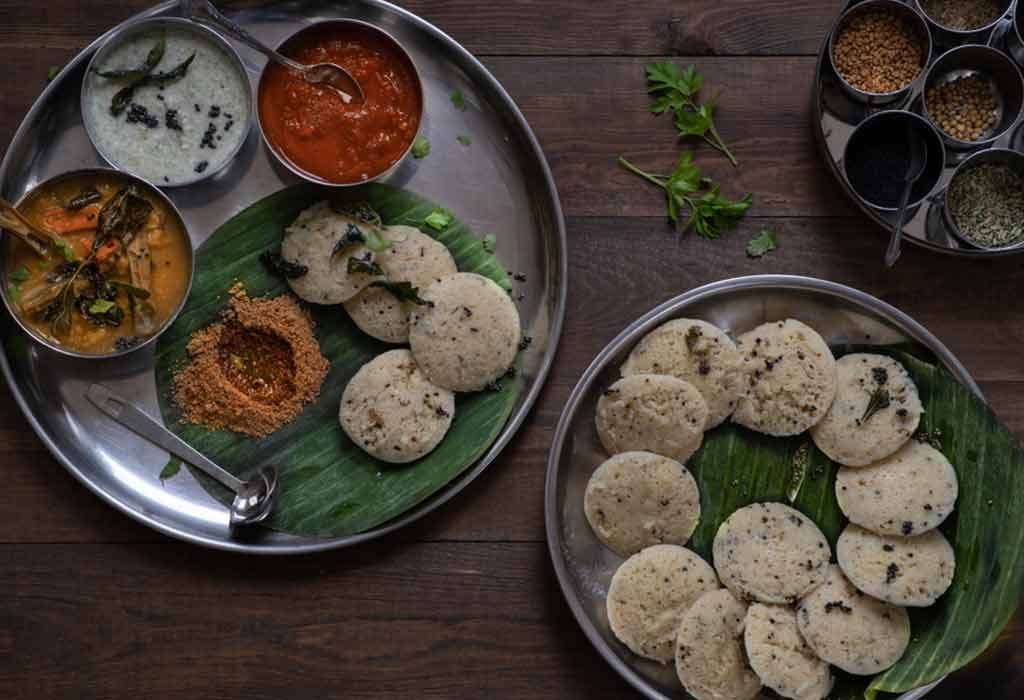 In this Article
South Indian cuisine is known for its sour and spicy combination. If you love idlis, a popular South Indian breakfast, how about you try mini Kanchipuram idlis? These idlis are steam-cooked mini idlis, which are served hot with tasty sambhar and coconut chutney. Mini Kanchipuram idlis taste delicious and can be made easily. They are worth the efforts as your little one will enjoy eating them. The generous amount of spices and ghee is what makes this dish rich and enhances its taste. Its nutrient value makes it a wholesome meal idea for lunch or dinner too. Find out how you can easily make Mini Kanchipuram idlis.
Cooking Time
| | |
| --- | --- |
| Type | Time (hh:mm:ss) |
| Preparation Time | 00:10:00 |
| Cook Time | 00:20:00 |
| Total Time | 00:30:00 |
Cooking Method
Gas Stove, Induction
Type of Meal
Vegetarian
Suitable For
Toddlers above 15 months of age
Meal Schedule
Breakfast, lunch or dinner
Recipe Type
Main dish
Ingredients
For the Mini Kanchipuram idlis, you will need:
| | |
| --- | --- |
| Type | Quantity |
| Raw rice | ¼ cup |
| Idli rice | ¼ cup |
| Urad dal | ½ cup |
| Salt | As per taste |
For seasoning
| | |
| --- | --- |
| Type | Quantity |
| Mustard seeds | ¼ tablespoons |
| Black peppercorn | ¼ tablespoons |
| Cumin seeds | ¼ tablespoons |
| Urad dal | ½ tablespoon |
| Salt | As per taste |
| Chana dal | ½ tablespoon |
| Ginger | ½ inch |
| Coconut (finely sliced and grated) | 3 teaspoons |
| Cashew nuts (crushed) | 2 teaspoon |
| Green chillies | 1 |
| Asafoetida | A pinch |
| Curry leaves | ½ teaspoons |
| Sesame oil | 1 tablespoon |
| Ghee | 1 tablespoon |
Instructions
To learn how to make Mini Kanchipuram idlis for babies, just follow this simple step-by-step guide:
For seasoning
Finely chop the ginger and green chillies and keep aside.
Heat a pan and add 1 tablespoon of sesame oil to it.
Now add ¼ tablespoon of mustard seeds in the oil and wait until they splutter. Add in the asafoetida along with urad, chana dal, black peppercorn, cashew nuts, and pieces of coconut.
Roast the mix until it turns golden brown.
You can now add ¼ tablespoon of cumin seeds, grated ginger, curry leaves, and finely chopped green chilli. Roast and turn the heat off and let the mixture cool.
Make this tempering when your fermented batter is ready.
For the mini Kanchipuram idlis
Take idli rice, raw rice, and urad dal in three separate bowls. Wash at least twice and soak them in water for at least 2 hours.
Rinse and drain the water and transfer the contents into a grinder. Now add water and grind to get a thick batter.
Transfer the batter in a bowl. Add salt and mix well.
Let this batter ferment at room temperature for 12 hours or overnight.
Now pour the seasoning over the fermented batter and mix it well.
Grease the mini moulds with ghee. You can use regular idli plates, tumblers, or small bowls.
Fill in the mini moulds with seasoned batter up to the brim. Place them in the pressure cooker for about 10 minutes. Take off the whistle from the lid and steam for about 10 to 12 minutes.
Allow it to cool then remove the idlis from the moulds using a wet spoon. Garnish with ghee and serve hot with coconut chutney and sambar.
Notes:
The preparation time does not include 12 hours of fermentation time.
Recipe Tips
Follow the below tips to make sure you make tasty Mini Kanchipuram idlis:
Make sure the consistency and texture of the batter is similar to that of regular idli batter and not very smooth like of pancake batter.
To grease the moulds, you can use ghee or sesame oil. But make sure they are properly greased.
Always make sure that the ingredients you are using are already introduced to the baby before, to avoid any allergic reaction.
Nutrition Information (Per 100 Grams)
| | |
| --- | --- |
| Type | Value |
| Calories | 50 kCal |
| Carbohydrates | 8.2 grams |
| Protein | 93 grams |
| Fat | 12 grams |
| Fibre | 1.2 grams |
| Vitamin A | 10.5 mcg |
| Folic acid | 7 mcg |
| Calcium | 7.6 milligrams |
| Phosphorus | 29.2 milligrams |
| Potassium | 47.7 milligrams |
Health Benefits
The ingredients used to make Mini Kanchipuram idlis are very healthy and can offer various health benefits to your baby. Read on to know how these idlis with so many healthy ingredients can be healthy for your little one:
Urad dal is rich in magnesium, potassium, iron, phosphorus, and calcium. All these nutrients play an important role in improving the baby's bone density and overall health.
Rice is rich in folic acid, magnesium, as well as vitamin B, which helps the body form new cells.
Ghee is full of healthy fat that helps to break down the protein and gives the body the much-needed energy.
Buying Guide
Tips to source ingredients for Mini Kanchipuram idlis:
Buy only branded and organic rice, idli rice, and urad dal as they are free from any harmful chemicals or pesticides.
Mini Kanchipuram idlis are a staple food of South India. They taste delicious and are a completely satisfying meal. So go ahead and try them – your little one will surely enjoy eating these idlis!