Every article that we publish, confirms to stringent guidelines & involves several levels of reviews, both from our Editorial team & Experts. We welcome your suggestions in making this platform more useful for all our users. Write in to us at parenting.care@firstcry.com
At FirstCry Parenting, our aim is to give you the most elevant, accurate and up to date information.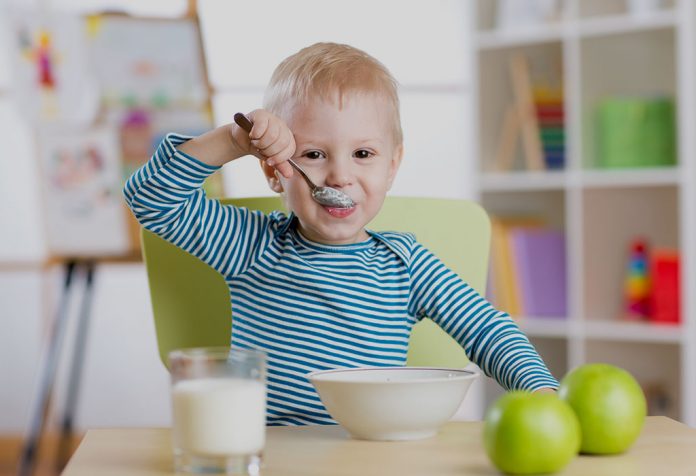 Last Updated on
Toddlers can be a challenge when it comes to nutritional intake and feeding. This is the time that they begin to develop individuality and endeavour to control what they eat. Such developmental milestones can make mealtime a struggle for parents. It is important to support the baby with planned meals while also setting boundaries on who has control.
Video: Food Ideas for 21 Month Old Baby
Nutrient Requirements for 21 Months Old Child
Listed below are some nutrients that are essential for children at 21 months of age:
1. Carbohydrates
Glucose from carbohydrates is used by the brain to fuel itself. The amount of carbohydrate required by a 21-month-old child is around 130 grams. This is the same amount needed for an adult brain to work properly.
2. Protein
Babies require a low protein diet. A toddler requires a mere 13 grams of protein per day.
3. Fat
Fats are an essential nutrient for toddlers. They're is required by the body for absorption of fat solvable vitamins, cellular building, muscle movement and blood clotting.
4. Sodium
Sodium works as an electrolyte in the body, and it is imperative for nerve function, muscle contraction and to regulate blood pressure. An infant requires a minimum of 1 gram per day for optimum functioning.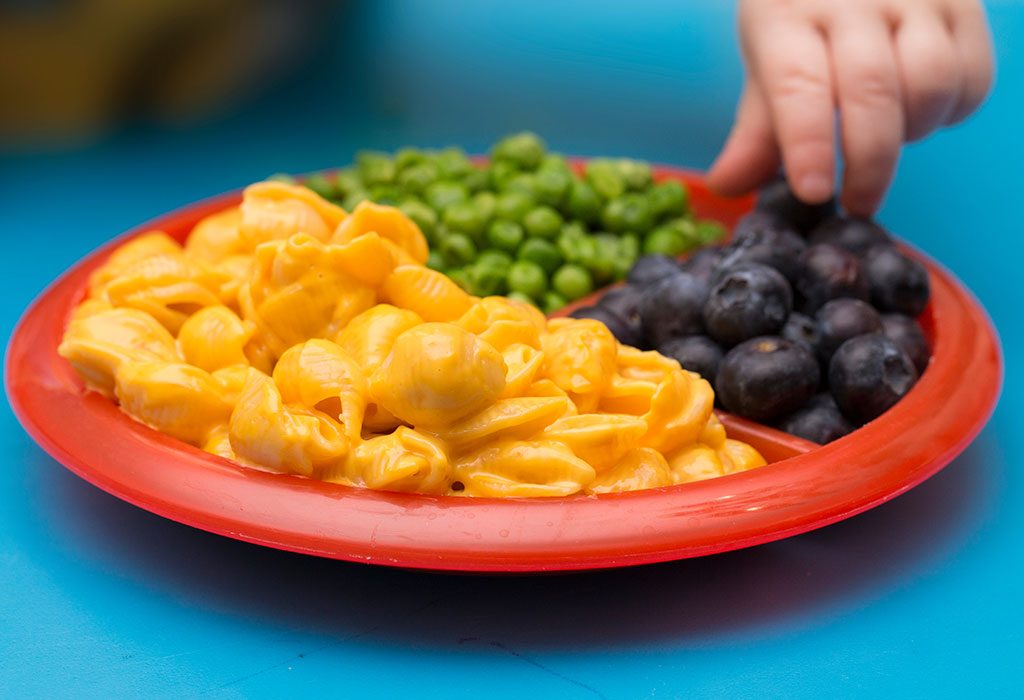 5. Iron
Iron is required to produce red blood cells that carry oxygen through the blood. Iron insufficiency can lead to frequent infections, fatigue, and pale skin. Toddler requires 7mg of iron per day.
6. Calcium
Calcium is an important micronutrient required for the development of bones, teeth and even heart function. Toddler up to the age of 3 require 700mg of Calcium per day.
7. Vitamin D
Vitamin D is vital for absorption and utilization of calcium by the body. Children require 300-400 units of Vitamin daily.
8. Water
Toddlers at 21 months of age require 1.3 litres of water that should come from mixed sources such as water itself, from food, and water contained in milk. Water forms 70-75% of your body weight and is required to structure large molecules, transport other nutrients, lubricate and cushion organs, and flush toxins from the body.
How Much Food Does a 21-Month-Old Toddler Need?
Toddlers have a lower calorific need than infants due to a slowdown in growth. Toddlers require anywhere between 1,000 to 1,400 calories every day, depending on their size, physical activity level and age. This translates to roughly ½ a cup of rice, 1 small fruit, 1 cup mashed or cooked vegetables, 1 cooked egg, and 1 cup of milk each day. Toddlers also require a healthy amount of oils in their meal.
Best Foods for 21-Month-Old Baby
Homemade food that is processed as little as possible is the best way for children to meet their nutritional needs. Some of the best foods to offer 21-month-old babies are listed below:
1. Cooked eggs
Eggs can be boiled or scrambled and can be served with butter or cheese.
2. Bread rolls
Flatten the slice of bread and butter it. Roll to make finger food.
3. Rava dosa
Dress up your regular dosa by adding a fistful of rava to give it texture.
4. Idli
Have your toddler eat plain idli or serve it with a non-spicy chutney.
5. Upma
Peas and carrots mixed in to make rava upma can be served with a helping of ghee.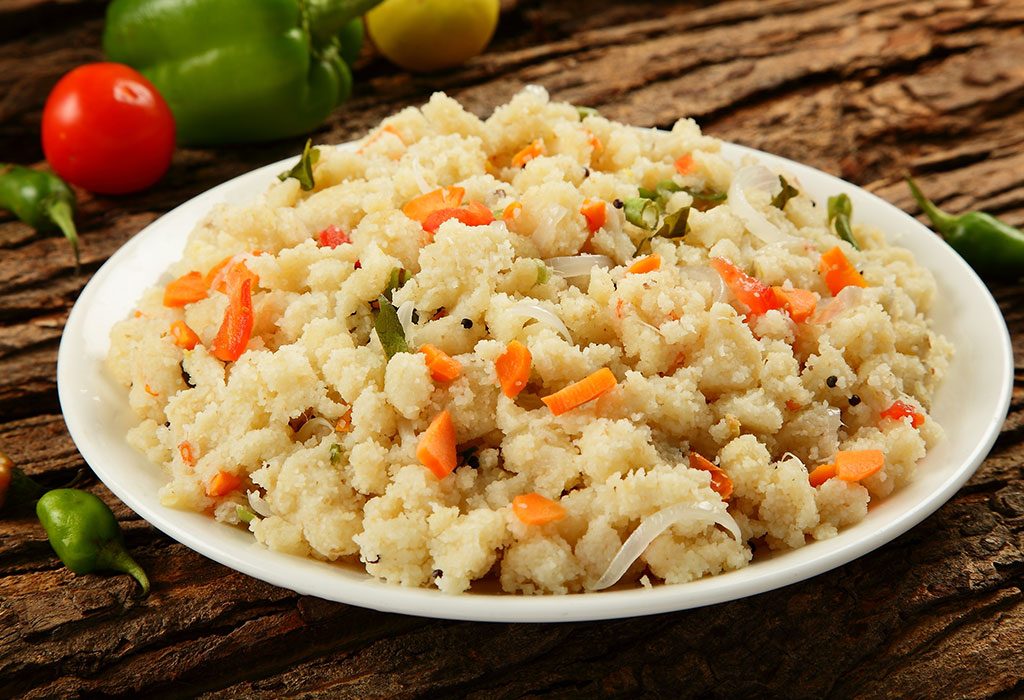 6. Cheese paratha
Make soft, cheese filled parathas that will leave your toddler wanting for more!
7. Cream of tomato soup
Pureed tomato with a dash of cream would make a healthy and tasty meal for your child.
8. Banana pancakes
Mashed banana on pancakes can be served with a drizzle of honey to increase its appeal.
9. Fruits
A mixed bowl of whatever fruits are in season will help improve the nutritional intake of your toddler.
10. Lentil dosa
This is a wholesome dosa option that can be paired with curds or butter to make it tasty.
Video: Diet Plan for a 21-Month-Old-Baby
21-Month-Old Baby Food Chart/Meal Plan
Encourage your toddlers to try a bite of all new food given to them. Here is a suggested food chart for a 21-month- old Indian baby.
Diet for a 21-month-old – Week 1, Day 1
| | |
| --- | --- |
| Breakfast | Chole paratha + milk |
| Mid-morning | 1 elaichi banana |
| Lunch | Multigrain roti + dal + a subzi of choice + a few slices of boiled beetroot+ hand pounded rice |
| Evening | Plain dahi (curd)/dahi (curd) with jaggery |
| Dinner | Jowar (sorghum) roti and matki (moth bean) with lauki (bottle gourd) spinach soup |
Diet for a 21-month-old – Week 1, Day 2
Diet for a 21-month-old – Week 1, Day 3
Diet for a 21-month-old – Week 1, Day 4
Diet for a 21-month-old – Week 1, Day 5
Diet for a 21-month-old – Week 1, Day 6
Diet for a 21-month-old – Week 1, Day 7
Diet for a 21-month-old – Week 2, Day 1
Diet for a 21-month-old – Week 2, Day 2
Diet for a 21-month-old – Week 2, Day 3
Diet for a 21-month-old – Week 2, Day 4
Diet for a 21-month-old – Week 2, Day 5
Diet for a 21-month-old – Week 2, Day 6
Diet for a 21-month-old – Week 2, Day 7
Diet for a 21-month-old – Week 3, Day 1
Diet for a 21-month-old – Week 3, Day 2
Diet for a 21-month-old – Week 3, Day 3
Diet for a 21-month-old – Week 3, Day 4
Diet for a 21-month-old – Week 3, Day 5
Diet for a 21-month-old – Week 3, Day 6
Diet for a 21-month-old – Week 3, Day 7
| | |
| --- | --- |
| Breakfast | Idli with chutney and sambar |
| Mid-morning | Fruit chaat with black salt |
| Lunch | Palak paneer and paratha + a few cherry tomatoes |
| Evening | Dahi (curd) /mashed banana/mashed papaya/pineapple raita |
| Dinner | Puri with aamras and aloo sabzi |
Diet for a 21-month-old – Week 4, Day 1
| | |
| --- | --- |
| Breakfast | Fresh homemade medu vada with chutney |
| Mid-morning | Pineapple cubes with chaat masala or honey |
| Lunch | Multigrain roti + dal + a sabzi of choice + a few slices of boiled beetroot + hand pounded rice |
| Evening | Ragi (finer millet) biscuits with milk |
| Dinner | Mini roti + dal + any sabzi of choice + a few slices of carrot/cucumber/tomatoes + coriander/mint chutney |
Diet for a 21-month-old – Week 4, Day 2
| | |
| --- | --- |
| Breakfast | Doodh (milk) poha with chopped fruits |
| Mid-morning | Banana/apple/any locally available fruit |
| Lunch | Egg bhurji with roti + curd rice and beetroot raita |
| Evening | Rice crackers with cheese spread |
| Dinner | Roti + dal + a sabzi of choice + a few slices of cucumber + hand pounded rice |
Diet for a 21-month-old – Week 4, Day 3
Diet for a 21-month-old – Week 4, Day 4
Diet for a 21-month-old – Week 4, Day 5
Diet for a 21-month-old – Week 4, Day 6
Diet for a 21-month-old – Week 4, Day 7
Video: 21 Month Old Baby Food Recipes
Food Recipes for 21 Months Old Baby
Here are some wholesome and nutritious recipes that you can try for your 21-month baby:
1. Aloo Paratha
Potato has a high carbohydrate content, and a stuffed paratha provides a good mix of oil, carbohydrates and proteins.
Ingredients
½ potato
½ cup wheat flour
1 spoon ghee or butter
½ spoon oil
water as required
salt to taste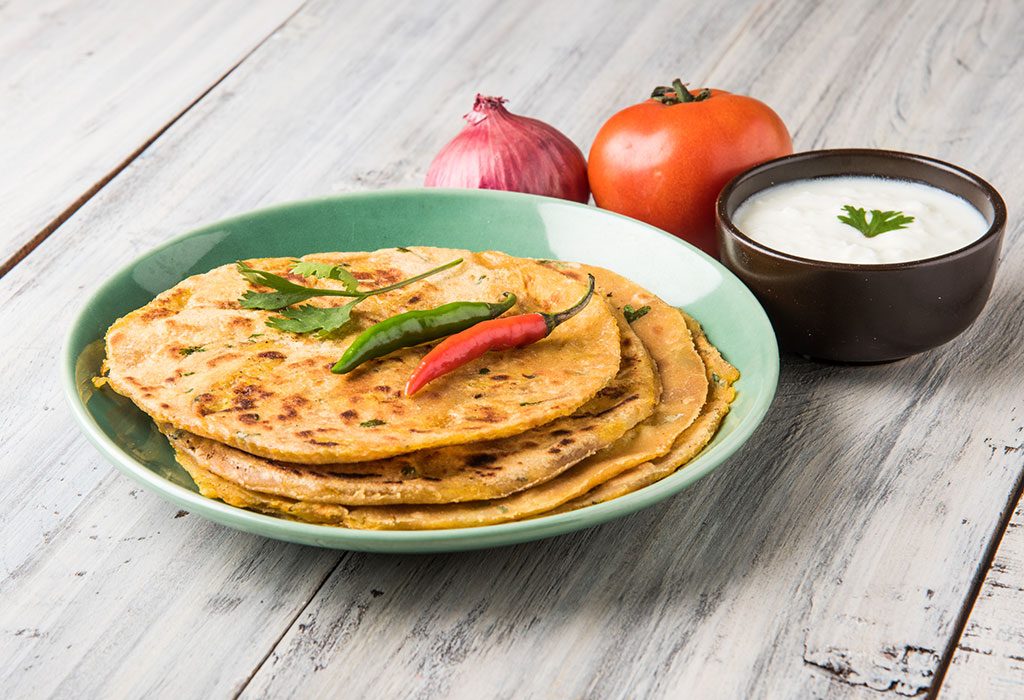 How to Prepare
Wash, peel, and boil the potatoes. Mash them and add a pinch of salt. Keep aside. Knead the flour into a soft and malleable dough. Take a small ball of dough and roll it out. Put a little-mashed potato in the centre and fold the rolled dough over the filling to cover it. Now flatten it out again. Place the paratha on a heated pan or griddle and cook both sides. Apply ghee on both sides before serving.
2. Wheat Pancakes with Honey
Wheat pancakes make a soft and fluffy food item that your toddler would love.
Ingredients
1 cup wheat flour
1 teaspoon salt
1 tablespoon sugar
1 cup milk
1 egg
1 spoon melted butter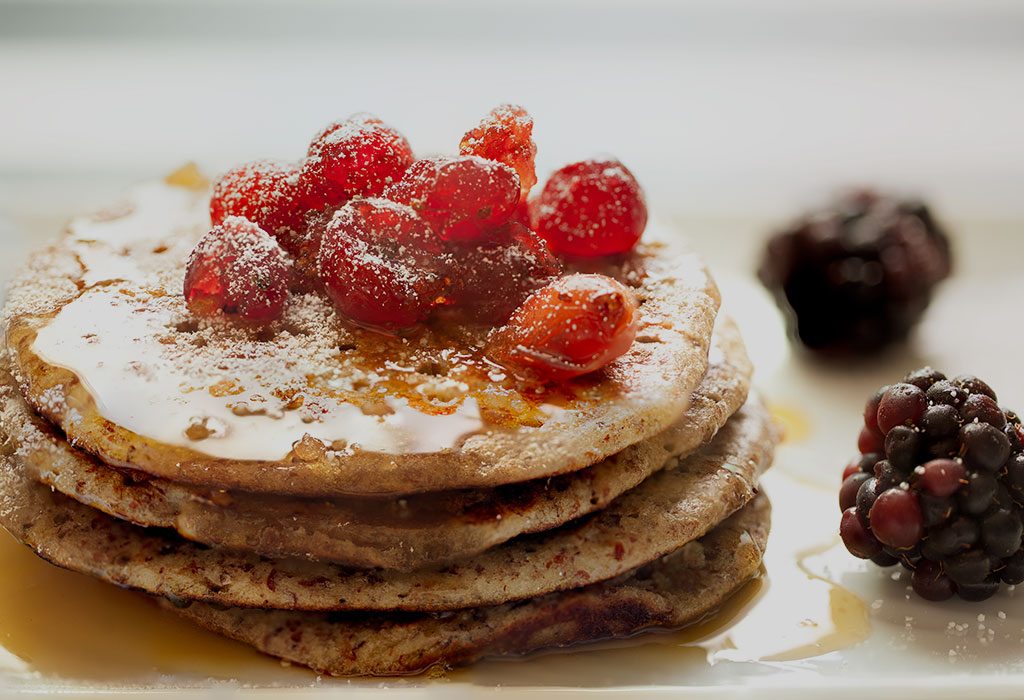 How to Prepare
In a mixing bowl, add together the flour, baking powder, salt, sugar and mix well. Make a well in the centre and pour the milk, beaten egg and melted butter. Mix until you have a smooth batter. Heat a griddle or pan and pour out a scoop of the batter. Brown on both sides and serve warm with honey.
3. Pongal
Pongal is wholesome because it contains proteins, carbohydrates and fats.
Ingredients
1 cup rice
½ cup moong dal
1 tsp jeera
5-7 curry leaves
¼ inch grated ginger
1 tsp ghee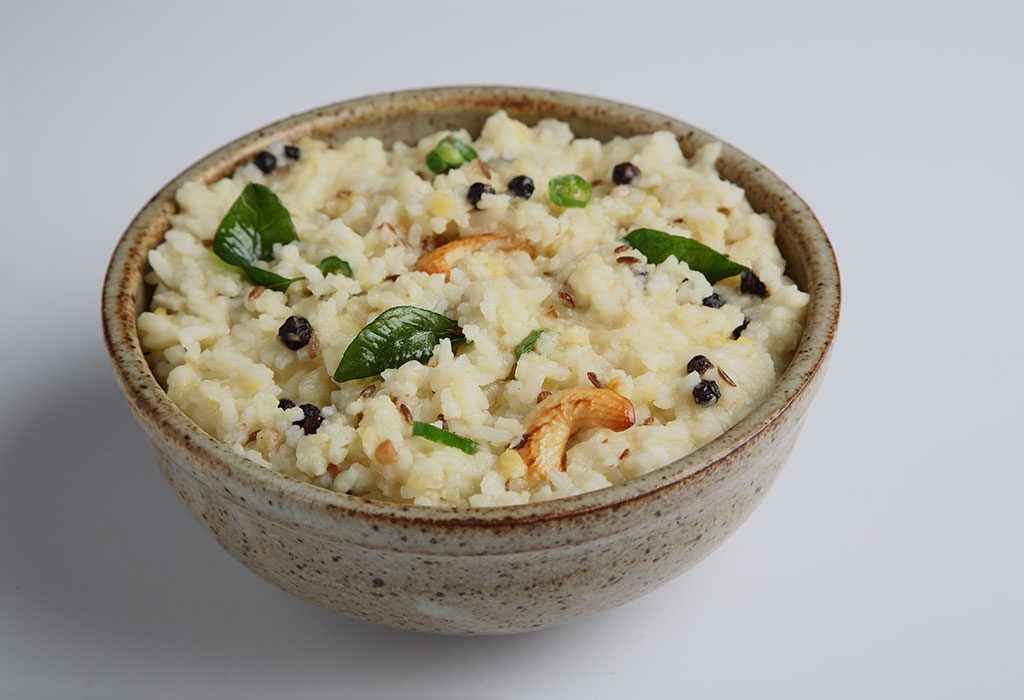 How to Prepare
Soak rice for ½ an hour. Dry roast the moong dal and keep aside. Let jeera splutter in the cooker. Add curry leaves and ginger and sauté. Add rice and dal with 5 cups of water and cook for 5 whistles. Simmer for 5 mins. Switch off. Cool and mash the mix. Remove leaves before serving to a toddler.
4. Chicken Soup
A warm cup of chicken soup is as good for health as it is said to be for the soul.
Ingredients
¼ kg chicken with bones
1 small bay leaf
1 medium cinnamon
2 cloves
¼ tsp cumin seeds
¼ tsp ginger grated
4 cloves garlic finely chopped
1 medium onion finely chopped
1 tsp coriander leaves
salt to taste
1 tsp ghee
2 cups water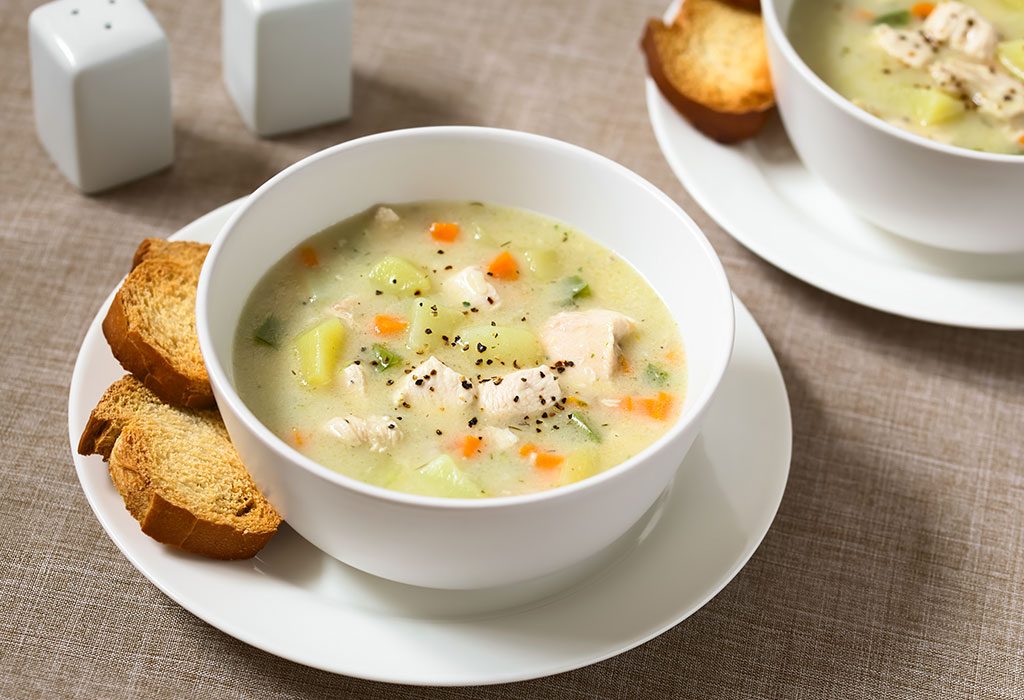 How to Prepare
Clean and chop chicken into small pieces. Finely chop or grate ginger, garlic and onions. Grind together the cumin, half the onion, and coriander leaves to a fine paste. Heat ghee in a cooker and splutter the cumin and sauté the cinnamon and cloves. Add remaining onions, chopped ginger and garlic and ground paste. Fry until it doesn't smell raw. Now add rest of the ingredients and sauté for a few minutes. Add water and pressure cook for 4 whistles. Simmer for 2-3 minutes and turn the flame off. Strain the soup using a sieve before serving to a toddler.
5. Pasta in Cream Sauce
Whole-wheat pasta cooked with cream sauce is a health and tasty option for your young ones.
Ingredients
1 cup macaroni or fusilli
½ cup fresh cream
½ cup cheese
1 tbsp all-purpose flour
1 tsp butter
½ cup milk
peas
salt to taste
1 tsp olives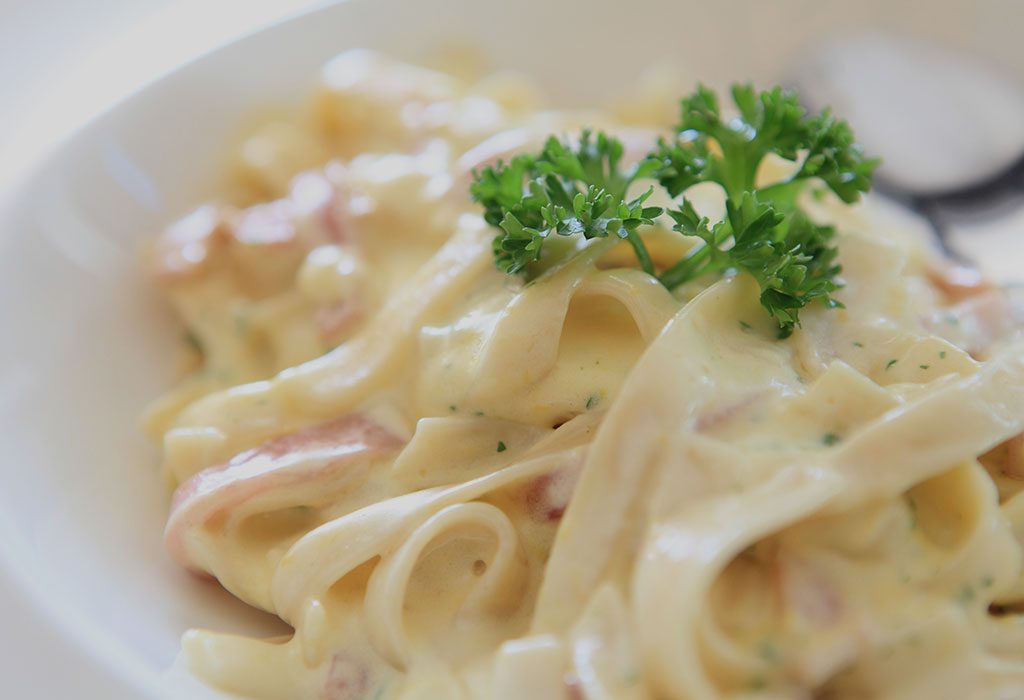 How to Prepare
Boil the pasta with salt and a spoon of oil. Run under cold water and set aside. Add butter to a pan and melt it. Add in the flour and stir. Don't let it burn. Add the milk to the flour and stir without lumps. Let it come to a boil and then simmer to thicken and reduce the sauce. Add the peas, salt, grated cheese and fresh cream and let it simmer until the peas are soft. Add the pasta and toss it in the sauce. Cool and add a few olives as garnish.
Feeding Tips
Here are some feeding tips to help reduce the struggle during mealtime:
As a toddler is looking for control, they want foods that they can eat by themselves. Give them bite-sized foods or finger foods.
Ensure that foods are rich in Vitamin C to enable absorption of iron.
Do not make mealtime a battlefield. When you try to force your toddler to eat, there will be a natural resistance.
Limit the intake of juice and given them fruits instead.
Do not bribe your toddler them sweets as rewards for finishing the food.
Have several small meals or snacks rather than 3 big meals. It provides variety and makes sure that your toddler doesn't feel hungry.
Start with soft foods and slowly add chewy or tough foods like meat.
Let your child sit during the meal and do not encourage running around.
Make mealtime fun by telling stories. Do not encourage eating in front of a television as it hinders the processing of taste and texture.
Appreciate your toddler for trying new foods but don't force what they don't like.
Toddlers at 21 months of age can experimental and tough. Do not let it stress you out. Understand that all children are not alike, and their appetites and tastes vary according to their temperament. You will lose some battles, but with patience, you will nurture a toddler who has a varied interest in food and grows up with an adaptable palate.
Disclaimer:
Each child is different and so use these meal plans as a trusted guide as per your

discretion. You

can modify the meals according to your child's preferences / requirements.

Never force-feed a child.
While preparing formula, please follow the instructions on the box and use the measuring spoon provided with it.

While introducing solid food to a baby, initially, one needs to

prepare

watery gruels/soups. As a child gets older, the caretaker/ mother has to increase the thickness of the liquids slowly according to the child's capacity to swallow. Foods that are too thick can cause stomach upset/ unnecessary load; while excessively watery food might cause the child to remain hungry.

Some kids may eat less on some days and that is absolutely alright. However, if a child eats less for more than 3-4 consecutive days, please visit a doctor to guide further.

A child may eat less during the teething phase or if he/she may not be feeling well. You could increase

breast milk

/formula feeds on those days. Re-introduce the foods once the child is back to normal.

Don't stop feeding if the child is suffering from diarrhoea.

You can alter the taste of the food by adding some natural flavours like cinnamon, jeera powder, lemon juice, curry leaves etc. if the child doesn't accept the food initially.

If your child suffers from an allergy to nuts, gluten or eggs, please consult your doctor before feeding him/her any foods that may contain them.
Also Read: Healthy Food for 2-Year-Old Baby