Methi Pitla Recipe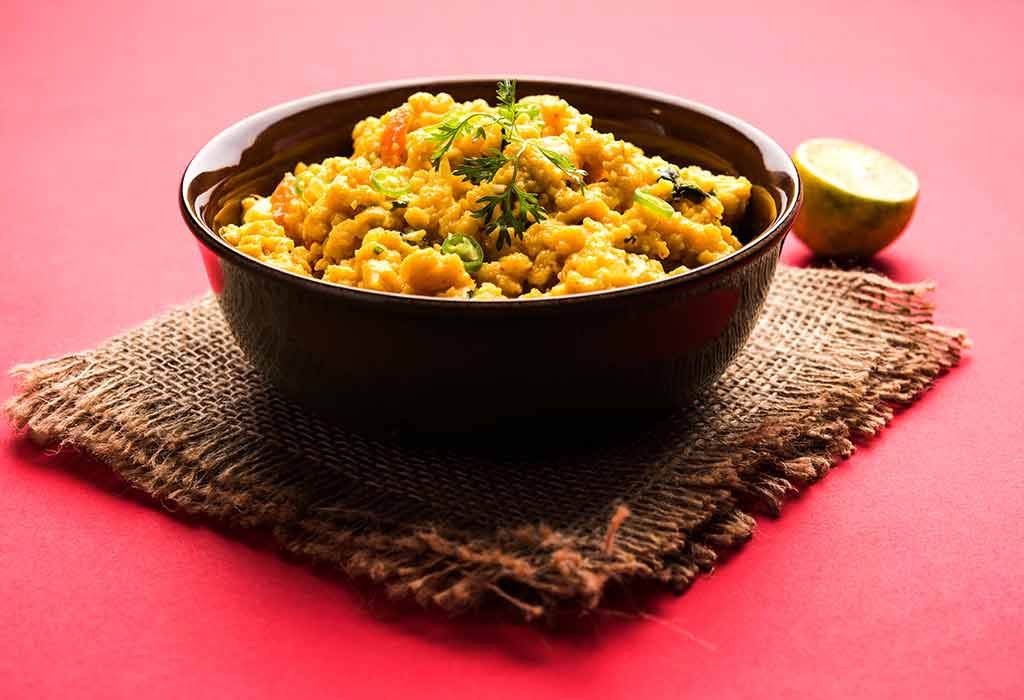 In this Article
If you're looking for a quick and tasty recipe that can be made in a jiffy, then methi pitla is the healthiest option, which can easily be a part of your baby's weekly menu. This comfort food is a Maharashtrian cuisine that makes use of aromatic spices and readily available ingredients found in any Indian kitchen. Soothing and satiating at the same time, methi pitla can be an excellent accompaniment with chawal bhakris, rotis or rice. Made from besan (gram flour), fenugreek leaves and spices, this simple curry has a rustic flavour that can be enjoyed in monsoon or winter. If how to make methi pitla is worrying you then follow the recipe given below to sneak in the vegetables into your child's diet for maximum health benefits.
Cooking Time
| | |
| --- | --- |
| Type | Time (hh:mm:ss) |
| Preparation Time | 00:10:00 |
| Cook Time | 00:30:00 |
| Total Time | 00:40:00 |
Cooking Method: Gas
Type of Meal: Vegetarian
Suitable For: Toddler older than 16 months of age
Meal Schedule: Breakfast, Lunch or dinner
Recipe Type: Side Dish
Ingredients
| | |
| --- | --- |
| Type | Quantity |
| Oil | 3 tsp |
| Fenugreek Leaves | 3/4th Cup |
| Finely Chopped Onion | ½ Cup |
| Water | 2 Cup |
| Salt | As Per Taste |
| Besan or Gram Flour | 3/4 Cup |
| Garlic | 1 tsp |
| Turmeric Powder | ¼ tsp |
| Cumin Seeds | 1 tsp |
| Asafoetida | Two pinch |
| Onion | ½ Cup |
| Mustard Seeds | 1 tsp |
| Ginger | 1 tsp |
| Coriander | One handful |
| Spinach Leaves | Optional |
Instructions:
Follow the step by step directions for making methi pithla and see how amazing it tastes while offering maximum health benefits.
Dry roast gram flour till it starts to change colour. Set it aside to cool.
Add the turmeric powder to the gram flour and mix well.
Sieve the gram flour to ensure no lumps are formed.
Gradually add 1 cup of water while mixing continuously to make a smooth batter.
Heat some oil in a pan over a medium flame.
Add asafoetida, crushed garlic and fry till it starts to change colour.
Add the mustard seeds and cumin seeds and let them splutter.
Add onion and saute till light brown.
Add the methi leaves and stir-fry for a few seconds.
Now pour in 1/4th cup of water and cook the methi leaves by covering it.
Slowly add the gram flour batter to the methi leaves and stir continuously.
Add salt and turmeric powder and mix well. Turn up the heat and cook till the gravy becomes thick and glossy.
Sprinkle some coriander leaves on top and serve hot.
Recipe Tips
This simple methi pitla recipe will surely add some flavour to your child's weekly diet.
If the gravy gets cold, it can solidify. Just add some warm water and heat it to maintain its consistent nature.
You can use spinach leaves also to enhance its flavour.
You can add chilli powder to this recipe to make it spicier for older children.
Clean and wash the methi leaves thoroughly to remove all traces of soil
By sprinkling some sea salt over the fenugreek leaves and then rinsing it after some time, eliminates the pesticide residue.
This homemade methi pitla baby food recipe can be made more delicious by cooking it on a wood fire.
Make sure your methi pitla doesn't stick to the kadai.
Nutrition Information (Per 1 Serving)
| | |
| --- | --- |
| Type | Value |
| Carbohydrates | 41.7 gm |
| Calories | 299 kcal |
| Protein | 13.9 gm |
| Sodium | 54.6 gm |
| Fibre | 10.8 gm |
| Fat | 8.6 gm |
| Potassium | 498.7 gm |
| Calcium | 92.2 gm |
| Vitamin C | 11.2 gm |
| Calcium | 92.2 mg |
| Iron | 4.1 mg |
| Magnesium | 95.3 mg |
| Phosphorous | 229.2 mg |
| Zinc | 1.3 mg |
Health Benefits
Enriched with essential nutrients that are required for the well-being of all babies and toddlers, methi pitla keeps them healthy and active all day. Here are some of the benefits of eating methi pitla:
Fenugreek leaves have a distinct flavour while being packed with antioxidants and natural remedy for many ailments.
Methi leaves have beta-carotene and Vitamin C that builds the body's immune system. Its Vitamin K content is good for bone metabolism and heals bone injury faster by replacing new tissues.
The fibre present in methi leaves promotes regular bowel movements while reducing the risk of constipation.
The iron content in methi leaves prevent anaemia in children
If kids are fussy about eating pulses, give them gram flour which contains a high proportion of protein, carbohydrates to keep them energized for long hours.
If your kid is allergic to gluten, then gram flour is a good option.
Cumin seeds aid indigestion.
Buying Guide
Make informed choices for buying the necessary ingredients for making yummy methi pitla to surprise your child and family. Just keep in mind these tips that will undoubtedly be useful while shopping.
Choose yellow-coloured gram-flour that is clean and pest-free.
Check the label and always buy the fresh stock.
If possible, purchase organic spices to ensure its excellent quality.
Choose organically grown methi leaves that are free from harmful pesticides.
Buy whole spices and grind them at home to retain their potency and flavour.
Homemade Methi pitla for babies is tasty with long-term health benefits than commercially processed food. So, sharpen your culinary skills and serve your child methi pitla more than one time a week.