Pulav Recipe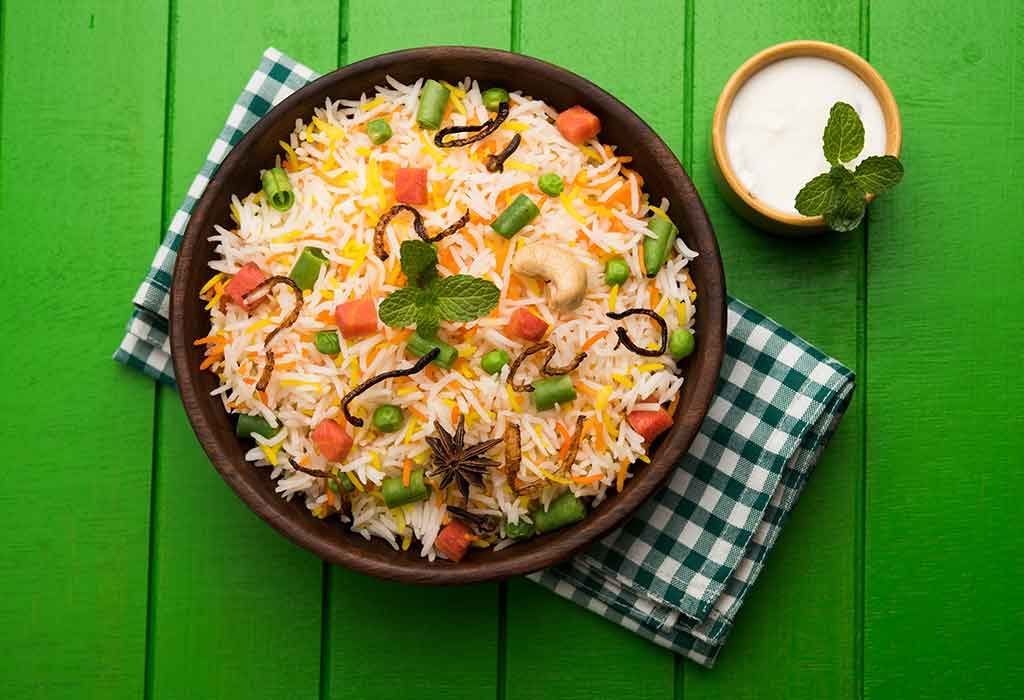 In this Article
When it comes to one-pot meal, pulav can be the easiest option for all mothers. This rice snack is a great way to sneak in some of the most colourful vegetables into a fussy eater's diet. When your child is ready for family food, you can prepare pulav in a variety of ways and it can be served with yoghurt, raita or any side dish. Made with aromatic long rice grains with spices and vegetables, this wholesome dish is so delicious that your kid will find it hard to resist. Moreover, you can add vegetables of your choice to customize this recipe as per your kid's taste buds. The vegetables used in this recipe offer the best nutrition that supports growth while boosting the metabolism of growing babies and toddlers. Wondering how to make pulav in the easiest way? Note down this recipe that packs a punch of flavour into your family meal.
Cooking Time
| | |
| --- | --- |
| Type | Time (hh:mm:ss) |
| Preparation Time | 00:15:00 |
| Cook Time | 00:25:00 |
| Total Time | 00:40:00 |
Cooking Method
Gas Stove
Type of Meal
Vegetarian
Suitable For
Toddlers older than 21 months of age
Meal Schedule
Lunch or dinner
Recipe Type
Main Dish
Ingredients
| | |
| --- | --- |
| Type | Quantity |
| Basmati Rice | 1.5 Cup |
| Water | 1 Cup |
| Onion (finely chopped) | 1 Medium Sized |
| Ginger-garlic Paste | 1 tsp |
| Salt | As Per Taste |
| Tomato (chopped) | ½ Cup |
| Lemon Juice | 1 tsp |
| Mint Leaves | 1 handful |
| Coriander Leaves | 1 handful |
| Bay Leaf | 1 |
| Ghee | 2 tsp |
| Cumin Seeds | ½ tbsp. |
| Cinnamon | ¼ Inch |
| Cloves | 2 |
| Garam Masala Powder | ½ tsp |
| Nuts(Cashew/ Almond/Raisins) | 5-6 |
| Cardamom | 2 |
| Vegetables( Green Peas, Carrot, Baby Corn, Cauliflower, Potato, Bell Pepper, French Beans) | 1 Cup |
| Pulav Masala | 1 tsp (optional) |
Instructions
The step by step directions given here for making pulav will be useful in cooking pulav for your little one in the perfect way.
Wash and soak rice in water for 20 minutes.
Chop the vegetables and keep it aside.
Heat ghee/oil in the pressure cooker keeping it in medium flame.
Add cumin, bay leaf, cinnamon, cardamom, cloves to it and let all the items temper.
Add onions with ginger-garlic paste and sauté them nicely till golden brown.
Once the onions become transparent, throw in the tomato. Fry till it becomes mushy and the raw smell goes away.
Add in the chopped vegetables, garam masala powder, required amount of salt and pulav masala.
Now add the basmati rice, water and mix everything well.
Close the lid of the cooker and cook with three whistles.
In the meanwhile fry the nuts until golden.
Open the lid after it cools down. Garnish it with nuts, coriander leaves and lemon juice.
Serve hot with any side dish.
Recipe Tips
You can use green chilli, black peppercorn or chilli powder to this simple pulav recipe and make it spicier.
You can use coconut milk to soak the rice in before cooking in the cooker for extra flavour.
This homemade pulav baby food recipe can be made tastier by adding cilantro leaves, coconut milk.
Sterilize the utensils that are needed for cooking and serving. Make sure that your hands are well cleaned before starting to cook.
If you're making the pulav for babies, make sure that the vegetables are mashed properly.
Remove the whole spices before feeding to the child.
Non-vegetarians can add egg or chicken pieces to the pulav.
Make cottage cheese at home and add to the pulav.
Powdered nut is an option in case there is a fear of choking for smaller kids.
Nutrition Information (Per 1 Serving)
| | |
| --- | --- |
| Type | Value |
| Energy | 161 kCal |
| Carbohydrates | 21 gram |
| Protein | 2 gram |
| Sodium | 34mg |
| Fibre | 1gram |
| Fat | 16gram |
| Potassium | 165mg |
| Calcium | 4% |
| Vitamin C | 15% |
| Calcium | 4% |
| Iron | 8% |
| Sugar | 1gram |
| Cholesterol | 16mg |
| Vitamin A | 10% |
| Vitamin C | 15% |
Health Benefits
Rice-based pulav mixed with fresh veggies is considered a part of a child's healthy diet. Here are some of the best nutritional values that can be derived from eating pulav.
Rice is a starchy grain and is produced in brown and white varieties. Being high in carbohydrates, it supplies a large fraction of energy for active toddlers.
As it contains no gluten and is one of the best non-allergic food.
Carrots improve the appearance of skin, hair and contains antioxidants that boosts the immune system of your child.
French beans are rich in iron that increases the haemoglobin of blood. Vitamin C prevents children from diseases.
Capsicum provides folate that supports the functioning of red blood cells.
Ghee has anti-inflammatory properties and omega fatty acid that provides warmth to the body.
Nuts contain fats, fibre, minerals and protein that reduce the risk of diabetes, maintain regular bowel movement and support bone health.
Buying Guide
The buying guide given here will help mothers to make an informed decision about the ingredients used in making this pulav for your child.
Check the expiry date of the ingredients mentioned on the pack before buying.
It is advisable to buy vegetables from an organic store as they are grown without using harmful chemicals.
Choose from a variety of rice that is available in the market for making this recipe.
Spices must be of good quality and free from adulteration.
Fluffy and fragrant homemade Pulav for babies is the yummiest go-to dish whenever hunger pangs strike your baby or any family member.