Chocolate Milk (Hot Chocolate) Recipe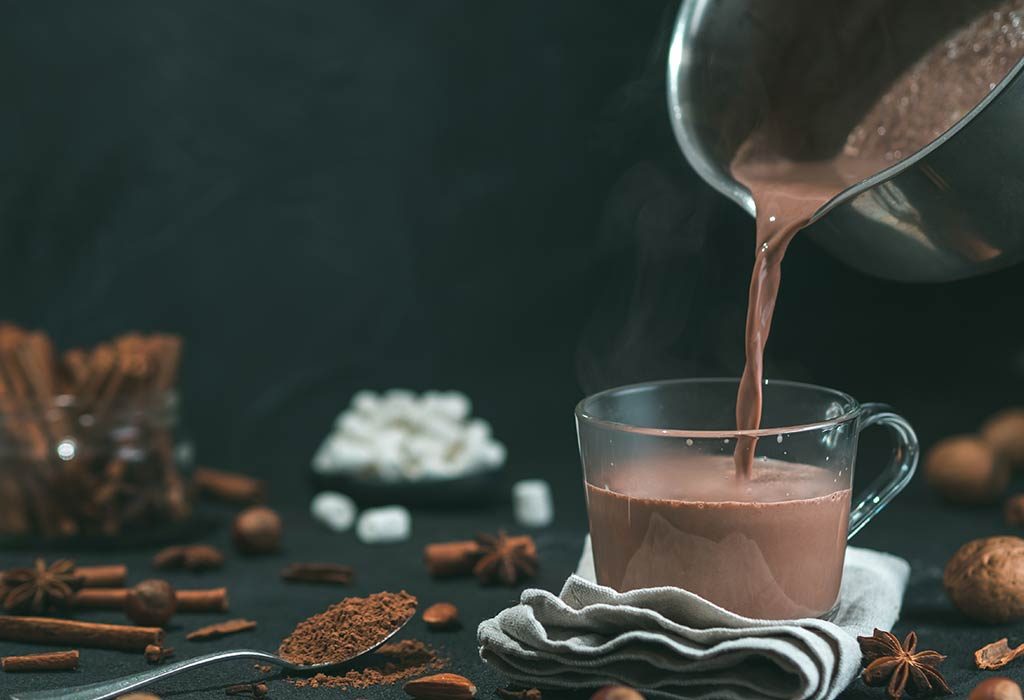 In this Article
If your child does not like to drink milk on its own then Chocolate milk for toddlers is your answer. To get all the calcium and protein in your little one's system, a bit of magic is required and that magic is unsweetened cocoa powder added to whole milk. The cocoa powder would add the necessary antioxidants as well as taste, for a wholesome breakfast. With this sweet and flavoured cup, you can have a win-win situation at home. It makes your child happy, delighted and also your pediatrician would be satisfied with what this drink brings to your child's health.
Cooking Time
| | |
| --- | --- |
| Type | Time (hh:mm:ss) |
| Preparation Time | 00:05:00 |
| Cook Time | 00:10:00 |
| Total Time | 00:15:00 |
Cooking Method
Gas stove or blender
Type of Meal
Vegetarian
Suitable For
Any Toddler above 12 months of age
Meal Schedule
Breakfast
Recipe Type
Beverage
Ingredients
| | |
| --- | --- |
| Ingredients | Quantity and Volume |
| Unsweetened cocoa powder | 2 tsp |
| Milk | 1.5 cup |
| Vanilla essence | ¼ tsp |
| Cinnamon powder | 1/8 tsp |
| Palm sugar | 2 to 3 tsp |
Instructions
Read the following steps to see how to make Chocolate milk which is appetising as well as can be cooked in less than 10 minutes:
Take cocoa powder, cinnamon powder, and palm sugar in a bowl.
Add ¼ cup of milk to this bowl and whisk briskly making sure there are no lumps in this mix.
Take the remaining milk in a saucepan and add the above mix to it.
Add vanilla essence to the mix.
Heat the mix on low flame till you get froth on the surface.
Serve the chocolate milk once it has cooled down a bit.
Recipe Tips
This easy Chocolate milk recipe can have many variations depending on your child's likings as well as needs. One could add or modify ingredients based on what kind of diet you want to follow for your kiddo.
Rather than heating the milk, you can blend it all in a blender in just one go. Heating milk ensures kids do not get affected by chilled milk from the fridge and also brings out the aroma.
Make sure you heat milk at low or medium flame else the cocoa mix would stick to the pan at the bottom.
If you want to go dairy-free, you can make it with coconut milk, almond milk or hemp milk and it will taste equally good.
If you do not like the idea of feeding sugar, you can replace it with stevia, maple syrup, honey, date syrup or any other sweetener.
To avoid sweeteners completely, you could make this milk with one small banana which will add a sweet taste to the milk and banana adds to the nutritional benefits.
Add steel cut oats to this to get a little grainy texture and also make it more healthy and filling.
This is a versatile recipe where you could add things that your child would love, like nut butter, dry fruits powder, etc.
Nutrition Information (Per 100 Grams)
| | |
| --- | --- |
| Nutrient | Value |
| Energy | 211 cal |
| Protein | 8 g |
| Carbohydrates | 26-32 g |
| Fat | 2.5 – 9 g |
| Potassium | 167 mg |
| Calcium | 300 mg |
| Vitamin D (IU) | 115 |
| Phosphorous | 247 mg |
| Riboflavin | 0.45 mg |
Health Benefits
This is a home-made Chocolate milk baby food recipe which is delicious as well as easy to whip up any day. It does not require many ingredients yet is a powerhouse of nutrition.
Milk is calcium-enriched and having one cup in the morning will give your child the daily dose easily.
Milk is a complete protein that provides all essential amino acids which are needed for these growing kids for building bones.
Cocoa powder has a very high antioxidant value.
This milk also has small amounts of zinc, selenium, magnesium, iodine, vitamin A, B1, B12, B6 all of which are an absolute must for healthy development.
Buying Guide
It is good to make it a rule to have only organic products in your tiny tot's meals. The pesticides in non-organic ingredients can wreak havoc in your child's system.
Buy whole milk instead of low-fat one for your little one as they need the extra fat for their developing brains.
Check the expiry date of the milk before buying it.
This step by step procedure of making this delicious chocolate milk would become your go-to recipe as it is simple yet a powerful breakfast dish.