Banana Strawberry Almond Smoothie Recipe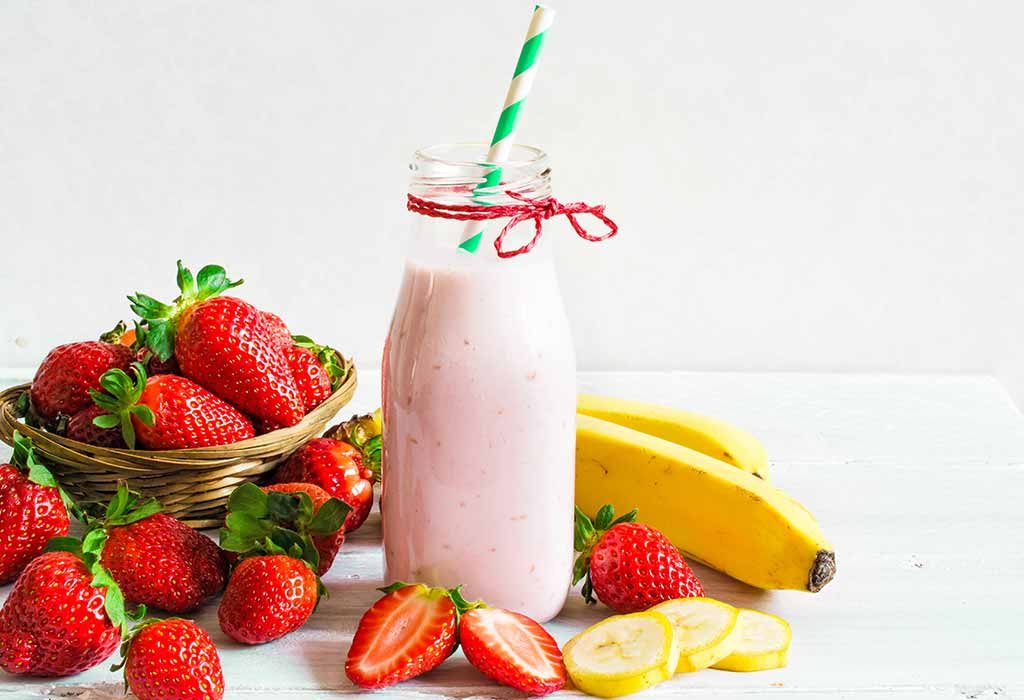 When it comes to a strawberry milkshake or a refreshing banana smoothie nothing can beat the relief which this energizing drink has to offer! Not only amongst adults but with kids too, a strawberry milkshake or a banana smoothie is the best way to include all the vital nutrients with a yummy taste. So here we have a sweet and velvety banana strawberry almond smoothie recipe which will be an instant hit at home! You can introduce this smoothie recipe to toddlers as well, they will love the taste and also get all the vital nutrients loaded in this drink. So scroll on to read how to make a banana strawberry almond smoothie at home for your baby!
Cooking Time
| | |
| --- | --- |
| Type | Time (hh:mm:ss) |
| Preparation Time | 00:05:00 |
| Cook Time | 00:10:00 |
| Total Time | 00:15:00 |
Cooking Method
No cooking required
Type of Meal
Vegetarian
Suitable For
Toddlers older than 20 months of age
Meal Schedule
In between-meal option, Breakfast
Recipe Type
Beverage
Ingredients
| | |
| --- | --- |
| Type | Quantity |
| Banana | 01 ripe |
| Strawberries | 07 – 08 |
| Yoghurt | 4 tablespoons |
| Milk | 4 tablespoons |
| Soaked Almonds | 07 – 08 |
Instructions
Below mentioned are the step by step directions to make a banana strawberry almond smoothie:
Make sure that you have stocked up all the required ingredients.
Chop the bananas into small pieces and keep them aside. Slice the strawberries and keep them aside.
Take a blender and chop the bananas into the jar. Add the sliced strawberries, yoghurt, milk, and almonds into the jar.
Blend it for 4-5 minutes or until it turns out to a smooth creamy smoothie.
Pour into a glass and enjoy the drink!
Recipe Tips
This simple banana strawberry almond smoothie recipe is easy to blend and can be made in a variety of ways.
The homemade banana strawberry almond smoothie baby food recipe is best served immediately after blending or else it might become thick.
For toddlers and very young babies, you may also add breast milk or formula milk instead of regular milk to adjust the consistency of the smoothie.
For adults and kids above 2 years, you may also add cocoa powder for a rich chocolaty taste.
For toddlers and young babies, you may try other combinations with dates or baby spinach to enhance the iron content of the recipe.
It is highly recommended to consult with your paediatrician before introducing any new recipes to young babies.
Nutrition Information (Per 200 Grams or 1 cup serving)
| | |
| --- | --- |
| Type | Value |
| Carbohydrates | 72.6 grams |
| Protein | 3.9 grams |
| Fat | 5.6 grams |
| Potassium | 1003 milligrams |
| Sodium | 304.5 milligrams |
| Calcium | 86.4 milligrams |
| Iron | 12.2 % |
| Copper | 9.8 % |
| Folate | 11.8 % |
| Manganese | 30.6 % |
| Magnesium | 20.8 % |
| Phosphorous | 8.3 % |
| Niacin | 6.6% |
| Pantothenic Acid | 4.7 % |
| Zinc | 6.6% |
| Riboflavin | 14.2 % |
| Vitamin A | 23.2 % |
| Vitamin C | 120.3 % |
| Vitamin E | 103.7 % |
| Vitamin B6 | 36.2 % |
| Vitamin D | 50% |
| Calcium | 63.1% |
Health Benefits
You would be delighted to know that this tasty and healthy beverage is fully loaded with many health benefits:
A banana strawberry smoothie is an excellent source of Vitamin C, an antioxidant that fights against viruses helps in healing wounds, and also helps reduce the damage caused by free radicals.
Banana contains healthy fibre that aids in digestion and easy bowel movements in children.
The high potassium content in banana also makes it an excellent fruit to eat that decreases the risk of kidney stones.
Strawberries are known to improve eyesight and also help decrease the symptoms of arthritis.
Strawberry is an excellent source of antioxidants that helps protect against oxidative stress and ageing of the cell.
The banana and strawberry in the smoothie contain folate which is very good for expecting mothers and the growing baby. Folate helps ward off the birth defects of the spine in babies.
The almonds in the smoothie are highly nutritious and very rich in healthy fats.
Almonds are a rich source of vitamin E that lowers the rate of heart diseases, cancer, and Alzheimer's diseases.
Buying Guide
Below mentioned are certain buying tips while choosing the ingredients for baby food recipes:
Make sure that the bananas you choose are ripe and do not have black spots on the skin.
Buy fresh and organic strawberries for this recipe.
You can use vanilla flavoured yoghurt and low-fat skimmed milk for this recipe.
Banana Strawberry Almond Smoothie for babies can be easily made at home within no time! It's a gluten-free recipe that's best had in the morning to kick start a day filled with energy!