Dudh Pohe Recipe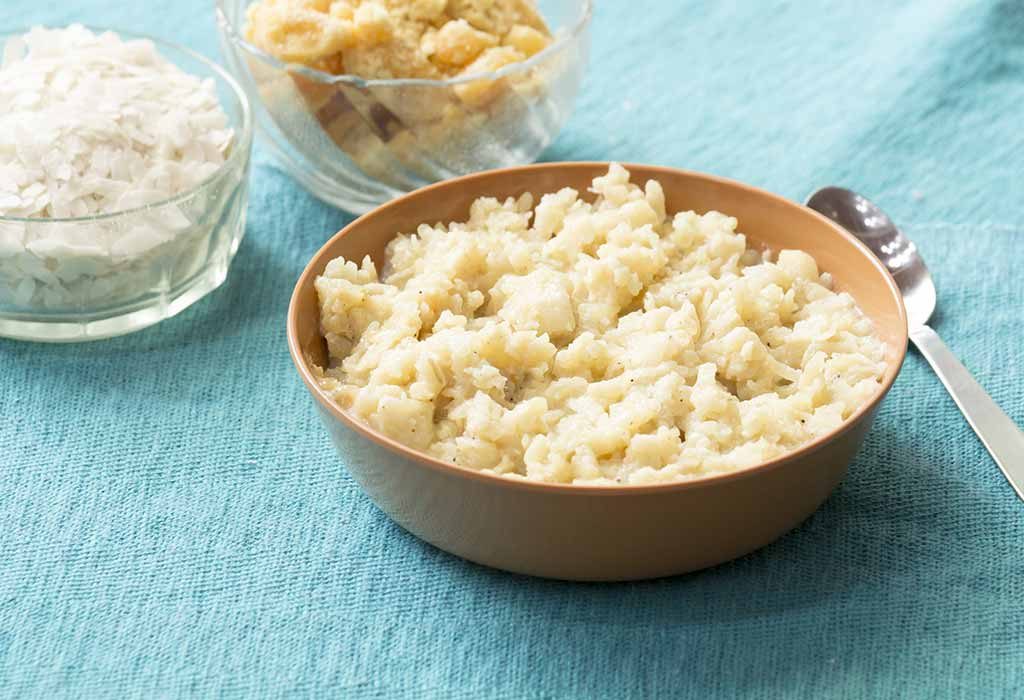 In this Article
Who doesn't like to do minimum cooking and get the maximum benefit from a time tested recipe that is sweet and flavourful? Originating from Gujarat and Maharashtra, Dudh Poha is a traditional recipe that is prepared and served on a full-moon night or Sharad Poonam ritual in October. As milk and rice are introduced to babies at an early stage from 7 months onwards, dudh poha is a wholesome choice for mothers. It is easy to chew, digest and is packed with essential nutrients that help in the faster physical growth and mental development of a baby. Dudh Poha for babies is a light and cooling meal that keeps the gut healthy while rejuvenating the body.
Cooking Time
| | |
| --- | --- |
| Type | Time (hh:mm:ss) |
| Preparation Time | 00:10:00 |
| Cook Time | 00:10:00 |
| Total Time | 00:20:00 |
Cooking Method
Gas Stove
Type of Meal
Vegetarian
Suitable For
Any Toddlers above 20 months of age
Meal Schedule
Breakfast or evening snack
Recipe Type
Main Dish
Ingredients
| | |
| --- | --- |
| Ingredient | Quantity and Volume |
| Rice Flakes | 1 cup |
| Milk (2% or low-fat milk) | 500 ml |
| Brown Sugar or jaggery | ¼ cup or less |
| Nutmeg | A Pinch |
| Cardamom Powder | 1/4 tsp |
| Almonds | 10 |
| Cashew Nuts | 10 |
| Raisins | 10 |
| Pistachio | 8 |
Instructions
If you're wondering how to make dudh poha in an instant, just check this recipe that gives step by step directions to prepare the best dudh poha for your baby and the entire family.
First, boil milk in a saucepan and cook it in medium flame.
Add sugar into the milk and stir occasionally so that the sugar dissolves well.
Wash and drain the poha. Soak it in water for some time to soften it and drain the water.
Add nutmeg powder, cardamom, saffron along with nuts to the milk and let it boil for 10 minutes to make the masala milk
Set the milk aside for 10 minutes so that it cools down to room temperature.
Now add the softened poha.
Mix it well so that a thick consistency is visible.
Transfer the dudh poha in a serving bowl and garnish it with slithered almonds, cashews or chopped pistachio.
Serve cold or hot.
Recipe Tips
Make sure you follow this simple dudh pohe recipe for getting the optimum taste and health benefits from this dish.
Remember to soak the poha before. The thin variety of poha tends to disintegrate in the milk so use thick poha.
If raisins are used, add it to the milk while boiling as it soaks the milk and turns plump.
Masala milk can be made in advance and refrigerated.
Use only clean filtered water for washing and soaking the poha.
Wash your hands well before cooking the porridge. Utensils used should also be properly cleaned before using them for cooking or serving any food.
Instead of sugar, honey or jaggery can be used to make this dish.
Nutrition Information (Per 100 Grams)
| | |
| --- | --- |
| Nutrient | Value |
| Calories | 375 kCal |
| Protein | 12 g |
| Carbohydrates | 49 g |
| Fibre | 4 g |
| Fat | 15 g |
| Cholesterol | 24 mg |
| Vitamin A (IU) | 395 |
| Calcium | 308 mg |
| Iron | 5.3 mg |
| Saturated fat | 5 g |
| Sugar | 21 g |
| Sodium | 120 mg |
| Potassium | 588 mg |
Health Benefits
Here are the best-known health benefits of home-made Dudh Poha baby food recipe.
Poha controls blood sugar levels that can be a good option for diabetic patients.
The calcium in the milk helps in the growth of babies' bones and teeth.
Poha is easily digestible and acts as a good pro-biotic that can be given if your child has an upset stomach
Poha is a good source of healthy carbohydrates which not only keeps the tummy full for a longer duration.
Low in calories, poha can be given to children as a snack dish many times a week without the fear of increasing their weight.
The iron content of the poha is the key element in maintaining high levels of haemoglobin and RBC count.
If you're a vegetarian then the dry fruits used in this recipe are a great source of protein, iron magnesium, potassium, copper, calcium, phosphorus, and zinc which will sharpen the intellect, provide relief from diseases and strengthens the immune system of all age groups.
Buying Guide
Examine the milk carton to avoid leakage or any tear in the packaging.
As poha can crumble easily, make sure that the poha that you buy is of good quality.
Choose dry fruits that are dry, free from dirt, blemishes or bugs. Buy small sealed packages as anything stored in bulk are more likely to have mold in them.
Buying pasteurized milk is safer than raw milk.
Check the sell-by date of the milk container to ensure what you're buying is safe.
A warm bowl of rice flakes and milk topped with crunchy nuts keeps a child active and energetic all day. Therefore, instead of buying packaged cereals from the market that have harmful preservatives in them, give your baby a bowl of tasty and creamy Dudh Poha!