Bisi Bele Bhat Recipe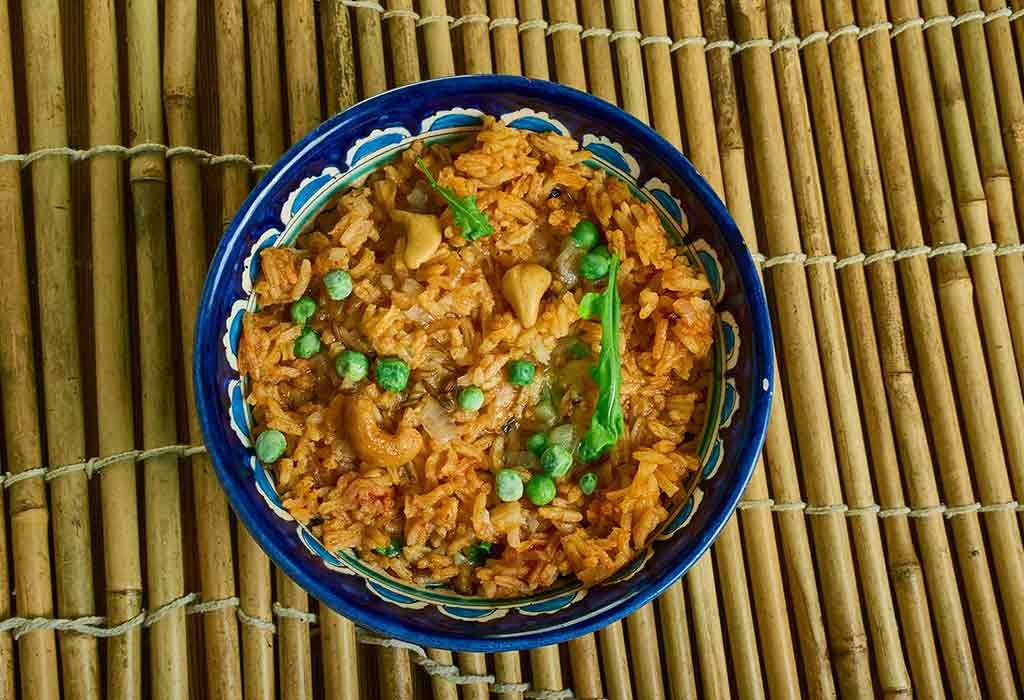 In this Article
A one-pot meal, Bisi Bele Bhat is a staple in South Indian households. A mixture of rice, lentils, and vegetables cooked in a spice powder that is finely ground, it is a powerhouse of a meal. The traditional way of preparing it involves squeezing and grinding the masala from scratch. You can grind the masala yourself, but you also find ready-made masala powder available in the market. Either way, you can whip up this simple Bisi Bele Bhat recipe for your munchkin to fulfill his/her nutritional needs!
Cooking Time
| | |
| --- | --- |
| Type | Time (hh:mm:ss) |
| Preparation Time | 00:15:00 |
| Cook Time | 00:20:00 |
| Total Time | 00:35:00 |
Cooking Method
Gas stove, Induction
Type of Meal
Vegetarian, also suitable for vegans
Suitable For
13 month old toddler
Meal Schedule
Lunch or Dinner
Recipe Type
Main dish
Ingredients
| | |
| --- | --- |
| Type | Quantity |
| Rice | ¾ cup |
| Toor dal | ¼ cup |
| Vegetables (carrots, potato, beans, peas), chopped finely or grated | 1½ cup |
| Tomato, finely chopped | 1 small |
| Tamarind paste or extract | ½ teaspoon |
| Jaggery | ½ teaspoon |
| Mustard seeds | ¼ teaspoon |
| Onion/capsicum (green), finely chopped | ½ |
| Curry leaves | 5-10 |
| Ghee | 5-6 tablespoons |
| Salt | As per taste |
| Bisi Bele Bhat powder | 2 tablespoons |
For the spice powder
| | |
| --- | --- |
| Type | Quantity |
| Coriander seeds or dhania seeds | 3 tablespoons |
| Chana dal | 1 tablespoon |
| Split urad dal | 1 teaspoon |
| Methi seeds | 1 teaspoon |
| Asafoetida (hing) | ½ teaspoon |
| Jeera seeds or cumin seeds | ½ teaspoon |
| Star anise | 1 |
| Cloves | 3-4 pieces |
| Cinnamon | 1-inch piece |
| Dry coconut or desiccated coconut | 5-6 tablespoons |
| Oil | A few teaspoons |
Instructions:
Follow these step by step directions to learn how to make Bisi Bele Bhat for babies. If you want to grind the powder at home, start with grinding the powder.
For the spice powder:
Take oil in a kadhai, and saute all the ingredients (except the coconut) until they change colour.
Once done, add the coconut and sauté until it becomes golden brown.
Let this cool completely and grind it into a fine powder in a mixer/blender.
Store in an air-tight container and use it when needed.
For the main dish:
Pressure cook the rice and dal and keep it aside.
Now, cook the vegetables in the tamarind extract and tomato pieces for one whistle of the pressure cooker.
Once the steam is released, add the spice powder and cook on a low flame.
Once the powder has blended well, add the mashed rice and dal mixture.
Let it cook on a low flame for a few more minutes.
Take a small kadhai and add a few teaspoons of ghee. Add the mustard seeds and curry leaves. When it splutters, add the onions and sauté until they turn translucent. Add capsicum if you want and cook it for a while.
Now pour this mixture into the rice, dal, and vegetable blend.
Serve hot with raita or plain curd.
Recipe Tips
This home-made Bisi Bele Bhat baby food recipe tastes best when the spice powder is ground at home. Store-bought ones will take less of your time, but if you can take the effort of grinding it in bulk, it will benefit you in the long run.
Vegetables must be chopped finely, as babies will not be able to chew large chunks. For babies who do not have enough teeth to chew, you can grate the vegetables.
Nutrition Information (per 100 grams)
| | |
| --- | --- |
| Type | Value |
| Calories | 387 kCal |
| Carbohydrates | 66 g |
| Protein | 13 g |
| Fat | 8 g |
| Cholesterol | 12 mg |
| Protein | 10 g |
| Sodium | 41 mg |
| Dietary fiber | 13 g |
| Iron | 4.7 mg |
Health Benefits
This Bisi Bele Bhat for babies is a mixture of rice, dal, and vegetables and is a powerful combination of carbohydrates, protein, and minerals. Read on to find out more about specific health benefits:
Rice is rich in carbohydrates and also helps in digestion. It helps to provide energy to your growing toddler.
Toor dal is a rich source of protein and helps in building muscles.
Carrots are a good source of Vitamin A and help in strengthening eyesight.
Peas are rich in Vitamin C and good for digestion.
Beans are rich in fiber, vitamins, and antioxidants and promote the healthy growth of your child.
Potatoes are simple carbohydrates and a good source of energy. They are also known to improve digestion.
Buying Guide
A few things to bear in mind when sourcing ingredients for Bisi Bele Bhat:
Try to buy organic vegetables, rice, and dal for your little one as they are free from chemicals and pesticides.
Since this dish tastes best when made with ghee, try to use home-made ghee. In case you do not have it, you can opt for the store-bought ones. But make sure you buy branded products and also check the expiry date on the packaging.
Make this delicious recipe frequently, and it will soon become your toddler's favourite!