Lauki Moong Dal Soup Recipe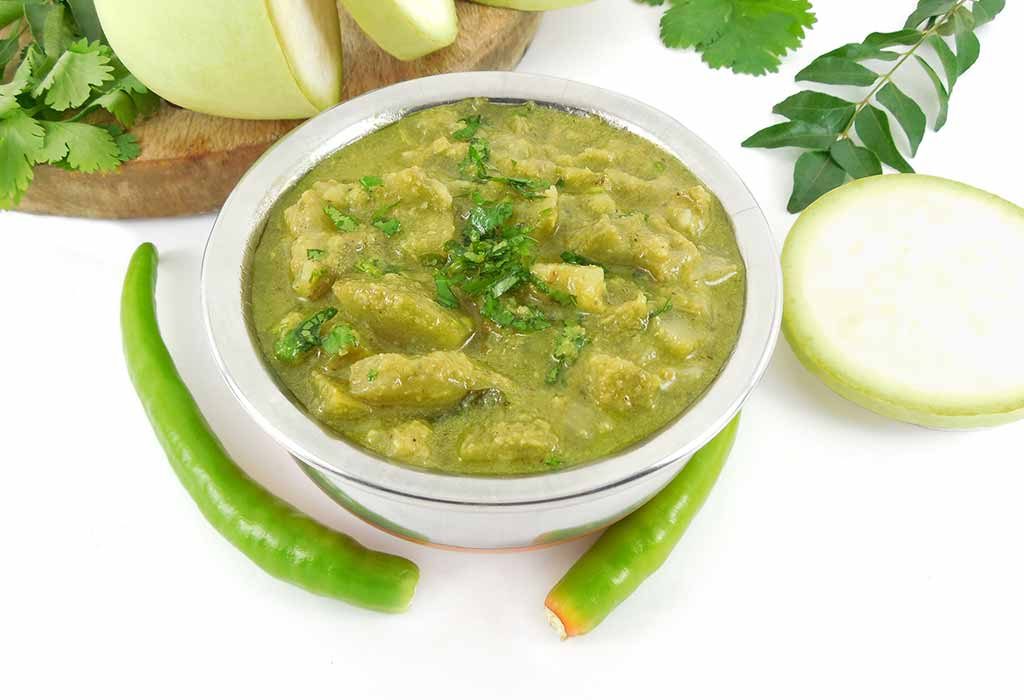 In this Article
Soups and broths are the best way to introduce vegetables into your baby's daily diet as they are easy to feed, gulp down and digest. If you're looking for a bowl of healthy soup recipe that will keep your baby hydrated in all kinds of weather, lauki moong dal soup can be a good idea. The mild and soothing taste of this soup serves as an appetizer, tantalizes the taste buds and fights infections due to the presence of various nutrients present in its ingredients. This Indian style recipe is not just easy to cook but makes a substantial meal for picky eaters. Gourd adds depth to this soup, the moong dal keeps it light while the spices add flavor to this wholesome soup. Learn how to make lauki moong dal soup in a surprisingly easy way and your child would crave for this warm and creamy treat more often than you think.
Cooking Time
| | |
| --- | --- |
| Type | Time (hh:mm:ss) |
| Preparation Time | 00:10:00 |
| Cook Time | 00:20:00 |
| Total Time | 00:30:00 |
Cooking Method
Gas Stove
Type of Meal
Vegetarian
Suitable For
Weaning babies older than six months of age
Meal Schedule
Breakfast, Lunch or dinner
Recipe Type
Side Dish
Ingredients
| | |
| --- | --- |
| Type | Quantity |
| Bottle Gourd | 1 Cup |
| Moong Dal | 2 Tbsp |
| Butter | 1 Tbsp |
| Water | 1 Cup |
| Salt | As Per Taste |
| Pepper | 1 Tsp |
| Garlic | 2 Cloves |
| Ginger | ½ Inch |
| Shallots | 2 |
| Cumin Seeds | ¼ Tsp |
| Coriander Leaves | 1 Tbsp |
Instructions
Refer to the step by step directions given here that will guide you to make the perfect lauki moong dal soup just the way you want.
Wash, peel and cut the bottle gourd into cubes.
Wash the moong dal and drain out the water.
Heat butter in a pressure cooker followed by cumin seeds and wait till it splutters. Throw in sliced shallots followed by chopped ginger and garlic. Stir for some time till they become translucent and gives out a nice aroma.
Add in rinsed moong dal followed by cubed bottle gourd and fry for another minute.
Add water and close the lid of the pressure cooker.
Wait for 2 whistles in medium flame.
Once the steam is released, transfer the contents of the cooker into the blender. Add more water and grind it into a smooth puree.
Add salt and pepper as needed and garnish with coriander leaves.
Pour it into a bowl and serve warm.
Recipe Tips
This simple lauki moong dal soup recipe can be made using commonly found vegetables and lentils found in your kitchen.
Add soaked and deskinned almonds to lend the soup more nutrition value.
Dilute the soup more with water for smaller babies. Avoid the salt for babies less than 1 year of age.
This homemade lauki moong dal soup baby food recipe can be made tangier by adding a few drops of lemon juice to it. Adding a tomato will also give it a sour flavor.
You can season it with roasted and powdered cumin seeds or crushed red chilies.
Olive oil can be used instead of butter. A pinch of sugar in the soup adds to the taste of older children.
Maintain proper hygiene while cooking for your baby like washing your hands or sterilizing the utensils.
Nutrition Information (Per 1 Serving)
| | |
| --- | --- |
| Type | Value |
| Calories | 16 kCal |
| Carbohydrates | 3 grams |
| Protein | 4 grams |
| Sodium | 16 mg |
| Potassium | 158 mg |
| Calcium | 3% |
| Vitamin C | 13% |
| Calcium | 3% |
| Iron | 2% |
Health Benefits
This lauki moong dal soup prepared with loving care is guaranteed to rejuvenate your baby's energy as well as meet the daily calorie requirement in the diet. Let us see what wonders it does to a baby's health:
Soup is an effective remedy for the common cold as it contains an inflammatory agent. Bottle gourd soup normalizes the acidity of the stomach.
With about 90% water content, few calories, less fat and high fiber, bottle gourd reduces body heat by replenishes the water requirement of our body, especially during diarrhea.
As bottle gourd has Vitamin C, it induces a charming skin for babies.
The high fiber content of bottle gourd treats constipation and offers the best way to treat urinary infection by flushing out the toxins.
Moong dal is full of protein that induces growth in the weaning stage of babies.
Buying Guide
This buying guide is your ideal companion for picking the right ingredients that you need for cooking the best lauki moong dal soup for your beloved child.
If you're buying branded moong dal, then look for its expiry date to avoid stones or insects in them.
Spices need to be bought in small quantities that have a strong aroma.
It is always better to use clarified pasteurized butter.
Freshly sourced veggies from local farmers market or organic vegetables are always a better option. Ensure the skin of the bottle gourd is pale green and smooth free from any spots.
Homemade Lauki moong dal soup for babies is a sumptuous and satiating treat for babies. It is certainly a better alternative to any readymade soup packets that have artificial flavors, thickening agents and harmful preservatives.