Chicken Curry Recipe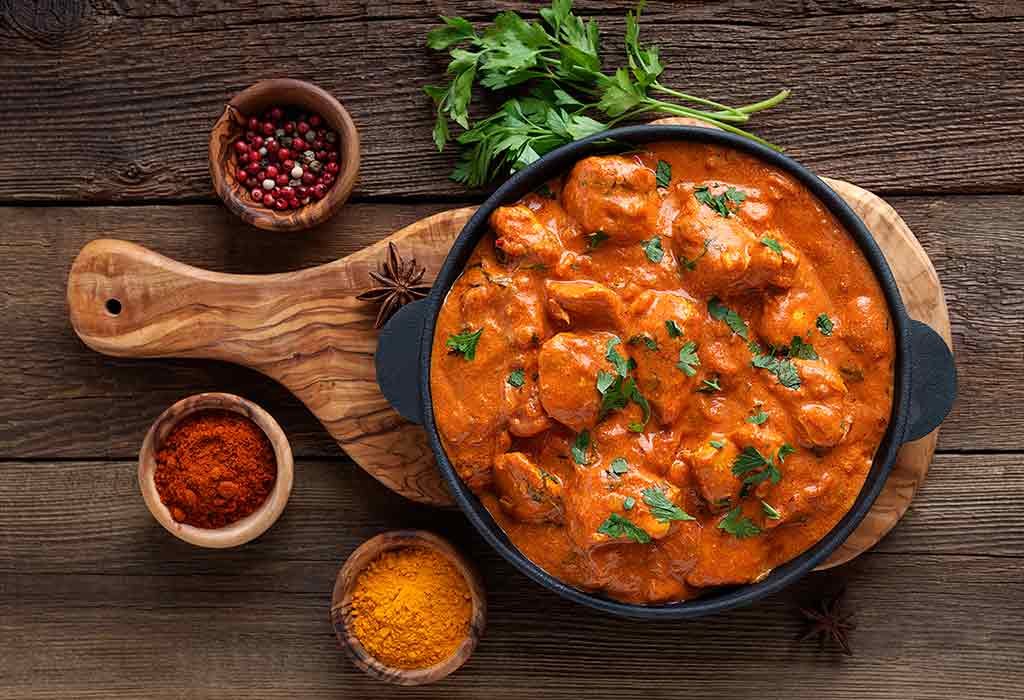 In this Article
Who can ignore the inviting aroma of delicious chunks of chicken simmering in a spicy gravy? Originating from India, the chicken curry is a popular delicacy cooked with a variety of spices, especially during celebrations or regular mealtimes at home. This traditional dish can be easily modified to a kid-friendly version to suit the evolving palette and taste buds of a toddler. Bursting with immune-strengthening ingredients, delicious chicken curry with rice is a wholesome choice as a part of your child's lunch or dinner menu. This flavoursome chicken curry for babies can be easily prepared at home and is essential for their healthy growth and development.
Cooking Time
| | |
| --- | --- |
| Type | Time (hh:mm:ss) |
| Preparation Time | 00:10:00 |
| Cook Time | 00:25:00 |
| Total Time | 00:35:00 |
Cooking Method
Gas Stove
Type of Meal
Non-Vegetarian
Suitable For
Toddlers above 16 months of age
Meal Schedule
Breakfast or evening snack
Recipe Type
Main Dish
Ingredients
| | |
| --- | --- |
| Ingredient | Quantity and Volume |
| Chicken breast (diced) | 1 |
| Refined Oil | 2 tsp |
| Ginger garlic paste | 1/4 tsp |
| Potato Diced (Large) | 1 |
| Carrot (Large) | 1 |
| Peas | 75 g |
| Onion | 1/2 cup |
| Tomato paste | 2 tbsp |
| Mild curry Powder | 1/4 tsp |
| Pepper | 1/2 cup |
| Light Coconut Milk | 1/2 cup |
Instructions
If you are still pondering on how to make chicken curry in a hassle-free manner, then check this recipe below that gives step by step directions to enrich your culinary skills.
Heat oil in a pan, then add chopped onion and sauté till it becomes translucent in colour.
Toss in the diced potato, carrot and pepper and fry for 3-4 minutes.
Add the ginger-garlic paste and sauté for an additional minute till the oil is released.
Add the cubed chicken and sauté for 2 minutes.
Stir in the curry powder, salt, tomato paste to make a thick gravy by the addition of water.
Now pour in the coconut milk to combine onto the vegetables and becomes a smooth gravy.
Reduce the heat and simmer for 10 more minutes.
Remove lid and add the frozen or fresh peas.
Cover the pan back and simmer for another 15 minutes so that the vegetables and chicken become tender.
Serve hot with brown or white rice.
Recipe Tips
Make sure you remember these essential cooking tips while following this simple chicken curry recipe that will attract your child's attention with its vibrant colour, exotic smell and soft texture.
Instead of coconut milk, you can add yoghurt into this recipe.
The choice of vegetables to be added is ultimately yours.
If you want to make it spicier, you can sprinkle garam masala at the end.
Make sure the chicken and the vegetables are washed before cooking. Use only clean filtered water for cooking.
Caregivers and mothers need to wash their hands thoroughly before starting to cook for upholding hygiene. Utensils used for cooking must be cleaned properly before using them.
Instead of water, chicken stock can be used to make this dish.
You can marinate the chicken with ginger garlic paste or yoghurt to let the flavour penetrate deep into the chicken.
Chicken curry cooked with skin-on chicken chunks or bone-in tastes better as they enrich the flavour of the curry.
Nutrition Information (Per 100 Grams)
| | |
| --- | --- |
| Nutrient | Value |
| Calories | 680 kCal |
| Protein | 31g |
| Carbohydrates | 92 g |
| Dietary Fibre | 3 g |
| Fat | 17 g |
| Cholesterol | 92 g |
| Sodium | 1390 g |
| Potassium | 374 mg |
| Fibre | 3 g |
| Glucose | 13 g |
| Vitamin C | 13.5 g |
| Calcium | 40 mg |
| Iron | 2.8 mg |
Health Benefits
Home-made chicken curry baby food recipe has positive health benefits that will contribute towards the well-being of your child and help them to appreciate the love with which you prepare this dish!
Chicken contains a low-fat protein that helps to maintain muscle mass. As it is rich in calcium and phosphorous, chicken contributes towards your child's strong bones.
Being a good source of niacin, chicken possesses cancer-fighting properties and is suitable for energy production.
The onion, ginger-garlic paste used in this curry have anti-fungal and antibiotic properties that are good for the cardiovascular system.
Coconut milk has significant quantities of iron that fights anaemia in children. Its anti-bacterial properties help your child to have glowing skin and healthy hair.
Being a wholesome meal, chicken curry with rice keeps a child's tummy full for a longer time.
Buying Guide
Buy the vegetables (if possible, organic) used in this dish from a good store.
Check the expiry date of the oil and curry powder before buying them.
Look for the best by date before purchasing chicken.
Select chicken with a pinkish hue for its freshness. Press against the breastbone to get an idea of its age as the meat of a younger chicken is tender.
Free-range chicken is considered the best-tasting chicken.
This ultimate family go-to meal can lead a happy baby to pick up the chicken cubes from this yummy curry and eat them independently. This baby-led weaning curry is fabulously nutritious and can be served at least two to three times a week.