Dosa Recipe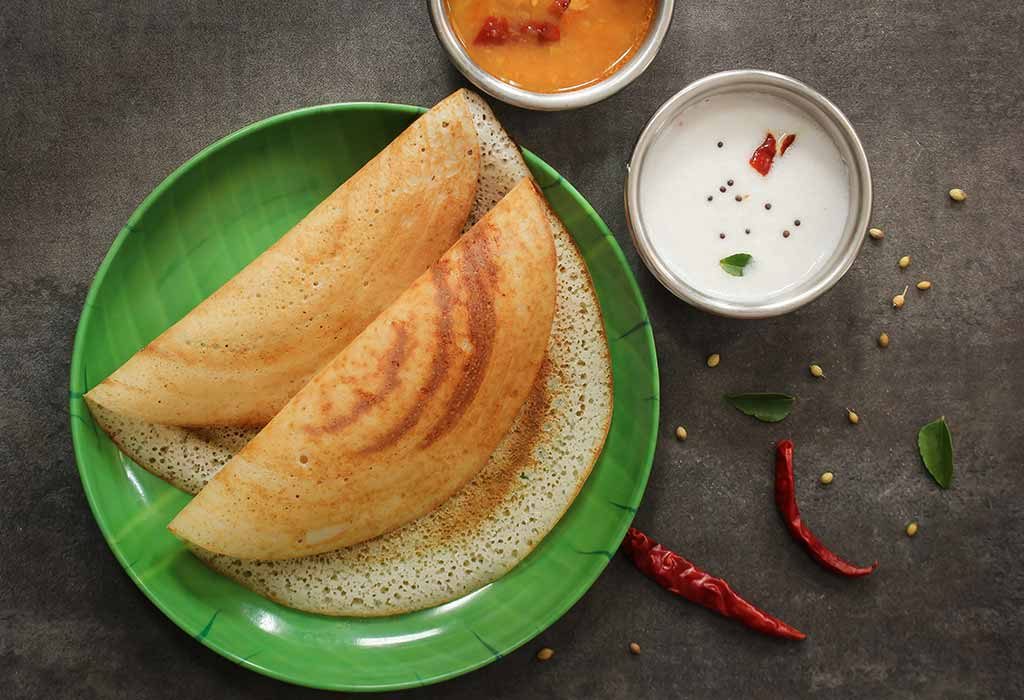 In this Article
Dosas are the best way to feed in some protein-rich diet to your kids. These are made up of rice and lentils and is a staple breakfast of South India. These days it is popular all over the Indian subcontinent because it is a healthy and sumptuous food option too. It can be a snack item or a complete meal for your kid. These days you can find the instant dosa batter in the markets. But it is better if you prepare the batter at home because the rice content in the market one is high. Also, the added preservatives might not be good for your kid. So let's get started and clear all your doubts about how to make dosa.
Cooking Time
| | |
| --- | --- |
| Type | Time(hh:mm:ss) |
| Preparation Time | 12:00:00 |
| Cook Time | 00:05:00 |
| Total Time | 12:05:00 |
Cooking Method
Gas for dosa preparation and mixer for batter preparation.
Type of meal
Vegetarian
Suitable For
Weaning babies older than 10 months of age.
Meal Schedule
Breakfast, Mid Morning Snack, Lunch, Evening Snack or Dinner.
Recipe Type
Main Dish.
Ingredients
| | |
| --- | --- |
| Ingredient | Quantity and Volume |
| Idli Rice | 3 cups |
| Urad Dal (split, skinless black gram) | 1 cup |
| Fenugreek Seeds | 3/4 tbsp |
| Salt | As per taste |
| Cooking Oil | As per requirement |
*Note: This recipe may yield 20 dosas.
Instructions
Below you will find step by step procedure to make dosas
Wash rice and dal very nicely.
Now add fenugreek seeds to the mix and fill water so that the water level is 2 inches above the mixture. Soak the mixture overnight.
Now drain all the water from the mixture and add it to the mixer jar. Add water in small amounts while grinding to make a smooth paste.
Don't make the mixture too watery.
When all the rice dal mixture is ground put it in a big bowl and add water if necessary. The consistency of the batter should be such that if you dip a spoon inside, it gets thickly coated.
Add salt to the batter as per taste.
Now keep the batter in a warm and dark place for 6 to 8 hours so that it ferments nicely.
After fermentation, stir the batter well. If you feel the batter is very thick you can mix in some water and it is then ready to make piping hot dosas.
Put a nonstick pan on the gas stove. Keep the flame high. When the pan is hot drizzle some water on the pan. This avoids sticking of dosa on the pan.
Next, take a ladle full of dosa batter. Pour it completely in the pan's centre just like a pancake.
Now start spreading the batter in a sweeping circular motion so that the dosa becomes exactly the size of roti and the batter is spread evenly throughout.
Drizzle oil along the circumference of dosa so that it comes out smoothly.
When the upper surface starts looking cooked, flip the dosa and keep for one more minute.
Your dosa is ready to eat!
Serve dosa with coconut chutney, gunpowder, and sambhar.
Note: Gas flame should be low while pouring the batter. Once the batter is spread throughout, the flame should be high.
Recipe Tips
Dosas taste best when they are hot. But you can even eat it later. Prepare it, stack and keep it in a closed dish so that they remain warm.
Do not add a large amount of water into a simple dosa recipe during the grinding stage and fermentation. This slows down fermentation.
Nutrition Information (Per 100 Grams)
| | |
| --- | --- |
| Nutrient | Value |
| Energy | 647 kCal |
| Carbohydrates | 121 g |
| Fat | 2 g |
| Protein | 2.8 g |
| Calcium | 8.5 mg |
| Iron | 29 mg |
Health Benefits
Dosas are rich in carbohydrates and hence keeps the child energetic for long.
Due to the presence of dal, dosas are rich in protein as well which helps in the building of muscles and bones.
Dosas are also a rich source of iron, calcium, and vitamins. These keep your child healthy overall.
Buying Guide
Please do not buy ready-made batter from the market. These have added preservatives which is not good for your child. Prepare the batter at home. Completely homemade dosa baby food recipe serves the best for your kid!
The batter ferments properly with idli rice. But you can go for raw rice or parboiled rice like ponni rice or sona masuri.
I know the batter preparation is a work of patience, but do try dosa for babies and toddlers at home. Also, dosas can be included in their regular diet as it is easy to digest and super healthy too!