Jowar Puff Kheer Recipe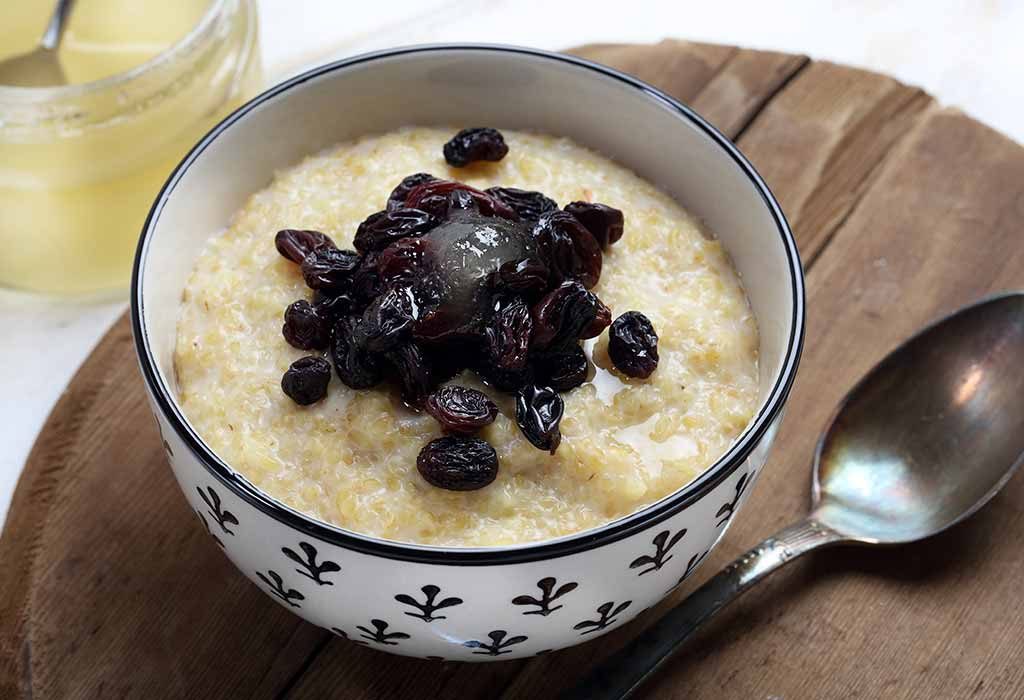 In this Article
Jowar puff kheer for babies is a perfect travel food for your little ones. An ideal way to include this grain in a child's diet, this kheer is a delicious and filling choice for breakfast. This kheer can have lots of other ingredients which you can add based on your baby's taste and nutritional need. This satiating dish is aimed to meet the growing appetite of a child. This is one of the tasty recipes that can be used while weaning babies. This is a fantastic source of iron, protein, and fibre and also fills the tummy for a couple of hours. This recipe is dairy-free, but one can add milk if they prefer.
Cooking Time
| | |
| --- | --- |
| Type | Time (hh:mm:ss) |
| Preparation Time | 00:15:00 |
| Cook Time | 00:05:00 |
| Total Time | 00:20:00 |
Cooking Method
Gas stove and blender
Type of Meal
Vegetarian
Suitable For
Toddlers above 12 months of age
Meal Schedule
Breakfast
Recipe Type
Main Dish
Ingredients
| | |
| --- | --- |
| Ingredients | Quantity and Volume |
| Jowar puffs | ½ cup |
| Ghee | 1 tsp |
| Dates | 2 |
| Raisins | 5 |
| Cinnamon powder | ¼ tsp |
| Cardamom powder | ¼ tsp |
Instructions
Now let us go through the step by step procedure to prepare Jowar puff kheer. This method is aimed to retain the nutritious values of each ingredient used here:
Grind jowar puff to make a fine powder.
Soak dates and raisins in warm water for 10 minutes.
Heat ghee in a pan and add the ground jowar puff in medium flame for 2 minutes, stirring continuously.
Blend the soaked dates in a blender along with the water to make a smooth paste.
Add this date puree to the pan along with ¾ cup of water and boil for a minute, whisking well.
Now add the cinnamon powder and cardamom powder and heat for another minute.
Serve it lukewarm.
If for some reason you want to avoid dates or if your child is allergic to nuts, then you could use jaggery as a sweetener which comes with its aromatic flavour and taste. Below is the recipe to make jaggery syrup. You can use this for babies over one year of age:
Grate a small block of jaggery and add it to a pan.
Add a spoon of water and let it come to a boil.
Stir till it melts.
Filter it to another pan and heat it again till it is slightly thick.
Recipe Tips
This is an easy Jowar puff kheer recipe for a baby who has just begun with solids, but you could change few things for a child above one year. Here are some tips for making this kheer:
You could use almonds for added benefit, but make sure to soak them overnight and peel off the skin before adding them in.
One can choose to add cow milk instead of water for babies above one year or formula milk for younger kids. You could also use almond milk for this recipe or coconut milk.
The stirring of the jowar mix has to be continuous else lumps would form which your child might not like. Add water little by little to the mix while whisking constantly.
While making jaggery syrup, make sure not to overheat it else it becomes very thick.
Make sure there is no raw smell of jowar and is cooked well.
If you want to add nuts for small babies, then add nut powder instead of whole nuts.
Babies under one year old would be happy with the natural sweetness of dates and raisins, so avoid adding any other sweetener.
Nutrition Information (Per ½ cup)
| | |
| --- | --- |
| Nutrient | Value |
| Energy | 160 Cal |
| Protein | 2.7 grams |
| Carbohydrates | 24.9 grams |
| Fat | 5.5 grams |
| Cholesterol | 0 |
| Sodium | 2.1 mg |
| Calcium | 13.1 mg |
| Iron | 1.3 grams |
| Potassium | 109.6 mg |
| Magnesium | 48.6 mg |
| Phosphorous | 55.3 mg |
| Zinc | 0.4 mg |
| Vit A | 326 mcg |
| Vit B1 | 0.1 mg |
| Vit B3 | 0.9 mg |
| Vit C | 0.4 mg |
| Vit E | 0.1 mg |
| Folic acid | 6.7 mcg |
Health Benefits
A home-made Jowar puff kheer baby food recipe is the perfect way to start your baby's day for that joyful energy all through:
Jowar has a lot of fibre which is excellent for your kid's digestion.
It boosts immunity which is required for small kids as their immunities are low.
It is a rich source of protein and iron, precisely what a growing child needs.
Buying Guide
These days it has become a necessity to go all organic; it is not worth damaging your precious one's system with all the toxins in non-organic stuff.
When buying jaggery, look for dark-coloured ones which are aged as they have minimal chemical residue.
We hope this recipe clearly explained as to how to make Jowar puff kheer for a child with easy steps. It is a perfectly safe recipe for infants as no sugar or added preservatives have been used. This kheer is something that your little one would not be able to resist.