Carrot Palak Raita Recipe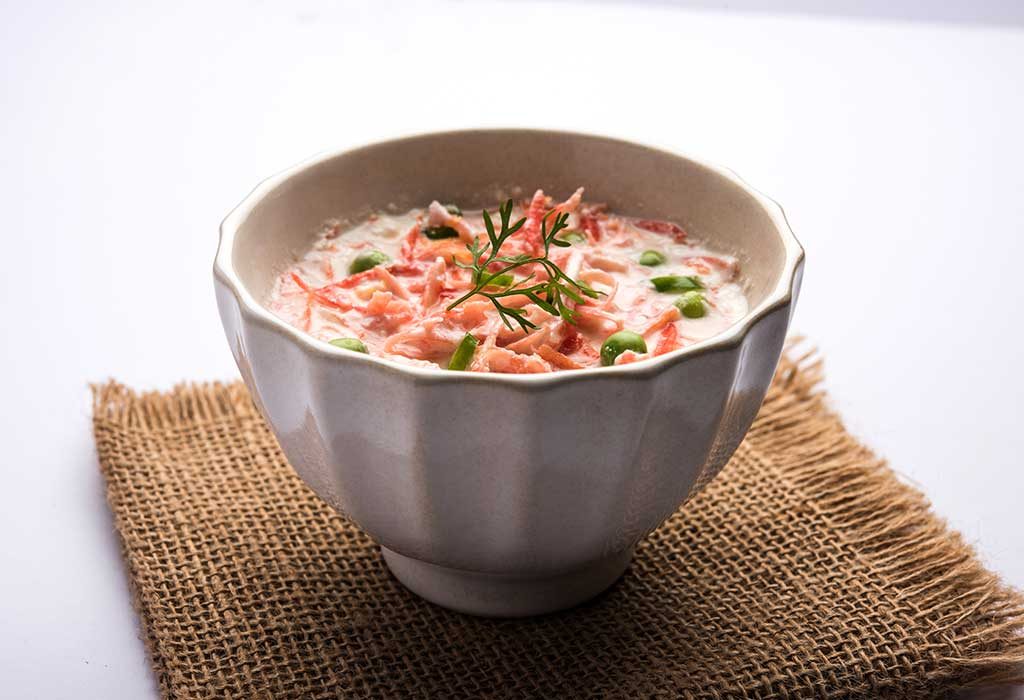 In this Article
Introduce your toddler with the refreshing homemade carrot palak raita which is a nutrient-packed recipe made from wonderful leafy greens, vitamin-rich carrots, and fresh organic yogurt. They are the natural sources of vitamin, mineral, and protein which fulfill the daily nutritional value of your baby. It is easy to digest and also very helpful for bone strength of your rapidly growing baby. Not only your baby but you will also enjoy this flavorful raita paired with any Indian meal. So let us see how to make a carrot palak raita recipe.
Cooking Time:
| | |
| --- | --- |
| Type | Time (hh:mm:ss) |
| Preparation Time | 00:10:00 |
| Cook Time | 00:10:00 |
| Total Time | 00:20:00 |
Cooking Method
Gas Stove
Type of Meal
Vegetarian
Suitable For
Toddlers above 19 months of age
Meal Schedule
Breakfast, Mid-Morning Snack, Lunch.
Recipe Type
Main Dish
Ingredients
| | |
| --- | --- |
| Ingredients | Quantity/Volume |
| Chopped palak | 100 gms |
| Grated Carrot | 1 medium-size |
| Yogurt | 100 gms |
| Ghee | 1-2 teaspoons |
| Cumin Seed | 1/4 teaspoon |
| Roasted Cumin powder | 1/4 teaspoon |
| Black Salt | 1/4 teaspoon |
| Hing (Optional) | a pinch |
| Curry leaves (Optional) | 1-2 leaves |
Instructions
This is a delicious way to give your baby the goodness of spinach and carrot along with cool refreshing yogurt. Here are step by step directions to make carrot palak raita:
Take a bowl and whisk the yogurt till smooth and keep it aside.
Put ghee in a pan and let it heat.
Add cumin seeds and let them crackle for few seconds.
Now add chopped palak and cook till it stops releasing water.
Just after that add grated carrot and saute it for a minute or so.
Put this mixture in the yogurt and give it a good mix.
Add black salt and roasted cumin powder.
For tempering (optional): Heat ghee in a tadka pan.
Put a pinch of hing and curry leaves.
Add this tempering to the prepared raita.
Mix everything and the raita is ready to be served.
Recipe Tips
It is very important to take care of few points mentioned below before you start preparing this carrot palak raita recipe for babies.
Make sure that the yogurt you are using is at room temperature.
The spinach should be fresh and cleaned thoroughly.
The carrot should be peeled and washed properly before grating.
You can add tempering according to the taste.
Do not refrigerate the raita before serving.
Give this raita during the first half of the day and not in dinner as it may cause cough and cold in babies.
For babies older than 1 year can give this raita with paratha or plain boiled rice.
Nutrition Information (Per 100 Grams)
| | |
| --- | --- |
| Type | Value |
| Water Content | 1176.38±1.8 g |
| Protein | 3.18±0.23 g |
| Ash | 3.69±0.48 g |
| Total Fat | 1.11±0.07 g |
| Dietary Fibre | 6.87±0.43 g |
| Insoluble Fibre | 4.61±0.41 g |
| Soluble Fibre | 2.26±0.31 g |
| Carbohydrate | 8.76±1.42 g |
| Energy | 262±26 KJ |
Health Benefits
You will be surprised to know that this simple carrot palak raita recipe can provide several health benefits to your little ones. Here are some listed below:
Carrots are not only tasty but also highly nutritious. They are rich in vitamin K and potassium which are good for the eyesight of your baby.
Carrots are easily available and also good for skin problems like rashes etc.
Spinach is a wonderful green leafy vegetable that is rich in several vitamins and minerals that boosts the immunity of your baby.
Carrots and spinach have high dietary fiber that helps babies indigestion. It improves their bowel movement and helps them to fight constipation which is a very common problem.
Yogurt is a dairy product that provides protein and calcium. It provides a great source of strength to the bones of your little one.
Yogurt also aids in digestion and relieves gut irritation by its cool and refreshing properties.
The high amount of water content in the raita keeps your baby hydrated.
Buying Guide
Babies are very sensitive and that is why they require special attention while choosing the right ingredients for the recipe.
Make sure you choose spinach that has tender and crisp leaves. It should be fresh and clean.
Avoid yellow and pale-colored leaves.
The carrot should be fresh and crunchy. It is preferred if it is grown organically.
Use fresh yogurt made from wholesome milk. It would be great if you could make it fresh at home.
Always buy organic cow ghee for baby's food preparation.
Make this easy recipe for your little one to build his endurance!