Peanut Chikki Recipe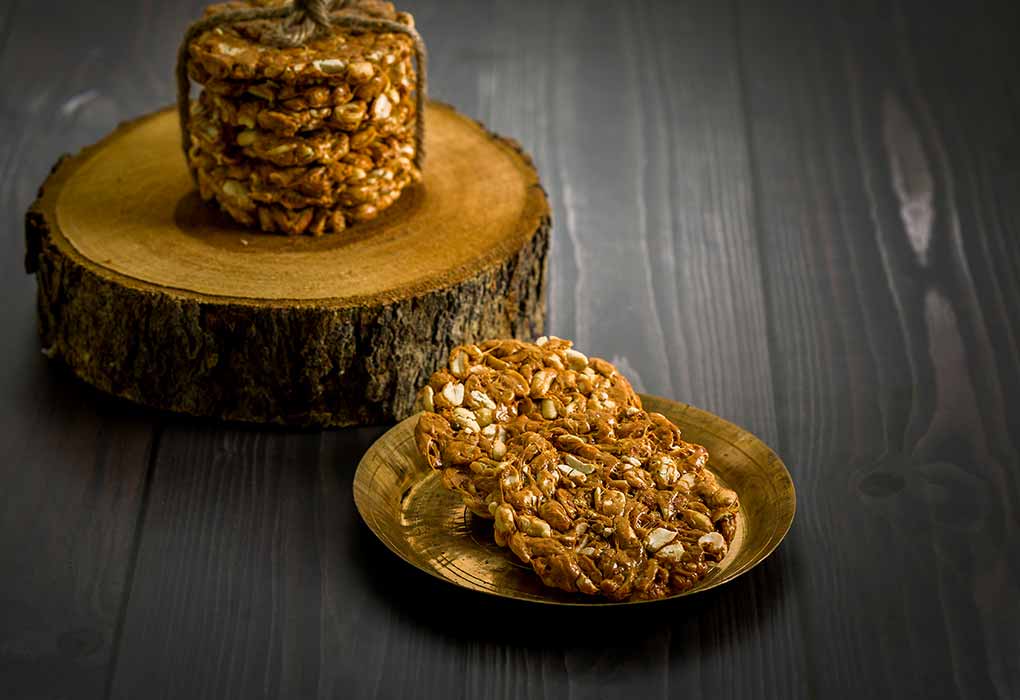 In this Article
A delicious and mouthwatering recipe for a snack that can be offered during mid-day or as a dessert, this easy Peanut Chikki recipe is perfect for introducing sweet treats to your toddler. Peanut chikki serves as an ideal replacement for chocolates or junk foods for snacks or desserts. All you need is peanuts and jaggery, and in no time, you can whip up a healthy dessert. Chikkis are popular with kids and best enjoyed during the winter season.
Cooking Time
| | |
| --- | --- |
| Type | Time (hh:mm:ss) |
| Preparation Time | 00:30:00 |
| Cook Time | 00:30:00 |
| Total Time | 00:60:00 |
Cooking Method
Gas
Type of Meal
Vegetarian
Suitable For
Weaning toddler older than 21 months of age
Meal Schedule
Mid-day Snack or Desserts.
Recipe Type
Snacks, desserts
Ingredients
| | |
| --- | --- |
| Type | Quantity |
| Peanuts | 1 cup |
| Jaggery | 3/4th cup |
| Cardamom powder or Elaichi Powder | One teaspoon |
| Ghee | One teaspoon |
Instructions:
This homemade Peanut Chikki baby food recipe will be a piece of cake for you, once you follow the step by step guide:
Roast the peanuts for 2-3 minutes on medium flame. Do not let them burn and once it cools remove the skin.
Melt the jaggery into a thick consistency. The consistency should match that of a thick syrup.
Add the cardamom powder and mix well.
Grease a plate with about one tablespoon ghee and keep it ready.
Mix in the roasted peanuts to the jaggery syrup and keep stirring until all the peanuts are well-coated.
Spread the peanut and jaggery mixture on the greased plate.
Let it cool down. Cut it into desired shapes.
Store in air-tight containers and enjoy when needed.
Recipe Tips
Now that you have learnt how to make Peanut Chikki, use the below tips to achieve perfection:
Always buy peanuts with skin. Roast them in a deep kadhai or non-stick pan for a couple of minutes. Make sure you roast them on slow flame. This will ensure that it does not burn. Rub the cooled peanuts in your palm as this ensure the husks peel off easily.
Keep stirring the jaggery syrup until it reaches excellent consistency. Do not add too much water while melting the jaggery. Add a little water first and then check to see if you need to add some more.
Keep a bowl of cold water to check the consistency of the jaggery syrup. Pour a small quantity into it and if it rolls into a ball, then turn off the gas or add the peanuts immediately.
You can choose to eliminate the cardamom powder, but it gives a beautiful aroma and also a great taste.
Nutrition Information (Per 100 Grams)
| | |
| --- | --- |
| Type | Value |
| Calories | 434 kCal |
| Carbohydrates | 37 gm |
| Protein | 13 gm |
| Fat | 27 gm |
| Sodium | 12 mg |
| Fibre | 5 gm |
| Cholesterol | 11.8 mg |
| Potassium | 396 mg |
| Iron | 2.3 mg |
| Calcium | 66 mg |
Health Benefits
This lovely snack is packed with loads of goodness and below are some health benefits:
Peanuts are rich in proteins and very essential for body development.
Peanuts contain vitamins like B6, B9, thiamin, riboflavin and Vitamin E.
Peanuts are also rich in minerals like zinc, copper, magnesium, calcium, iron and selenium.
Peanuts are a good source of fibre and aids in bowel movement.
Jaggery helps in digestion and cleanses the stomach.
Jaggery prevents anaemia and is a rich source of iron.
Jaggery is also a rich energy booster.
It purifies the blood and keeps the skin healthy.
Buying Guide
A few things to remember when you buy ingredients for this recipe:
Buy peanuts in sealed form. Check the expiry date on the packaging.
Buy jaggery in sealed form. It is best to buy dark coloured jaggery as it will lend a dark colour to the snack.
You can either crush the cardamom in a mortar and pestle or grind it in the mixture. When grinding, add some sugar so that they will grind well.
Peanut Chikki for babies is a healthy option to serve your kids. It packs the goodness of protein and fibre in tiny chunks and is something which is liked by all. A delicacy made during the Makar Sankranti season, this can be made all year round and stored. Replace the unhealthy packaged snacks loaded with preservatives to this healthy alternative. Encourage healthy eating habits in your child and let them find their taste in different palates.