Grilled Fish Recipe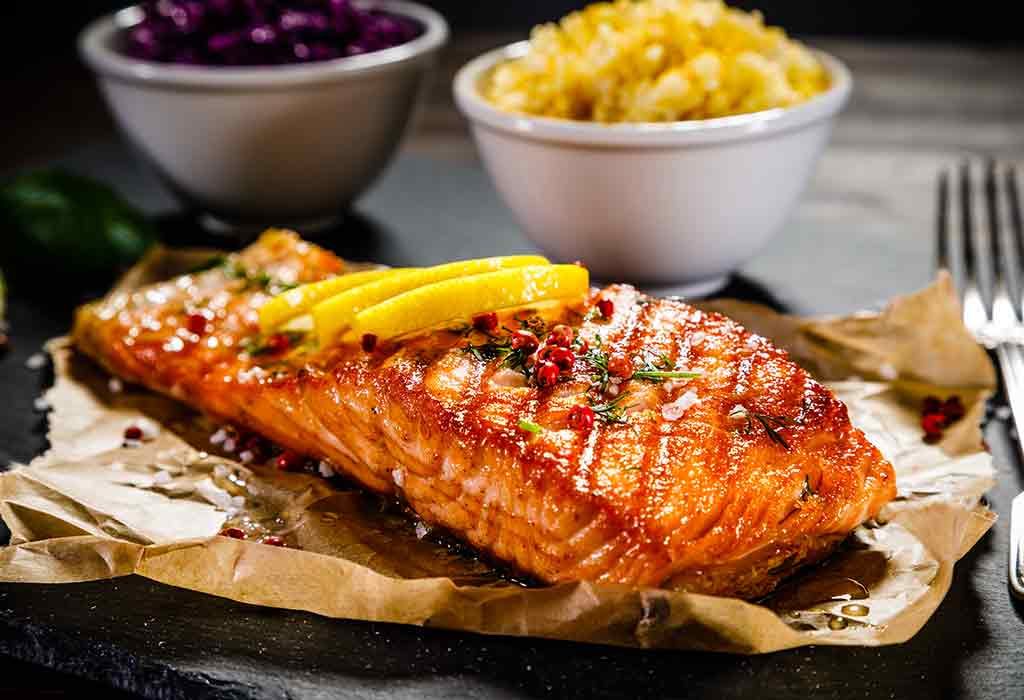 In this Article
Grilling fish is a much healthier option than frying fish. Cooking fish on a high heat makes sure that the fish is cooked well, crispy and flaky. This simple grilled fish recipe can be made in an oven, barbecue kits, or simply on the gas too. It tastes delicious and can be had as it is or an accompaniment to rice. When making grilled fish it is important to choose a large fish or fillet that is firm and fresh.
Cooking Time
| | |
| --- | --- |
| Type | Time (hh:mm:ss) |
| Preparation Time | 00:15:00 |
| Cook Time | 00:20:00 |
| Total Time | 00:35:00 |
Cooking Method
Gas Stove, Induction
Type of Meal
Non-Vegetarian
Suitable For
For toddlers older than 21 months of age
Meal Schedule
Lunch or Dinner
Recipe Type
Main Dish
Ingredients
| | |
| --- | --- |
| Type | Quantity |
| Fish fillet ( any variety) | 300 grams |
| Onions finely chopped | 1 cup |
| Ginger Garlic paste | 1 teaspoon |
| Red Chilli Powder | 1 teaspoon |
| Turmeric Power | 1/8 teaspoon |
| Garam Masala | ¾ teaspoon |
| Lemon Juice | 1-1 ½ teaspoon |
| Semolina or Rava | 1 teaspoon |
| Salt | As per taste |
| Oil | As required for greasing |
Instructions
Follow these simple step-by-step guide to learn how to make Grilled Fish for babies. A perfect dish to serve your toddler, you can now make it in a jiffy:
Wash the fillet under running water. Pat it dry with a kitchen towel. Slit the fillet and keep it aside.
Add all the other ingredients except the semolina in a bowl. Mix well so that everything blends well together.
Marinate the fillet and coat it with the mixture nicely and make sure you cover the slits too.
Now refrigerate the marinated fillet in the refrigerator for an hour.
Preheat the oven at 160 degrees for about ten minutes.
Place the marinated fillet on a baking tray and sprinkle the semolina on it.
Bake it for about 30-40 minutes. Keep checking to see if the fillet is being cooked constantly.
After about 20 minutes, use a knife or fork and widen the slit. This will help to grill the fish evenly and thoroughly.
If you do not have an oven, place the marinated fish on a stainless steel roasting net and cook on a low flame. This process will take time and you have to constantly check to see if the fillet is being cooked.
Recipe Tips
This home-made grilled fish baby food recipe is simple and can be easily perfected with the below tips. Just follow them to make it your baby's favourite dish:
You could use any variety of fish but salmon is the best. Salmon is large enough and tastes wonderful when marinated. It is also one of the healthiest variety of fish.
If you use salmon, you do not have to add any oil as salmon is an oily fish in itself.
Try to marinate the fish and leave it overnight. This helps the marinade to be absorbed by the fish.
Squeeze some lemon juice over the grilled fish before serving. Your kid may well love the tangy taste.
Try not to char your meat as charred meat is linked to cancer. Discard any part that is over baked.
Nutrition Information (Per 100 Grams)
| | |
| --- | --- |
| Type | Value |
| Calories | 192 kCal |
| Carbohydrates | 5 grams |
| Protein | 31 grams |
| Fat | 5 gms |
| Cholesterol | 75 mg |
| Sodium | 102 mg |
| Fibre | 1 gms |
| Sugar | 1 gm |
| Potassium | 508 mg |
Health Benefits
Fish is a powerhouse of nutrition and it is but natural that this grilled fish for babies is equally nutritional and healthy. Read on to find out more about the health benefits:
Fish is rich in vitamins, proteins, and Omega 3. The Omega -3 found in mackerel and salmon is great for the health of the heart and also aids brain development.
Fish is good for developing vision and keeps the eyes healthy.
Fish is rich in fat-soluble vitamins like Vitamin A, Vitamin D, Vitamin E, and Vitamin K.
Fish is also great for the skin and keeps the skin healthy.
Eating fish is known to improve the mood of human beings in general and it holds good for babies too.
Buying Guide
Although fish can be served to infants of six months of age and over, you need to be a little cautious about sourcing it. Read on to find out more:
Make sure you buy cleaned fish from the market
Buy fish that has low mercury content for your baby.
Try to buy salmon as it has low mercury content and is known to cause fewer allergies.
Buy fish without any bones.
Apart from being fresh, tasty, and natural, seafood like fish is good for the health, development, and vitality of an infant. Serve this grilled fish by itself or with rice or rotis.