Tomato Pumpkin Rice Soup Recipe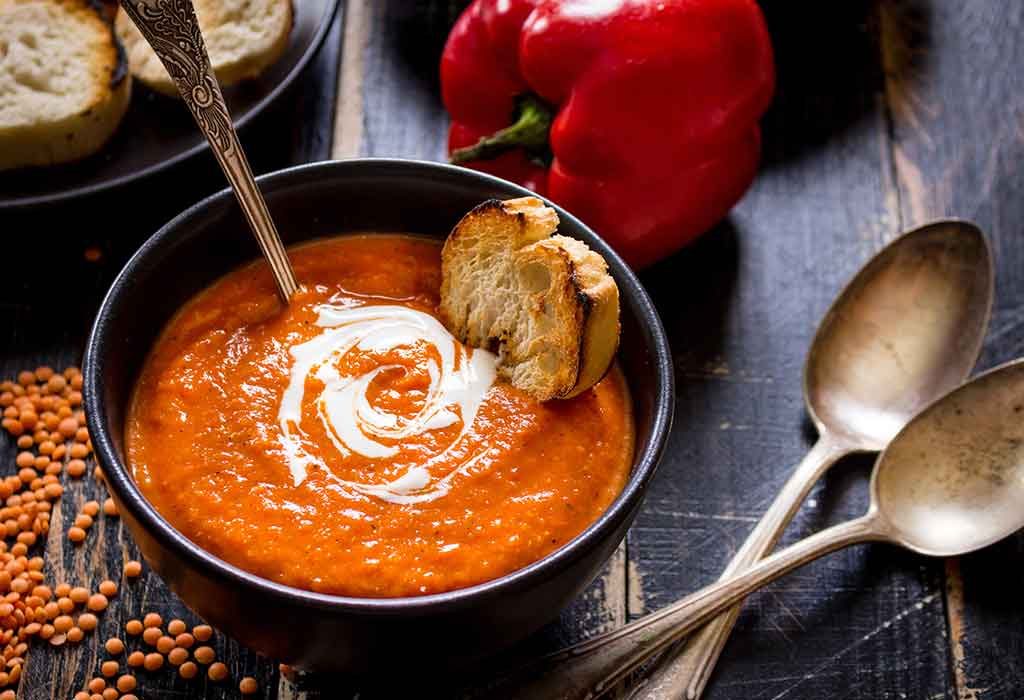 Need a comforting winter recipe to treat your family? A bowl of hearty tomato and pumpkin rice soup may be just the right answer. This wholesome dish can be served as a tasty appetiser or after-school snack. This continental style recipe is ideally served with bread, grilled pizzas, and sandwiches or even eaten by itself. Combining the goodness of vegetables, rice and aromatic herbs, the goodness of its ingredients makes your baby's daily diet more nutrient-rich and delicious. Find out the easiest way to make tomato pumpkin rice soup and it is sure to become your child's favourite dish.
Video: Tomato Pumpkin Rice Soup Recipe for Babies and Toddlers
Cooking Time
| | |
| --- | --- |
| Type | Time (hh:mm:ss) |
| Preparation Time | 00:10:00 |
| Cook Time | 00:35:00 |
| Total Time | 00:45:00 |
Cooking Method:
Stove
Type of Meal:
Vegetarian
Suitable For:
Weaning babies older than 9 months of age
Meal Schedule:
Lunch, evening Snack or dinner
Recipe Type:
Appetiser
Ingredients
| | |
| --- | --- |
| Type | Quantity |
| Tomatoes | 3 |
| Pumpkin | 1 |
| Crushed Garlic Clove | 2 |
| Water | 1 Litre |
| Salt | As Per Taste |
| Lemon Juice | 2 Tbsp. |
| Pepper | ½ tsp |
| Olive Oil/Butter | 2 Tbsp. |
| Basmati Rice | 2 Cups |
| Ginger | 2 Piece |
Instructions
The appropriate step by step directions for making tomato pumpkin rice soup is your perfect guide for developing your culinary skills.
Blanch the tomatoes. Remove their skin and cut them into half.
Peel off the skin of pumpkin and cut it into cubes.
Heat a tablespoon of olive oil in a large pan. Add in the garlic cloves and pumpkin cubes.
Sprinkle some salt and roast the pumpkin till it turns tender. Cover the pan to fasten the roasting process.
Add the roasted tomatoes to the soft pumpkin and sauté for another 2 minutes.
Pour in the water or vegetable broth and let the mixture simmer for 10 minutes.
Once the mixture cools down, transfer it into a blender.
Make a smooth puree and stir in cooked rice and simmer it for a minute.
Sprinkle some herbs, lemon juice and basil leaves to season from the top.
Recipe Tips
Use chilli flakes, cayenne or chilli oil for older children to this simple tomato pumpkin rice recipe, to make it moderately hot.
Add finely chopped leek to the broth for a mild, onion-like crunchy taste.
You can mash and break the pumpkin with a wooden ladle instead of using a blender.
This homemade tomato pumpkin rice soup baby food recipe can be made tastier by adding coriander leaves to it.
Continuous reheating reduces the nutrition value of the soup.
Use olive oil instead of butter or chopped onion instead of garlic cloves.
Herbs like oregano, thyme, parsley can be used to garnish this soup.
Nutrition Information (Per 1 Serving)
| | |
| --- | --- |
| Type | Value |
| Carbohydrates | 76.8gram |
| Calories | 427.7 Kcal |
| Protein | 14.3gram |
| Sodium | 2454.9 mg |
| Fiber | 3gram |
| Fat | 16.1 gram |
| Potassium | 3091.2mg |
| Calcium | 28.9% |
| Vitamin C | 319.5% |
| Vitamin A | 856.5% |
| Dietary Fibre | 11.1gram |
| Sugar | 12 gram |
Health Benefits
Tomato pumpkin rice soup is filled with the goodness of vegetables and carbohydrates that are extremely beneficial for your baby. Let us focus on the nutritive value of this satisfying meal:
Rice is an excellent source of carbohydrates and vitamins for babies, apart from being easily digestible.
Highly loaded with antioxidants like beta-carotene and Vitamin A, pumpkins are not only sweet but contain well-balanced mineral composition that contributes to the overall development of your little munchkin.
Low in fat and calories, pumpkins have a high fibre content that supports digestion and eases bowel movements. Its potassium content improves the functioning of muscles while Vitamin C helps to boost the immunity of your child.
If your child develops certain allergic reactions after graduating to these solid foods, consult your paediatrician for advice.
Tomatoes are a very essential part of a baby's diet. They contain antioxidants and Vitamin K that are important to build strong bones.
Buying Guide
Shopping for the best quality ingredients for your tomato pumpkin soup recipe can be challenging unless you have clear information about the products. This buying guide will assist you to make precisely exercise your choices.
Ensure that the tomatoes that you're buying are red and orange. They shouldn't have any cracks or soft spots on them.
Spices need to have a strong aroma and a rich colour.
It is always better to choose vegetables from an organic source keeping their nutrients intact.
Basmati rice is flavoured rice. You can choose short-grain rice that cooks faster, but brown rice is more filling and has more health benefits for a child.
Combine the goodness of autumn harvest of pumpkin with ripe tomatoes and rice to make this homemade tomato pumpkin rice soup for babies. It is a better alternative to readily available soup packets containing harmful preservatives.