Hakka Noodles Recipe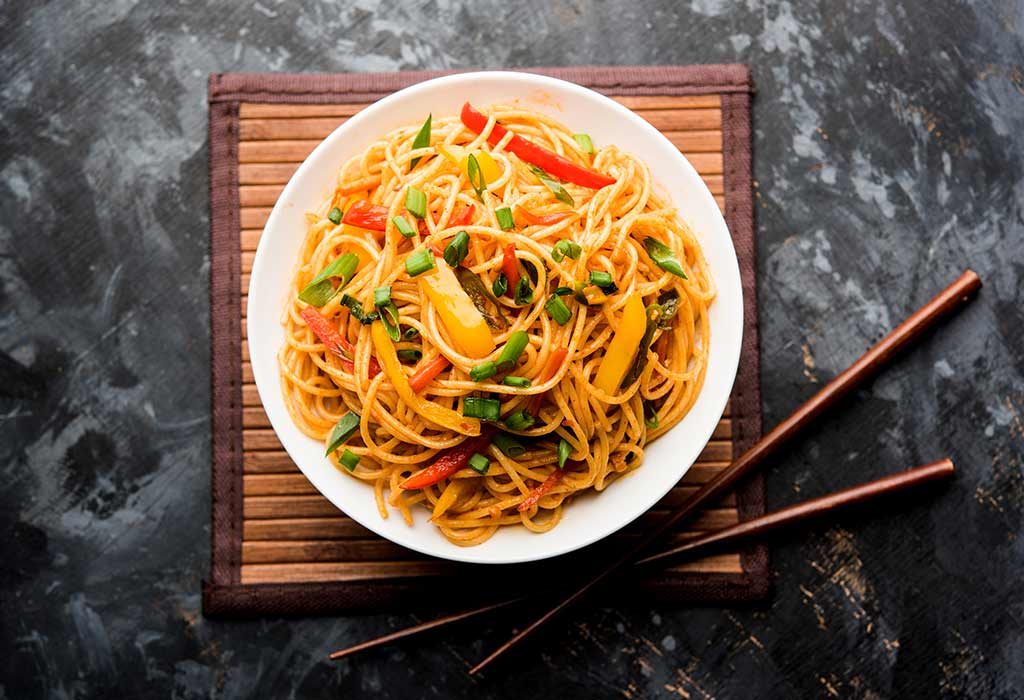 In this Article
Feeding green vegetables to kids can become a tad bit difficult for the parents. However, when you present the vegetables in a tastier and interesting way, then you will see how your kid will relish them. We will be sharing one of the yummiest meal options that have an oriental touch and will be loved by your little one too! Yes, you guessed it right; we are talking about Hakka noodles! Let's get started with this homemade Hakka Noodles baby food recipe!
Cooking Time
| | |
| --- | --- |
| Type | Time (hh:mm:ss) |
| Preparation Time | 00:10:00 |
| Cook Time | 00:08:00 |
| Total Time | 00:18:00 |
Cooking Method
Gas Stove
Type of Meal
Vegetarian
Suitable For
For kids above 21 months of age
Meal Schedule
Lunch or Dinner
Recipe Type
Main Dish
Ingredients
Following is the list of ingredients that you need to buy for preparing Hakka Noodles for toddlers:
| | |
| --- | --- |
| Ingredient | Quantity and Volume |
| Hakka noodles | 200 grams |
| Carrot (medium-sized, julienned) | 1 |
| Capsicum (finely sliced) | 1/2 |
| Cabbage (shredded) | 1/2 cup |
| Onion (finely sliced) | 1 |
| Soy sauce | 1 tbsp |
| Homemade Tomato sauce | 1 to 2 tbsp |
| Garlic | 2 to 3 cloves |
| Pepper | 1/2 tsp |
| Salt | To taste |
| Oil | 2 tbsp |
| Water | 5 to 6 cups |
| Spring onions (chopped) | 1 tbsp |
Instructions
Here is the step by step directions for making Hakka noodles:
Take water and bring it to a boil. Add salt and noodles. Cook until noodles become tender. Remove from heat, put the noodles in a strainer and let extra water drain.
Heat oil in a wok.
Add sliced onions and cook on high flame. Stir for a few seconds or until they start turning golden brown.
Crush the garlic cloves, throw in the wok and toss for a few seconds along with onions.
Add sliced capsicum, carrots and cabbage. Cook on medium flame until the vegetables are cooked medium-rare.
Add noodles, salt, pepper powder, soy sauce, and tomato sauce. Keep stirring in between.
Scoop out noodles in a bowl. Garnish with chopped spring onions and serve!
Recipe Tips
Now that you have learned how to make Hakka Noodles, make sure you keep following tips in mind for a perfect recipe:
You can add more vegetables such as French beans and other such vegetables to increase the nutrition quotient of the dish.
Do not cover the vegetables while cooking as it would make the vegetables mushy and you need to keep their crunchiness intact.
You can add green chilli sauce and vinegar to add more authentic flavour when making the dish for older kids.
Shredded boiled chicken can be added to turn this dish into a non-vegetarian delight.
Nutrition Information (Per 100 Grams)
Here are some nutrients that your baby can get when you serve homemade Hakka noodles:
| | |
| --- | --- |
| Nutrient | Value |
| Energy | 400 Cal |
| Carbohydrates | 43 g |
| Protein | 7 g |
| Fibre | 1.5 g |
| Vitamin A | 600 IU |
| Calcium | 20 mg |
| Iron | 0.4 mg |
| Magnesium | 7.4 mg |
| Phosphorus | 96 mg |
| Sodium | 225 mg |
| Potassium | 70 mg |
The above nutritional content shows the approximate values present 100 grams of Hakka noodles. The actual values may vary.
Health Benefits
Here are some of the health benefits of including this simple Hakka Noodles recipe in your baby's diet:
Hakka noodles are made from wheat or rice flour, which means they are a rich source of carbohydrates. Carbohydrate-rich foods are great for providing ample energy to your little one.
The added vegetables or chicken adds to nutritional value and makes it a healthy meal option for your munchkin.
Buying Guide
Keep in mind the following tips when picking up ingredients for making Hakka noodles at home:
Make sure you buy noodles from a renowned brand. Refrain from picking noodles from any local or unknown brand.
Usually, noodles have a long shelf life; however, it is important to check the date of packing before buying noodles.
Buy organic vegetables such as carrots, beans, mushrooms, onions, etc. when choosing vegetables for noodles. Do not use frozen or pre-cut vegetables as such vegetables lose most of their nutritional content.
Choosing the right noodle is important too when it comes to making Hakka noodles. Make sure noodles are not too thick or else the dish may not taste that well.
Next time hunger strikes your munchkin, and you are looking for healthy meal option for your little bundle of joy, try this easy and sumptuous Hakka noodle recipe and bring a bright smile on your kiddo's face!