Grilled Sweet Potato Cubes Recipe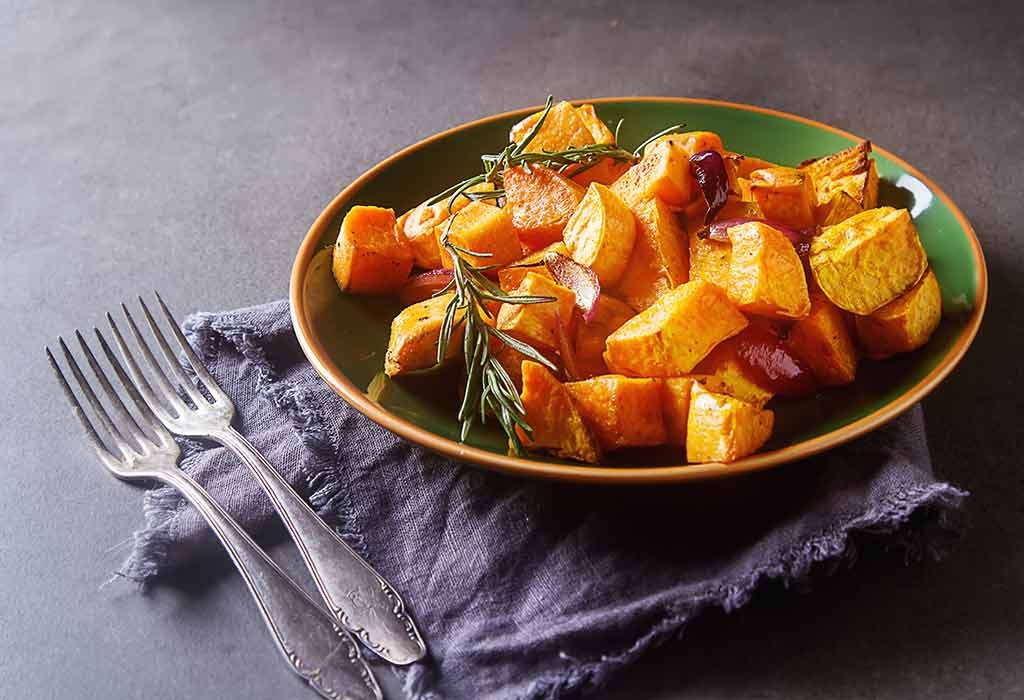 In this Article
Sweet potatoes are super healthy for your munchkin! If you haven't tried giving your toddler this yummy root vegetable, try this easy Grilled Sweet Potato Cubes recipe. The smoky flavour, combined with the sweetness of sweet potatoes is something that tastes heavenly. Introduce your munchkin to the world of flavours and nutrition with this healthy dish!
Cooking Time
If you are interested in learning how to make Grilled Sweet Potato Cubes, let us tell you that it is not only a simple recipe, but it takes very little to whip up this delicacy. Here's how much time you need in hand:
| | |
| --- | --- |
| Type | Time |
| Preparation Time | 00:05:00 |
| Cook Time | 00:10:00 |
| Total Time | 00:15:00 |
Cooking Method
Grilling
Type of Meal
Vegan and vegetarian
Suitable For
For babies over 12 months of age
Meal Schedule
Mid Morning Snack or Evening Snack
Recipe Type
Appetizer
Ingredients
Here's all that you need to make homemade Grilled sweet potato cubes baby food recipe:
| | |
| --- | --- |
| Ingredient | Quantity and volume |
| Sweet potatoes | 3 to 4 |
| Olive oil | 1 to 2 tbsp |
| Salt | To taste |
| Dried basil | 1 tsp |
| Garlic powder (optional) | ½ tsp |
Instructions
Take a look at the step by step instructions to make this healthy recipe!
Take sweet potatoes and wash them nicely by scrubbing them gently.
Peel the outer layer and let leave them to dry for a bit.
Chop the sweet potatoes into cubes.
Sprinkle salt on the chopped cubes and keep aside.
In a bowl, take olive oil, dried basil, garlic powder and salt. Whisk all the ingredients together nicely.
Pour this dressing over the sweet potatoes cubes and gently coat the dressing on the cubes using your hands. Keep aside.
Heat the grill. Place the cubes on the rack and cook for 6 to 7 minutes or until they turn aromatic, tender and smoky.
Remove the sweet potato cubes from the grill. Once they cool down a bit, serve them to your munchkin!
Recipe Tips
You can try these tips when making Grilled sweet potato cubes for toddlers:
When cutting the cubes, try and keep the size of all cubes of the same size.
Refrain from overcooking as the cubes may turn chewy and lose their softness.
You can make the dressing in advance and store in the fridge for a couple of days.
The leftover grilled sweet potatoes can be stored in an airtight container for two to three days. Make sure you heat them well before serving again.
Cilantro, cumin powder and other such seasonings can be added to enhance the flavour.
Nutrition Information (Per 100 Grams)
The following table shows nutritional content in 100 grams of grilled sweet potato cubes:
| | |
| --- | --- |
| Nutrient | Value |
| Energy | 100 Cal |
| Carbohydrates | 20 g |
| Protein | 2 g |
| Fibre | 3.5 g |
| Fat | 0.1 g |
| Natural sugar | 4.3 g |
| Starch | 12 g |
| Vitamin A | 701 IU |
| Vitamin C | 2.3 mg |
These values are approx nutritive values found in 100 grams of sweet potato. Actual values may differ sometimes.
Health Benefits
Here are some of the health benefits of including this nutritious vegetable in your little one's diet:
Because of high amounts of fibre in sweet potatoes, it is a great option to keep digestive issues, such as constipation, at bay. Including this vegetable also helps in maintaining healthy bowel movements.
The high amount of calories and slow release of energy makes sweet potatoes a great meal option when it comes to healthy weight gain in babies.
Loaded with vitamin C, including sweet potatoes in your munchkin's diet is a great way of boosting immunity.
Sweet potatoes are power-packed with beta carotene, which aids the production of Vitamin A in the body. This ensures good eye health for your munchkin.
Buying Guide
Now you know all about cooking this simple recipe, however, picking up the right ingredients is an integral part of preparing a healthy meal for your munchkin. Here are some things that you should keep in mind while shopping for the ingredients:
Do not buy frozen sweet potatoes; always go in for fresh and seasonal vegetables.
When picking up sweet potatoes, pick the ones that are medium in size, do not have any bruises or marks and have smooth skin.
Buy organically grown sweet potatoes for making this recipe as they are a healthier option for your kid because such vegetables are grown without the use of harmful chemicals.
Your kids would enjoy this healthy and tasty snack! Make sure to share this simple grilled sweet potato cubes recipe with all mothers and serve them to your kids once or twice a week.
Also read: Top 12 High Calorie Foods for Babies
References
https://thiswestcoastmommy.com/roasted-sweet-potato-bites-recipe/
https://www.simplyrecipes.com/recipes/grilled_sweet_potatoes/
https://www.beingtheparent.com/nutritional-benefits-of-sweet-potatoes-for-babies/