Potato Paneer Mash Recipe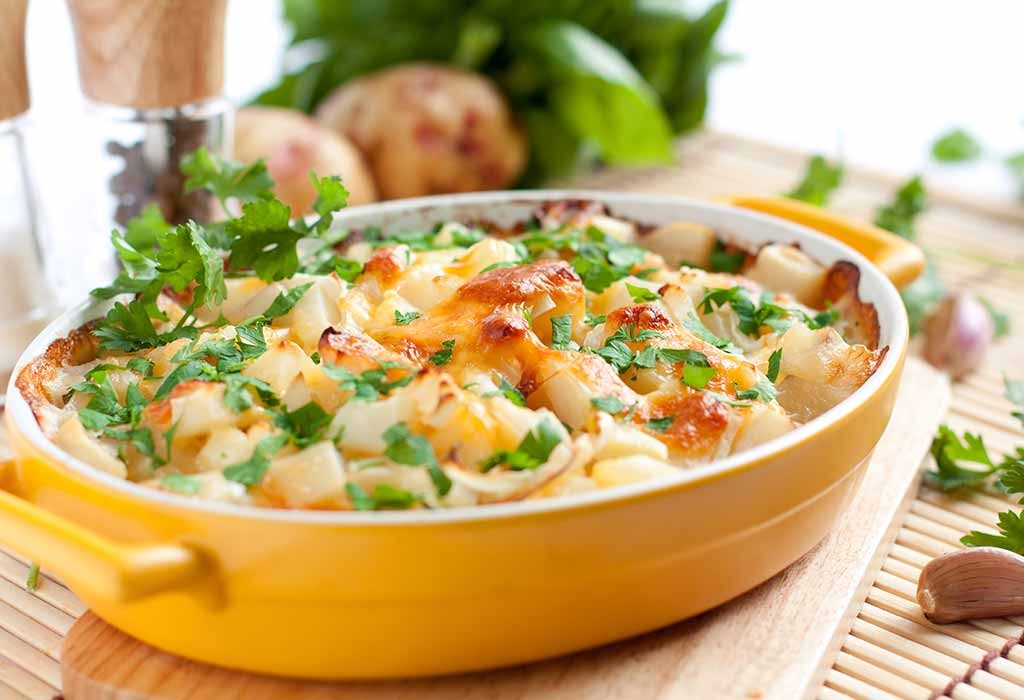 In this Article
If you are looking for a simple dish to tempt your kid into having your home-cooked snack after playtime, then you can't go with potato paneer mash. It tastes delicious and is one sumptuous dish that your child will find hard to refuse. This vegetarian snack is easily digestible, mildly spiced and has a soft texture, easy to swallowed by babies.
Potato paneer mash is also highly nutritious, which is why most moms prefer including this dish in their babies' diets. Here is the detailed recipe of how to make potato paneer mash in the easiest way. Once you feed potato paneer mash to your baby, you will be surprised to see how feeding time will become enjoyable with your little one.
Cooking Time
| | |
| --- | --- |
| Type | Time (hh:mm:ss) |
| Preparation Time | 00:15:00 |
| Cook Time | 00:15:00 |
| Total Time | 00:30:00 |
Cooking Method
Baking
Type of Meal
Vegetarian
Suitable For
Babies above 9 months of age
Meal Schedule
Breakfast, lunch, snack, and dinner
Recipe Type
Side dish
Ingredients
| | |
| --- | --- |
| Type | Quantity |
| Boiled potatoes | 2 tsp |
| Cottage cheese (paneer) | ½ cup (cut into small pieces) |
| Butter | For greasing |
| Salt | As per taste |
| Grated processed cheese | 2 tsp |
| Chopped onion | 1/3 cup |
| Fresh cream | ½ cup |
| Milk | 1 tbsp |
| Pepper powder | ½ tsp |
| Chopped coriander | 1 tbsp |
| Lemon Juice | ½ tbsp |
Instructions
The step by step directions given below is an easy guide to prepare this delicious potato paneer mash.
Boil potatoes in a pressure cooker until tender. Mash them and keep aside in a bowl.
Mix milk, fresh cream, onion, pepper powder, curd and salt in a separate bowl.
Grease a baking dish with butter and spread the potato mixture in it.
Add the shredded paneer on top.
Then sprinkle the milk and cream mixture.
Sprinkle additional cheese if desired.
Cover and bake at 200°C for 10 minutes until cooked through.
Add seasoning like coriander leaves or a dash of lemon juice, cut into small pieces and serve hot.
Recipe Tips
Here are some tips that you should follow to make this dish taste even better.
You can make the potato mash smoother by adding some formula milk powder dissolved in water.
This homemade potato paneer mash baby food recipe can be made tastier by adding parsley, green onions, bell peppers, oregano or pepper for additional flavours.
Boiled green peas and carrots can be added to enhance the nutritional value of this dish.
If you are a non-vegetarian, you can also add an egg to the mixture.
Making cottage cheese at home by curdling milk is a better idea than buying paneer from the stores.
Nutrition Information (Per 1 Serving)
| | |
| --- | --- |
| Type | Value |
| Carbohydrates | 14.9 gram |
| Energy | 182 kcal |
| Protein | 6.4 gram |
| Sodium | 12.8 mg |
| Fibre | 2.8 gram |
| Fat | 10.3 gram |
| Potassium | 126.9 gram |
| Calcium | 180.2 mg |
| Vitamin C | 10.4 mg |
| Calcium | 180.2 mg |
| Iron | 0.7 mg |
| Zinc | 0.2 mg |
| Folic Acid | 8.2 mcg |
| Vitamin B3 | 0.2 mg |
Health Benefits
Paneer potato mash is loved by all and is very healthy for babies. Let's look at some of the health benefits of potato paneer mash.
Paneer is a good source of protein, especially for babies. Its calcium content helps in building healthy teeth and muscles. The right amount of phosphorous aids digestion.
Paneer helps in treating constipation in babies due to their high fibre content.
The carbohydrate present in potatoes can provide energy to the baby and fuel to his brain.
Vitamin C in potatoes is essential for healthy skin, bones and hair.
Buying Guide
Consider the suggestions given below before venturing out to shop for the ingredients required to make potato cheese mash.
If you're buying processed cheese, check the expiry date.
Choose a firm white variety of potatoes from an organic store.
Buy fresh coriander leaves for garnishing.
Buy fresh cream and use it within one or two days of purchase as it gets sour quickly.
Homemade potato paneer mash is comfort food and will be enjoyed by your baby or toddler. So make this for your munchkin from time to time. This cheesy and paneer-rich potato dish is sure to bring a smile on your child's face.