Veg Risotto Recipe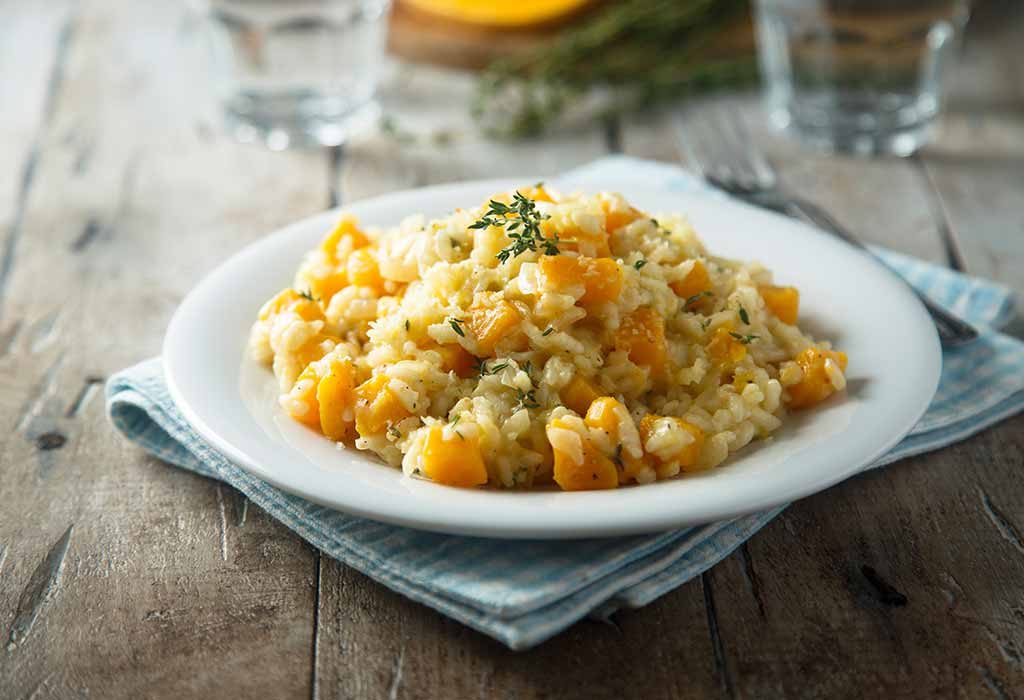 In this Article
Khichdi, dal-rice, pulao are some ways of getting your fussy toddler to consume rice, dal and vegetables. But if you want to introduce another kind of cuisine, then try this easy veg risotto recipe. A delicious combination of rice and vegetables cooked in vegetable stock, this dish can be served for lunch and dinner. What more, it can be whipped up in minutes.
Cooking Time
| | |
| --- | --- |
| Type | Time (hh:mm:ss) |
| Preparation Time | 00:10:00 |
| Cook Time | 00:20:00 |
| Total Time | 00:30:00 |
Cooking Method
Stove
Type of Meal
Vegetarian
Suitable For
Toddlers older than 21 months of age
Meal Schedule
Lunch or Dinner
Recipe Type
Main Dish
Ingredients
| | |
| --- | --- |
| Type | Quantity |
| Broccoli florets | ¼ cup |
| Carrot (diced and cubed) | 1/3 cup |
| Beans (chopped finely) | 1/3 cup |
| Sweet corn | ¼ cup |
| Peas | ¼ cup |
| Onion (chopped finely) | 1 |
| Garlic | 2 cloves |
| Cheese cubes or grated cheese | ½ cup |
| Risotto rice cooked | 1 cup |
| Olive oil | 1 tablespoon |
| Vegetable stock | 1.5-2 cups |
Instructions
Follow this simple step-by-step instruction to learn how to make veg risotto for kids:
Rinse, wash and boil the vegetables in the pressure cooker or a pan. Make sure they are not cooked till mushy.
Dissolve the vegetable stock in just enough water and keep it ready to cook the rice.
Heat oil in a pan and add the onion. Saute until it becomes transparent, add the garlic and saute for a few minutes. Once the garlic loses its raw smell, add the rice.
Saute until the rice grains are coated with the oil. Slowly add the vegetable stock and boil the rice until the liquid is absorbed. Keep pouring the stock as and when the liquid reduces in quantity and the rice is cooked. Stir the mixture constantly.
Once the rice is cooked, add the cooked vegetables and mix gently.
Once the vegetables have mixed well with the rice, add the cheese. Keep the heat on low flame and wait until the cheese melts.
Recipe Tips
Follow these additional tips for getting the perfect homemade veg risotto baby food recipe :
You can use vegetables of your choice. Peppers are great to add in risotto and make it more colourful for your kid to enjoy.
The rice need not be cooked completely and can be a little crunchy in traditional risotto recipes. However, since you are making it for your toddler, it is advisable to cook it completely.
You can season the risotto with Italian herbs like rosemary, thyme or oregano.
You can use any cheese that you prefer- mozzarella, cheddar or plain cow's cheese.
Nutrition Information (Per 100 Grams)
| | |
| --- | --- |
| Type | Value |
| Calories | 490 kCal |
| Carbohydrates | 33.5 gms |
| Protein | 8 gm |
| Fibre | 1 gms |
| Fat | 12 gms |
| Sodium | 490.2 mg |
| Potassium | 248.4 mg |
Health Benefits
Read below to find out more about the health benefits of veg risotto for toddlers:
Risotto is made with arborio rice and 90% of the rice contains high carbohydrates. It helps to keep the tummy full for longer. It also contains proteins, Vitamin A, Vitamin C and iron that help to build muscles and tissues in the body.
Broccoli is a great source of Vitamin K and Vitamin C. It is also high in folate. Vitamin C helps to build collagen that aid in building tissues and bones. Vitamin C present in broccoli is also a powerful antioxidant that protects the body from damaging free radicals.
Carrots are a good source of Vitamin A that help in improving vision.
Peas are a good source of fibre and aid in digestion.
Sweetcorn is rich in Vitamin B12, folic acid and iron and reduces the risk of anaemia.
Buying Guide
When you shop for ingredients to make risotto, keep these points in mind.
Try and use organic vegetables as they are free from pesticides and chemicals.
When buying arborio rice, make sure you buy branded ones from the supermarket. Check the expiry date before use.
When buying cheese, make sure you buy it in sealed form. Ensure that you check the expiry date before buying.
If you are using store-bought vegetable stock cubes, make sure you buy branded ones from the supermarket.
Make this easy and quick veg risotto for toddlers to combine the goodness of rice and vegetables in a chewable form. Different from the usual rice dishes peculiar to the Indian cuisine, this recipe includes cheese to make it creamier and tastier.
References:
https://www.goodtoknow.co.uk/recipes/easy-peasy-vegetable-risotto