Mix Veg Raita Recipe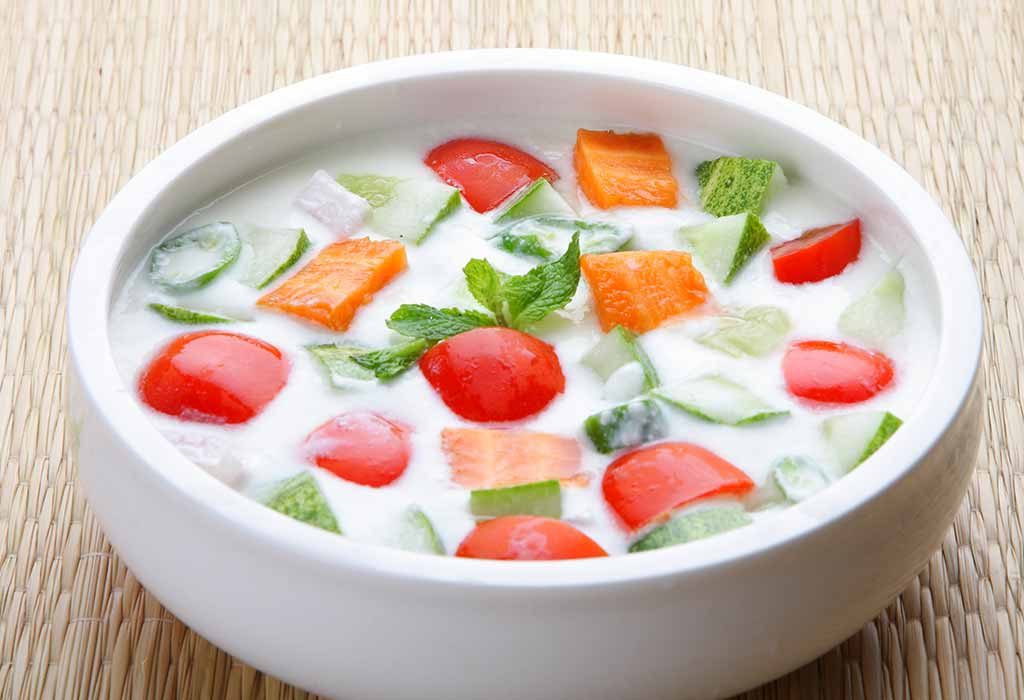 In this Article
We are all aware that Curd is a dairy product prepared by coagulating milk in a process called curdling. It is a rich source of calcium and protein. Its calcium content is higher than milk too! Some kids do not like milk. But a proper amount of calcium is still required for the development of bones and teeth. So here comes Curd/Yoghurt to your rescue. Everyone loves curd and if you add proper spices and some vegetables the flavour turns out to be amazing!
Read on to know more about the recipe of Mix veg raita for babies. To add more nutrition to this recipe, we'll be adding a lot of vegetables. This way, the kids will get to eat vegetables like carrot, cucumber, capsicum, onion, and tomatoes. Raw vegetables are best for your growing child as they make your kid feel more energetic, and render a better skin and great digestion to them. Heating veggies destroys the nutrients and natural enzymes in food. This recipe will help you feed them raw vegetables and keep the nutrition intact. Your child will love mix veg raita and it will be a delight for you to see them chugging on all the necessary nutrients. Thinking about how to make mix veg raita? Let us get started!
Cooking Time
| | |
| --- | --- |
| Type | Time (hh:mm:ss |
| Preparation Time | 00:10:00 |
| Cook Time | 00:05:00 |
| Total Time | 00:15:00 |
Cooking Method: Mixing
Type of Meal: Vegetarian
Suitable For: Weaning toddler older than 19 months of age
Meal Schedule: Mid-Morning Snack or Lunch
Recipe Type: Side Dish
Ingredients
| | |
| --- | --- |
| Ingredients | Quantity |
| Yoghurt or Curd | 1½ cup |
| Carrot(peeled and finely chopped) | One small |
| Capsicum(finely chopped) | One small |
| Tomato(finely chopped) | One small |
| Onion(finely chopped)(optional) | One small |
| Cucumber(peeled and finely chopped) | One small |
| Black pepper(optional) | ¼ tsp |
| Black salt or Rock salt | As per taste |
| Roasted Cumin Powder | ½ tsp |
Instructions:
So here is the step by step procedure to prepare mix veg raita for your child:
Whisk the curd properly till it turns out smooth, i.e., no lumps remain.
Now add the spices and salt, and mix thoroughly.
Next, add all the vegetables which you had finely chopped initially. Mix them properly.
Now taste the raita to check for spices and salt. Add more if required.
The raita is ready to serve. The temperature of raita depends entirely on your preference. Some like it cold while some like it at room temperature. You know it better for your kid.
You can feed the raita directly. Or else make them eat raita with parantha or rice.
Recipe Tips:
Following things should be kept in mind while preparing this homemade mix veg raita baby food recipe:
The vegetables must be washed properly before adding.
You may add or skip veggies from the ones mentioned in the recipe. Your child might not like capsicum so you can skip it.
Do not keep the prepared raita for long in the refrigerator because once you add salt, the vegetables start leaving water and hence the taste might change.
Please avoid serving your child curd at night. Curd might cause mucus formation if eaten at night and lead to cough and cold.
Nutrition Information (Per 100 Grams)
| | |
| --- | --- |
| Type | Value |
| Energy | 30 Cal |
| Protein | 2.3 grams |
| Dietary Fiber | 1.1 grams |
| Carbohydrates | 5 grams |
| Fat | 0.1 gram |
| Vitamin C | 6.3 mg |
| Calcium | 85.7 mg |
| Magnesium | 23.3 mg |
| Iron | 0.4 mg |
| Phosphorus | 28.9 mg |
| Potassium | 29.2 mg |
| Sodium | 40.2 mg |
Health Benefits:
Below are some listed benefits of mix veg raita:
Mix vegetable raita is a rich source of calcium and protein. It helps in the development of your child's bones and teeth.
It is responsible for building your child's muscles.
It acts as an immunity booster.
It improves your child's bowel movements.
Cucumber and carrot are good for your child's skin and eyes.
The roasted cumin powder and black salt aids digestion.
Buying Guide:
If possible, try buying vegetables from the organic vegetable store. This ensures safer methods of farming and avoids the intake of harmful chemicals like insecticides and pesticides.
For this simple mix veg raita recipe, you can use market curd/yoghurt, or you can even prepare the curd at home.
A bowl of mix veg raita daily will keep your child healthy. It will serve as a protein and calcium treat for your child's bones. Do prepare this easy and quick recipe at home, and watch your child drool over it!