Rice Pancakes Recipe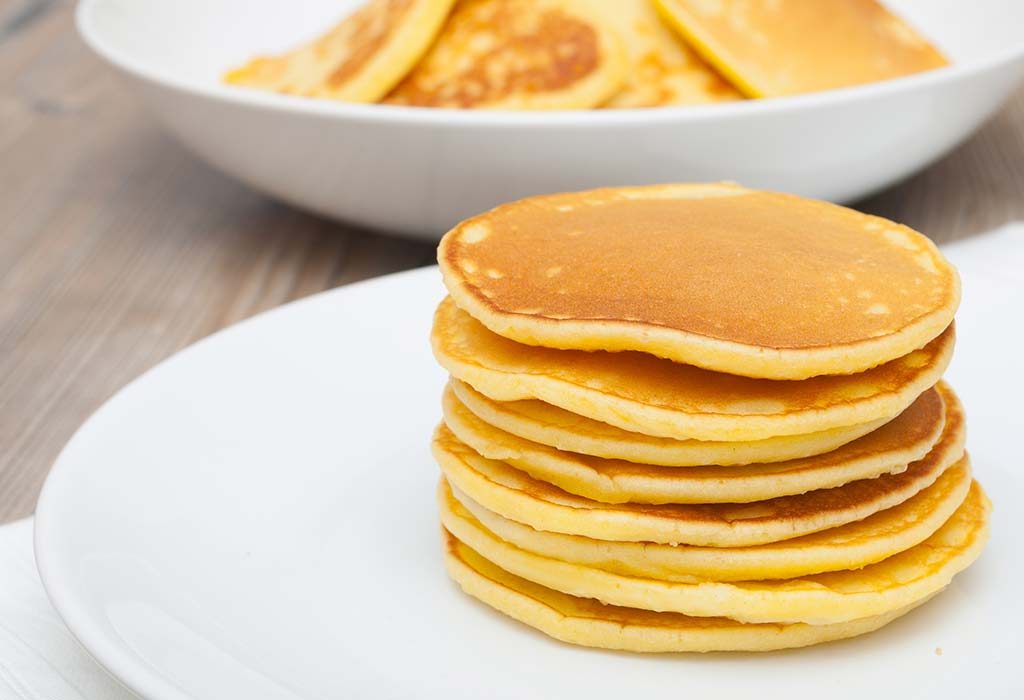 In this Article
Pancakes are a natural choice. They are sweet, fluffy and totally healthy. Rice Pancakes are easy to prepare, quick and delicious breakfast. Rice Pancakes for babies are simple cereal pancakes making use of popular baby foods like baby cereal or baby food which often end up being wasted, after your baby has outgrown that stage. These pancakes can also become a great first meal, or finger food, for hungry babies & infants. You should feel good about serving something healthy that is equally loved by your kids. It is a common household dish that is super nutritious and delicious to eat.
Cooking Time
| | |
| --- | --- |
| Type | Time (hh:mm:ss) |
| Preparation Time | 00:05:00 |
| Cook Time | 00:05:00 |
| Total Time | 00:10:00 |
Cooking Method
Gas Stove
Type of Meal
Non-Vegetarian
Suitable For
Any toddler above 21 months of age
Meal Schedule
Breakfast or mid-morning
Recipe Type
Main Dish
Ingredients
| | |
| --- | --- |
| Ingredients | Quantity and Volume |
| Rice Flour | 100 gms |
| Egg | 1 |
| Milk or Soy Milk | 100 ml |
| Honey | 1 Tbsp |
| Canola Oil or Olive Oil | 2 Tsp |
Instructions
Let us see here how to make Rice Pancakes. Detailed step by step directions are​​ given below:
Firstly, in a mug, crack the shell of an egg, and beat it with a whisk.
In the same bowl, mix the honey, the canola oil, and the milk together.
Add the rice flour in the bowl.
Heat a non-stick frying pan, take a small proportion of the mixture and cook them in the frying pan without oil.
Then turn them over once the pancakes start bubbling. They're done when both sides have brown.
Pour a little bit of honey on top of the pancake.
Pancakes are ready to eat. Serve them hot.
Recipe Tips
Keep in mind the below-mentioned points before you start preparing the healthy and simple Rice Pancakes recipe for your baby.
Instead of rice flour, use leftover cooked rice by grinding it well.
Sieve the rice flour before using it.
If required, use filtered clean water to adjust the consistency of the pancake.

Wash your hands thoroughly before cooking and make sure the utensils used are also properly cleaned.

The pancakes should be cooked properly on both sides until they turn golden brown.
The pancakes have to cook on each side for about 5 minutes to allow enough time for the egg to set and keep the rice together.
Take the ingredients according to your child's breakfast habits.
Use boiled and fresh milk.
Nutrition Information (Per 100 Grams)
| | |
| --- | --- |
| Nutrient | Value |
| Energy | 122 Kcal |
| Protein | 2.8 gm |
| Carbohydrates | 20.1 gm |
| Fiber | 2 gm |
| Fat | 3.2 gm |
| Cholesterol | 0 mg |
| Vitamin A | 140 mcg |
| Vitamin B1 (Thiamine) | 0.1 mg |
| Vitamin B2 (Riboflavin) | 0 mg |
| Vitamin B3 (Niacin) | 0.7 mg |
| Vitamin C | 3.8 mg |
| Vitamin E | 0 mg |
| Folic Acid (Vitamin B9) | 15.8 mcg |
| Calcium | 10.5 mg |
| Iron | 0.6 mg |
| Magnesium | 19.8 mg |
| Phosphorus | 48.9 mg |
| Sodium | 8.3 mg |
| Potassium | 93.8 mg |
| Zinc | 0.3 mg |
Health Benefits
Here are the health benefits of home-made Rice Pancakes baby food recipe.
Being fiber-rich, Rice Pancakes cures constipation in babies. It gets digested easily making the baby's stomach feel light.
Rice Pancakes are beneficial in keeping the baby energetic and active as rice flour is high in protein and has a higher vitamin B content.
Honey provides many overall health benefits and cures several diseases. Honey is strong enough to kill the spores of bacteria and helps to reduce cough.
Eggs are a great source of iron, protein, fat, vitamins A, D, E, B12 and choline which helps your child to grow healthy, strong and intelligent.
Olive or Canola oil contains fat which is good for growing babies as they aid in cell repair, development of the brain and growth of bones & organs.
Milk is high in calcium which is essential for the development of strong bones and teeth.
Buying Guide
Buy packaged Rice flour and check the expiry date before buying it.
Buy good quality of cooking Olive oil or Canola oil.
If you are using packaged milk, then check the expiry date before use.
Buy good quality of honey (Organic if possible).
Our babies are very important to us, so we always want the best for them. Therefore, instead of focusing on formula and packaged food bought from the store, give your baby at least a few times a week a plate full of tasty and nutrient-rich Rice Pancakes. These will also help your child to chew foods with their new teeth.