Oats Almond Kheer Recipe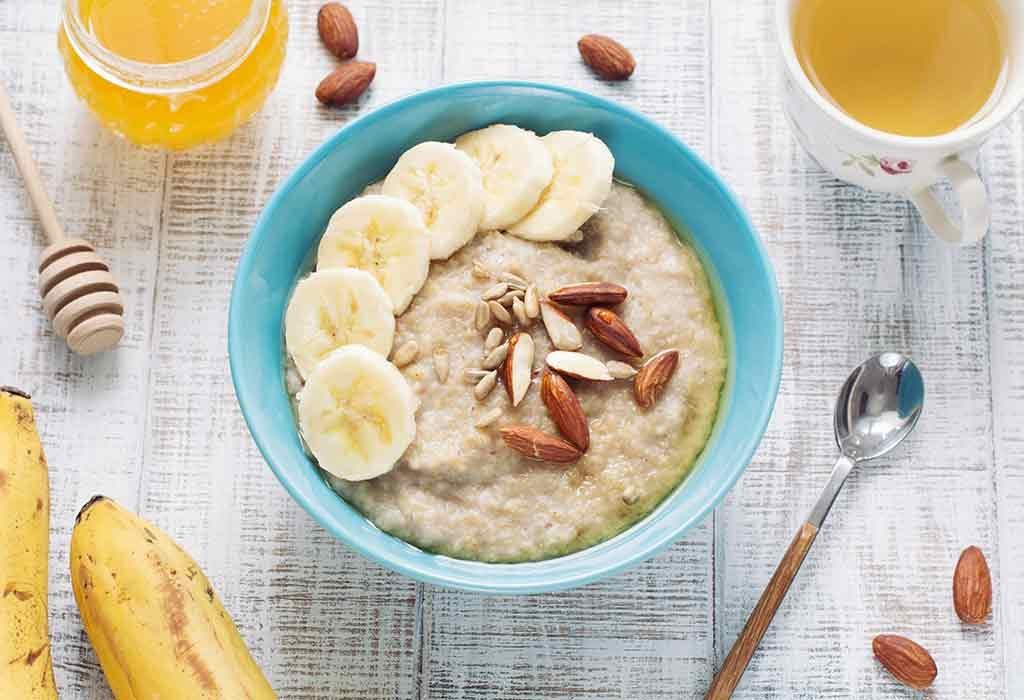 In this Article
When someone says kheer, you probably think of rice kheer, seviyaan kheer, or sabudana kheer. Yes, they all taste delicious but they may not be exactly healthy. If you want to make a healthy kheer for your child, you can consider making oats almond kheer. Yes, we know oats and kheer together sound a bit strange but oats kheer is a healthier option than the ones you usually make. Oats are highly nutritious and are also less constipating, which makes them perfect for growing toddlers.
Cooking Time
| | |
| --- | --- |
| Type | Time (hh:mm:ss) |
| Preparation Time | 00:05:00 |
| Cook Time | 00:08:00 |
| Total Time | 00:13:00 |

Cooking Method
Gas stove & blender
Type of Meal
Vegan
Suitable For
Babies above 10 months of age
Meal Schedule
Breakfast
Recipe Type
Main Dish
Ingredients
| | |
| --- | --- |
| Ingredients | Quantity and Volume |
| Oats powder | 3 tbsp |
| Almonds | 4 |
| Banana | 1 small (elaichi banana) |
| Apple | 1 small |
| Cardamom powder | ¼ tsp |
| Milk | 1 cup (optional) |
| Jaggery | 1 tsp chopped (optional) |
| Saffron | 2-3 threads (optional) |
| Water | ½ cup |
Instructions
Below is a step-by-step guide on how to make oats almond kheer. The recipe is simple and it gets done in just 10 minutes. In this recipe, we have used fruits as natural sweeteners as fruit purees are beneficial for little ones. Furthermore, fruit purees make the kheer sweet, without the use of sugar or artificial sweeteners. Here goes the recipe.
Peel the apple and cut them into small pieces.
Take off the skin of almonds and cut them into fine pieces.
Boil some water in a pan then add oats.
Let the oats cook for 2-3 minutes.
Add in the chopped apple and almonds in the same pan, mix well and let the mixture cook for another 3-4 minutes. Keep stirring to prevent it from burning.
Make sure oats, almonds, and apple turn soft.
Turn off the flame and allow it to cool.
Peel and cut the banana and put it in a blender along with oats mix.
Blend for about 20 second and your oats almond kheer will be ready. You can blend more based on the consistency your child likes.
You can make it sweeter by adding jaggery, but use this for babies above 1 year of age. Below is the recipe for making jaggery syrup:
Grate a small block of jaggery and add it to a pan.
Add a spoon of water and let it come to a boil.
Stir till it melts.
Filter it in another pan and heat it again till it is slightly thick.
Recipe Tips
This quick and easy oats almond kheer recipe is very suitable for toddlers. Here are some tips and twists to the above recipe which would help you in ensuring it is perfect for your munchkin.
You can add milk in place of water if you like. But add cow's milk only for kids above 1 year of age.
Makes sure you have soaked almonds overnight or 8 hours before using it. Peel their skin before adding it to the kheer.
For a baby over 1 year of age, you could add jaggery syrup, of which the recipe is mentioned above.
You could also use steel cut oats as they are non-GMO.
Nutrition Information (Per 100 gms)
| | |
| --- | --- |
| Nutrient | Value |
| Energy | 171 cal |
| Protein | 6 g |
| Carbohydrates | 15.2 g |
| Fat | 7.2 g |
| Cholesterol | 16 mg |
| Sodium | 19 g |
| Fibre | 1.9 g |
| Calcium | 217 g |
| Iron | 0.7 g |
| Potassium | 130 mg |
| Magnesium | 37 mg |
| Phosphorous | 170 mg |
| Zinc | 0.4 mg |
| Vit A | 160 mcg |
| Vit B1 | 0.1 mg |
| Vit B2 | 0.1 mg |
| Vit B3 | 0.2 mg |
| Vit C | 1 mg |
| Vit E | 0 |
| Folic acid | 10.3 mcg |
Health Benefits
Mentioned below are some of the benefits of oats almond kheer for babies. Make it at home and you will have nothing to worry about the quality of the ingredients used.
Oats are a great option for kheer as they are full of essential vitamins, minerals, and antioxidants which are necessary for the overall development of a baby.
Oats have legumes like protein which is rare in cereals and is similar to the protein in milk, meat or egg.
They are high on fibre and aid digestion.
This is good in treating constipation.
Buying Guide
While buying oats, choose the ones that are organic.
When buying jaggery look for a dark-coloured block of jaggery as they have minimal chemical residue.
Make sure the banana is fully ripened.
If you ever wondered how to make oats almond kheer for a child that is easy and less time consuming, then this is the recipe for you! Go ahead and make it for your child, and let him have a hearty breakfast!