Rajgira Chikki Recipe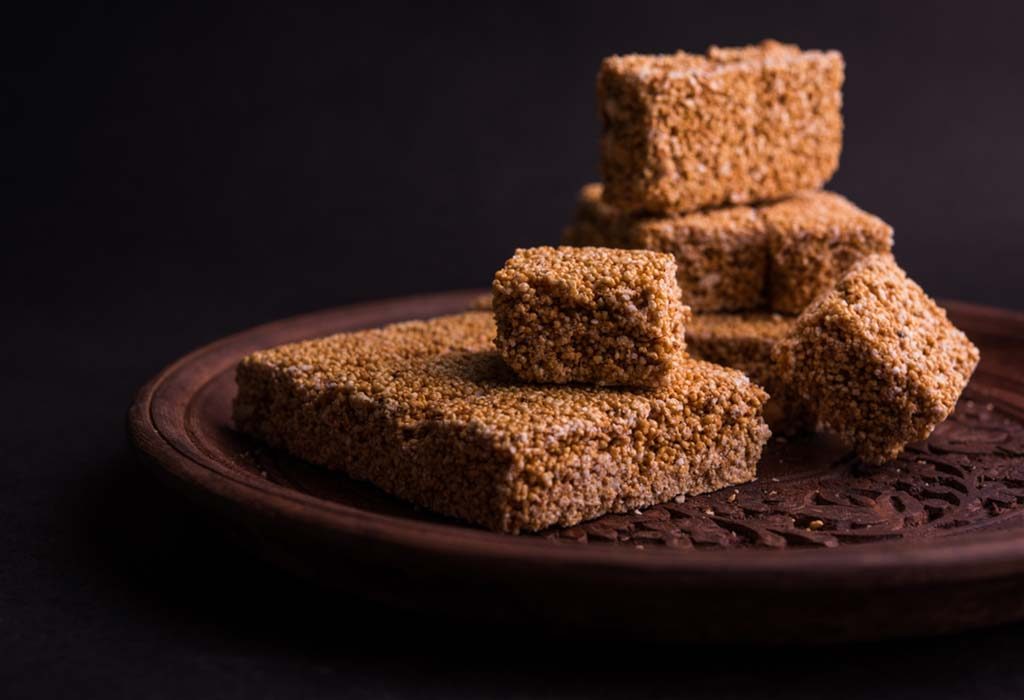 In this Article
Rajgira Chikki is crispy, sweet, and nutty and the combination of amaranth seeds and jaggery. A great delight for the taste buds, it has a rich and enriching taste. The jaggery blends well with the amaranth seeds that taste grainy and the nutty taste of cashew nuts. This Rajgira Chikki for babies is one of the best desserts or snacks you can offer to your growing munchkin!
Cooking Time
| | |
| --- | --- |
| Type | Time (hh:mm:ss) |
| Preparation Time | 00:15:00 |
| Cook Time | 00:05:00 |
| Total Time | 00:20:00 |
Cooking Method
Gas Stove, Induction
Type of Meal
Vegetarian
Suitable For
Toddlers older than 19 months of age
Meal Schedule
Dessert or mid-day snack.
Recipe Type
Main Dish
Ingredients
| | |
| --- | --- |
| Type | Quantity |
| Amaranth Seeds ( Rajgira) | 1 ½ cups |
| Ghee | 2 tablespoon |
| Rock salt or Sendha Namak | A pinch |
| Jaggery chopped or powdered | 1 cup |
| Cashewnuts chopped | ¼ cup |
| Cardamom powder or elaichi powder | ½ teaspoon |
Instructions
Simple and easy to make, learn how to make Rajgira Chikki for babies by following this simple step-by-step process:
Heat a pan or kadhai and add the ghee. Now add the rock salt and jaggery. Mix well and cook on a medium flame for about 3 minutes and keep stirring occasionally.
Now add the amaranth seeds, cardamom powder, cashews, and mix well. Stir this mixture constantly on a slow flame for about 3-5 minutes.
Once it comes together, pour it into a tray that is greased with butter.
Cut into small pieces in shapes of your choice and let it cool.
Let it cool for about 30 minutes and then store the pieces in an air-tight container.
Recipe Tips
This home-made Rajgira Chikki baby food recipe can be perfected if you follow these simple tips:
Make sure you melt the rock salt and jaggery well before you add the other ingredients.
Try not to eliminate the rock salt as it enhances the flavor of the jaggery.
Make this chikki in ghee as it enriches the taste.
Nutrition Information (Per 100 Grams)
| | |
| --- | --- |
| Type | Value |
| Calories | 194 kCal |
| Carbohydrates | 32.8 grams |
| Protein | 5.1 grams |
| Fat | 4.7 grams |
| Sodium | 0 grams |
| Fiber | 2.9 grams |
| Cholesterol | 0 |
Health Benefits
Rajgira Chikki for babies is a powerful source of nutrients for kids. It may seem a dessert that you think you might be indulging your child in, but it has its health benefits. Read on to find out more:
Rajgira seeds or amaranth seeds are rich in Vitamin C. They are rich in iron, calcium, magnesium, potassium, and phosphorous.
The amount of calcium in Rajgira seeds is double that of what milk contains making it very beneficial for the healthy development of bones.
The iron content is good to help in treating anemia.
Vitamin A in rajgira seeds helps in developing vision.
The zinc found in Rajgira is helpful to develop immunity.
Rajgira is also beneficial for healthy skin and hair.
Jaggery treats symptoms of cold, cough, and flu.
Jaggery is also rich in antioxidants and minerals that help to build immunity.
Jaggery is known to prevent constipation and aids in digestion by activating the enzymes in the digestive system.
Jaggery is made of complex carbohydrates and is a rich source of energy.
Jaggery is an unrefined form of sugar and helps to detoxify the body by cleansing the liver.
Buying Guide
A few tips that will help you source the right ingredients for easy rajgira chikki recipe for babies and perfect it:
Do not buy Rajgira seeds that are sold in loose quantity. Amaranth seeds must be tightly packed and airtight. If you plan to make the chikki at a later date, store the seeds in an air-tight jar so that they don't get rancid.
Try to buy organic Amarnath seeds as they are processed without the use of any chemicals.
Jaggery should also be purchased in packaged form. Make sure you check the expiry date on the package before use.
Buy organic jaggery if possible as it will be free of chemicals.
You can use home-made ghee and if you do have any buy branded ones from the supermarkets. Make sure you check the expiry date before use.
Rajgira Chikki is often consumed on Makar Sankranti and fasting days. The dash of cardamom lends this chikki a wonderful aroma and it makes a great snack for kids, any time of the day. You can make these in batches and use them over a few days.