Boiled Aloo And Carrot Chaat Recipe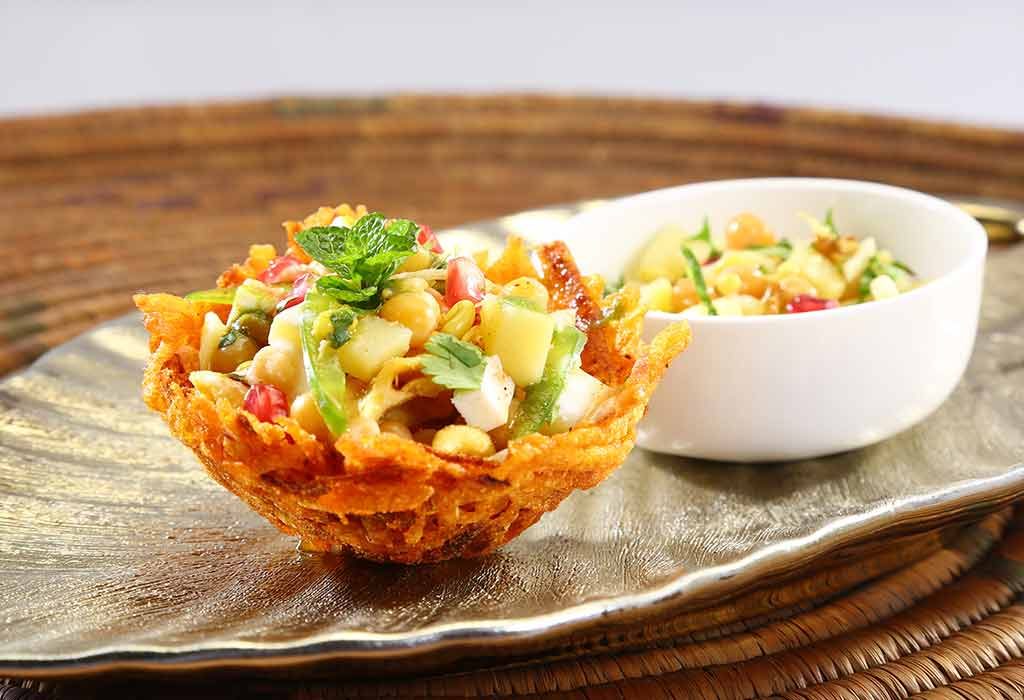 In this Article
One thing we should understand is the fact that even babies have taste buds and they like options when it comes to food they consume. It may sometimes be worrisome for a parent when a baby doesn't eat. There is no need to panic, what you need is to try something different for the fast-developing taste bud of your little ones. Carrots are a great source of vitamins and fiber whereas potatoes are awesome for carbohydrates and hence energy. There is nothing that can go wrong with the culmination of the two most easily available ingredients. How to make Boiled aloo and carrot chaat? Continue reading to ensure a wholesome, sumptuous, ever-so-worthy snack for your delightful little one.
Cooking Time
| | |
| --- | --- |
| Type | Time (hh:mm:ss) |
| Preparation Time | 00:05:00 |
| Cook Time | 00:07:00 |
| Total Time | 00:12:00 |
Cooking Method: Gas
Type of Meal: Vegetarian
Suitable For: Babies from 18 months onwards
Meal Schedule: Mid-Morning Snack, Lunch or Evening Snack.
Recipe Type: Main Dish
Ingredients
| | |
| --- | --- |
| Type | Quantity |
| Potato (Orange or Red) (Boiled) | 1 medium-sized |
| Carrot (Boiled) | 1 medium-sized |
| French Bean (Boiled) | 2 medium-sized |
| Sev (non- Spicy) | 1 spoon(optional) |
| Chaat Masala | ½ pinch |
| | |
| Curd | 1 teaspoon |
| Sweet Tamarind | ½ teaspoon |
| Oil | 1 teaspoon |
| Salt | As per taste |
Instructions
Here are step by step directions to make Boiled aloo and carrot chaat for babies:
Clean the potato, carrot and the french bean.
Pressure cook the vegetable for two whistles.
Do not take the pressure out immediately. Let it rest till the pressure is out.
Peel the Potato and cut it into bite-size.
Also chopped the carrot and French bean into a smaller bite-size.
For babies less than 18 months of age you can mash the ingredient
Take a deep bowl, mix the potato, carrot and the French bean.
Heat the oil a non-stick frying pan. Add the mix of potato, carrot and French bean.
Stir fry them until light golden brown.
Transfer the mix into a bowl.
Sprinkle 1/2 pinch salt and 1/2 pinch of chaat masala.
Mix well.
Transfer them into serving bowls or plates.
Pour 1 tablespoon curd over the mix.
Garnish with sev(optional). Boiled Aloo and Carrot Chaat are ready to be served.
Nutrition Information (Per 100 Grams)
| | |
| --- | --- |
| Type | Value |
| Carbohydrates | 10.4 g |
| Calcium | 155 mg |
| Iron | 1.55 g |
| Protein | 2.56 g |
| Dietary fiber | 11.6 g |
Health Benefits
If you are wondering what is the health benefit of these tasty Boiled aloo and carrot chaat for a baby? Below are some health benefits of Boiled Aloo and Carrot Chaat
Potatoes (Aloo) are a rich source of Carbohydrates, which will provide your baby with the required energy.
Curd contains probiotics that will relieve acute constipation and also help prevent secondary infection and diarrhea. It is also rich in calcium.
Carrots, as well as the French bean, are a good source of fiber which is a requirement for a healthy bowel movement.
The color of the carrot is due to the presence of beta carotene is extremely beneficial for the baby.
Our body converts the beta carotene into vitamin A, which is one of the most important vitamins in our body.
Your baby needs Vitamin A for healthy skin, eye and overall immune system.
The calcium in curd and potassium in a carrot is good for your growing baby's bones and teeth.
The presence of vitamin A helps in improving vision and also aids cornea protection in babies.
Beta carotene also works as antioxidants that can significantly improve your baby's immune system and getting rid of toxins.
Buying Guide
There are some things to remember while picking up the ingredient for the simple Boiled aloo and carrot chaat recipe for your baby:
Pick up fresh Potatoes that feel juicy but firm not the ones which feel squishy.
The Carrot needs to be fresh too. If it is fresh you can easily keep it for a long time refrigerated.
Lastly, as far as possible, get organic fruits and vegetables for your loved ones. They are free of any harmful pesticide and insecticides. It may be a little pricey but it is a safer option.
The homemade Boiled aloo and carrot chaat baby food recipe is not at all complicated and can be prepared instantly. The ingredients are easily available and will ensure a wholesome and healthy snack for your babies.