Baked Beans Recipe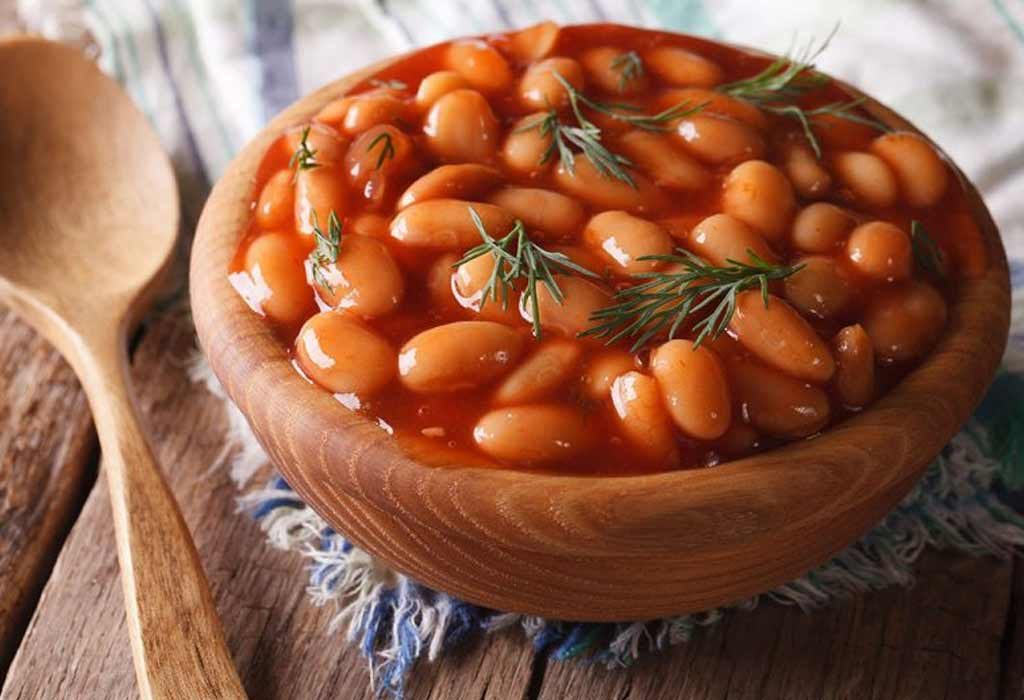 In this Article
When it comes to food, it's a no-brainer that babies are picky. However, there is one food that is loved by babies all across the world; baked beans. This versatile dish is rich in protein, vitamins, and other essential nutrients and is absolutely delicious, which makes it baby and mama approved. Baked beans can either be made from scratch using dried cannellini beans or it can be made quickly with canned beans. No matter which method you choose, this recipe is foolproof, nutritious and tasty.
Cooking Time :
| | |
| --- | --- |
| Type | Time (hh:mm:ss) |
| Preparation Time | 10:00:00 |
| Cook Time | 00:40:00 |
| Total Time | 10:40:00 |
Cooking Method: Gas Stove
Type of Meal: Vegan and gluten-free
Great/Suitable For: This easy baked bean recipe can be used to feed 21 months or older toddlers
Meal Schedule: Baked beans can be served as breakfast, mid-morning or evening snack
Recipe Type: Main Dish
Ingredients:
| | |
| --- | --- |
| Type | Quantity/Volume |
| Dried cannellini beans | 1 cup |
| Garlic (finely minced) | 2 large cloves |
| Tomato (puréed) | 2 medium tomatoes |
| Onion (finely chopped) | 1 medium onion |
| Oil | 1 tablespoon |
| Salt | to taste |
| Vegetable stock | 1 cup |
Instructions:
Step by step directions:
There are many ways of cooking baked beans, one of the most popular methods asks for canned beans. However, owing to high salt and sodium content, it is not very safe to feed canned beans to babies. If you are looking for a nutritious and delicious recipe to satiate your baby's hunger, follow these simple instructions and learn how to cook baked beans at home, from scratch, using dried cannellini beans.
Wash cannellini beans and soak them in water for 8-10 hours.
Drain the water and boil the beans until soft.
Heat oil in a large pan and cook finely minced garlic and chopped onion until lightly browned.
Add tomato purée and cook it for 8-10 minutes.
Add salt and stir well.
Add the boiled cannellini beans and mix everything well.
Add vegetable stock and bring everything to a boil.
Reduce the heat and let the beans simmer for 10 minutes.
Once the sauce thickens, serve in a bowl.
Recipe Tips:
If your babies cannot chew, you can mash or purée the baked beans once they are cooked.
Add herbs such as coriander or parsley while serving to add a burst of fresh flavor to these homemade baked beans.
Adding a few drops of lemon juice can enhance the flavor of the tasty baked beans.
You can use canned baked beans instead of dry cannellini beans, and canned tomatoes instead of fresh tomatoes but the canned baked beans are high in salt and sodium, thus unhealthy.
You can replace vegetable stock with chicken stock if you are a non-vegetarian.
Adding purée of green vegetables such as spinach will enhance the nutritional value of baked beans for babies.
Similarly, you can also add vegetables such as carrots and peas in the baked beans.
Nutrition Information ( Serving Per 100 Grams):
| | |
| --- | --- |
| Type | Value |
| Calories | 145 kCal |
| Fat | 1.33 g |
| Carbohydrates | 31.7 g |
| Protein | 10.97 g |
| Sodium | 25.25 mg |
| Potassium | 904 mg |
Health Benefits:
Cannellini beans are a rich source of vegetarian protein, which makes it an essential ingredient in diets of growing babies.
Being a source of low sodium content and a high content of potassium, baked beans maintain a healthy electrolyte ratio in babies and toddlers.
Baked beans keep toddlers full for a longer period of time, thus giving them extra activity time.
Owing to its amazing taste and rich nutrient value, baked beans are well-liked by kids and their parents.
Buying Guide:
Instead of buying canned baked beans, try using dried cannellini beans. The efforts to cook are a little extra but its health benefits are immense.
Make sure to check the expiry date on the packet of cannellini beans.
The tomatoes should be fresh, ripe, red and firm.
The onions and garlic should be clean, dry and dirt free. Avoid buying onions and garlic bulbs with green sprouts.
To reduce sodium intake, use fresh or homemade vegetable stock.
Even though babies are picky eaters, making a healthy choice is the parents' decision. You can cook this extremely easy dish in advance and keep it refrigerated, or make it on the go. No matter which way you choose, your child will enjoy eating their baked beans with a huge smile on their face.