Seviya Porridge Recipe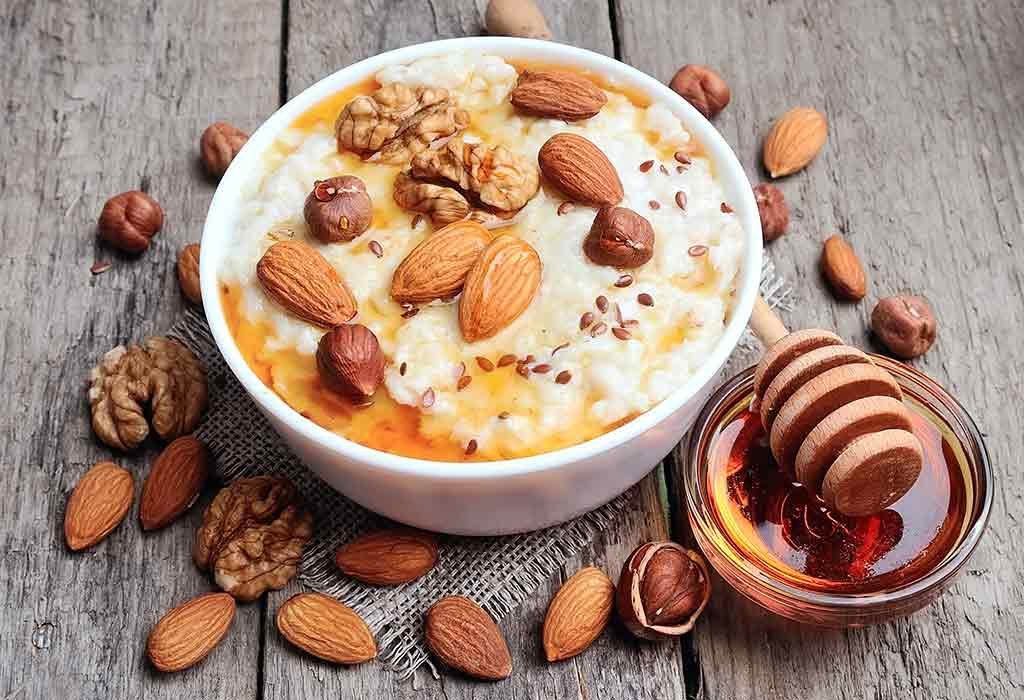 In this Article
Porridge is always a comfort food for babies, and regular rice porridge may be boring for toddlers. So, give your little one a twist in taste by making this super nutritious and delicious seviya porridge. This recipe has a beautiful blend of seviya, milk, jaggery and dry fruits, which your baby will love. Make sure you have introduced dry fruits to your baby before you prepare this recipe for him. This recipe is suitable for babies above 12 months and is a delight on its own. If you are wondering how to make seviya porridge, then read on below.
Cooking time
| | |
| --- | --- |
| Type | Time(hh:mm:ss) |
| Preparation time | 00:05:00 |
| Cooking time | 00:15:00 |
| Total Time | 00:20:00 |
Cooking Method
Gas Stove, induction
Type of Meal
Vegetarian
Suitable For
Toddlers above 20 month
Meal Schedule
Breakfast, mid-morning, or evening
Recipe Type
Main Dish
Ingredients
| | |
| --- | --- |
| Ingredients | Quantity and Volume |
| Seviya/ vermicelli | 1 cup |
| Water | 2 ½ cup |
| Milk | 2 cup |
| Ghee | 1 tbsp |
| Cooking oil | 2 tsp |
| Cashews | 5-6 |
| Raisins | 10 |
| Jaggery | 1 cup |
| Cardamom | 1-2 |
Instructions:
Find below the step by step instructions to make a delicious seviya porridge for your munchkin:
Heat a small pan with ghee and fry the cashews and raisins till golden and keep it aside.
Boil milk and keep it separately.
Take a kadai and fry the vermicelli with oil till golden brown and take it out of the kadai.
In the same kadai, add water and bring it to a boil.
Now, add in the roasted vermicelli and cook till the vermicelli is soft and turn off the flame.
Heat another pan with jaggery and little water, in order to melt the jaggery completely. Make sure there aren't any lumps.
Once the jaggery is melted, cool it down and strain it with a strainer or a muslin cloth to remove the impurities.
Now, add the jaggery syrup to the cooked vermicelli along with cardamom, milk, and fried nuts and give it a good mix.
Adjust the consistency of the porridge as you desire.
Serve it in a bowl.
Recipe tips
If you are looking for some recipe tips to make this simple seviya porridge, then check them out below:
If you are using roasted vermicelli, then you can skip the step of roasting the vermicelli.
You can add pistachios, walnuts, or almonds while frying cashews and raisins for an added richness in the recipe. Chop the dry fruits into small pieces so that it is easy to chew for your baby.
While we add jaggery in this recipe to make it healthier, you can use sugar as well instead of jaggery.
Make sure you do not overcook the seviya as it will become sticky.
As a substitute for jaggery, you can use brown sugar or palm sugar.
Add milk to the seviya at room temperature, as hot milk may curdle if you add it with jaggery.
Once this seviya porridge is cooled, it may turn thicker. You can add little milk to your make it to your desired consistency.
Nutrition Value (per 100 gms)
| | |
| --- | --- |
| Nutrient | Value |
| Energy | 310 cal |
| Fibre | 0.5 g |
| Fat | 18.5 g |
| Cholesterol | 30 mg |
| Sodium | 35 mg |
| Protein | 7.9 g |
| Carbohydrates | 45 g |
| Vitamin A | 330 mcg |
| Magnesium | 55 mg |
| Potassium | 200 mg |
Health benefits
Seviya porridge for babies is a nutritious recipe which is loaded with the following health benefits:
Seviya porridge has protein which is essential for better growth and development of your baby.
Seviya is also loaded with carbohydrates that provide energy for your toddler to move around and learn new things.
Ghee has various proven health benefits as it has fat-soluble vitamin A, D, and E, which are necessary for healthy bone development and growth in children.
Dry fruits are a rich source of iron and boost haemoglobin levels in the body.
Dry fruits are also a great source of energy which helps in keeping the babies energetic all day long.
Buying guide
Remember the buying tips below before you head towards a grocery store to make this homemade seviya porridge recipe more nutritious:
You can buy and use readily available roasted vermicelli in this recipe to save time.
Always check for the expiry date of the vermicelli and buy a sealed pack of vermicelli.
Buy organic dry fruits, and try to use homemade ghee instead of a store-bought one.
Always use organic milk from a local vendor instead of using tetra packed milk.
This seviya porridge is easily digestible and is comforting for your toddler's taste buds. This recipe is a delicious way to include nuts in your baby's diet. Always try to prepare homemade recipes like this for your munchkin, rather than opting for store-bought formula food. It's time to serve this nourishing recipe to your baby, happy parenting!