Homemade Paneer Recipe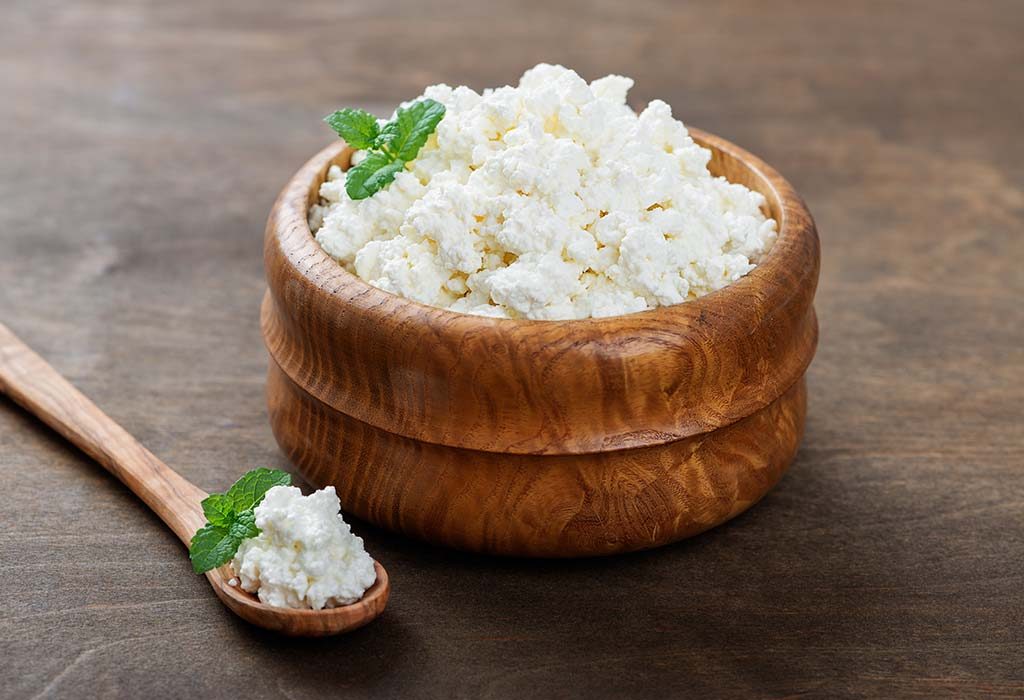 Several times, parents want to introduce paneer into their child's diet but hesitate to feed the store-bought ones because they are processed and have preservatives. Well, fret no more. Try this easy homemade paneer recipe and add the goodness of cottage cheese to the dishes you make for your munchkin.
Video: How to Make Paneer (Indian Cottage Cheese) at Home for Babies and Toddler
Cooking Time
| | |
| --- | --- |
| Type | Time (hh:mm:ss) |
| Preparation Time | 02:30:00 |
| Cook Time | 00:25:00 |
| Total Time | 02:55:00 |
Cooking Method: Gas/ Stovetop
Type of Meal: Vegetarian, but not suitable for vegans.
Suitable For: Any babies older than 8 months of age
Meal Schedule: Lunch, dinner or snacks
Recipe Type: Main dish or snack
Ingredients
| | |
| --- | --- |
| Type | Quantity |
| Milk | 8 cups |
| Lemon juice or white vinegar | 6 tbsp |
| Cheesecloth or a muslin cloth | One large piece |
| Colander | 1 |
Instructions
This step-by-step guide on how to make homemade paneer will prove to be extremely useful for all the paneer dishes you plan to make for your entire family.
Pour the milk into a large, thick-bottomed pot. Bring it to a boil on medium heat.
Keep stirring the milk and scraping the bottom of the pan to avoid the milk from sticking to the pan and getting burnt or from spilling over.
After boiling the milk for 2 to 3 minutes, reduce the flame and let the milk simmer for a minute.
Add the lemon juice. If you are using vinegar, mix it with ¼ cup of water and pour it into the boiling milk.
Stir the milk. You can now see the milk curdle immediately. If you find that it is not curdling enough, add another teaspoon of lemon juice or vinegar+water.
Let the contents cool for about 5-10 minutes.
Line a colander with a muslin cloth or cheesecloth and place it in the sink.
Strain the curdled milk into the cloth.
Rinse the curds with cold water to wash out the lemon juice or vinegar. This will also cool the mixture.
Gather the four corners of the cloth and twist it. Bring it together to make the mixture into a ball. Gently squeeze out all the water.
Once you have squeezed all the water, shape the cheese into a disc. Flatten it and make it to a round shape.
Place a vessel or a few more plates over it. Ensure they are heavy enough. This weight will remove excess water.
Transfer this to a refrigerator. If you do not have enough space, wait until the paneer is entirely flattened and then transfer it.
The paneer is ready to be used after 2-3 hours.
Recipe Tips
Use only whole-fat milk as it makes the paneer soft and creamier.
This homemade paneer baby food recipe can be made with lemon juice or vinegar. If you do not wish to add vinegar, then lemon juice will suffice.
You can store this paneer in an air-tight container in the freezer section and use it as and when you need it.
Nutrition Information (Per 100 Grams)
| | |
| --- | --- |
| Type | Value |
| Fat | 26.9 gms |
| Cholesterol | 56.2 gms |
| Sodium | 22.1 mg |
| Carbohydrates | 6.1 gm |
| Protein | 19.1 gm |
| Vitamin A | 210 mcg |
| Calcium | 420 mg |
| Iron | 2.16 mg |
Health Benefits
Homemade paneer for babies has its own benefits and ticks all those boxes that a parent wishes to see ticked:
Paneer is a dense source of protein and is ideal for children who are not meat-eaters.
It is full of calcium that is beneficial to your babies teeth and growing bones
Contrary to popular belief, paneer is good for the heart, and the potassium in it maintains the fluid balance in the body.
Paneer also aids in digestion as it has a decent amount of phosphorous.
Buying Guide
Here's a buying guide for you to consider while gathering the ingredients to make homemade paneer:
Buy good quality milk. Make sure you buy full-fat milk for the paneer be rich in fat and protein.
Check the expiry date of the milk when purchasing it. If possible, purchase organic full-fat milk as it is free from pesticides and chemicals.
If using lemons, make sure they are firm and wash them before use.
Try this homemade paneer recipe to make indulgent lunch and dinner preparations, not just for your baby, but for your family too. You can also sprinkle some salt and pepper on the paneer cubes and serve them as a snack in between meals or add it to salads for a unique flavour!
?>