Paneer Cutlets Recipe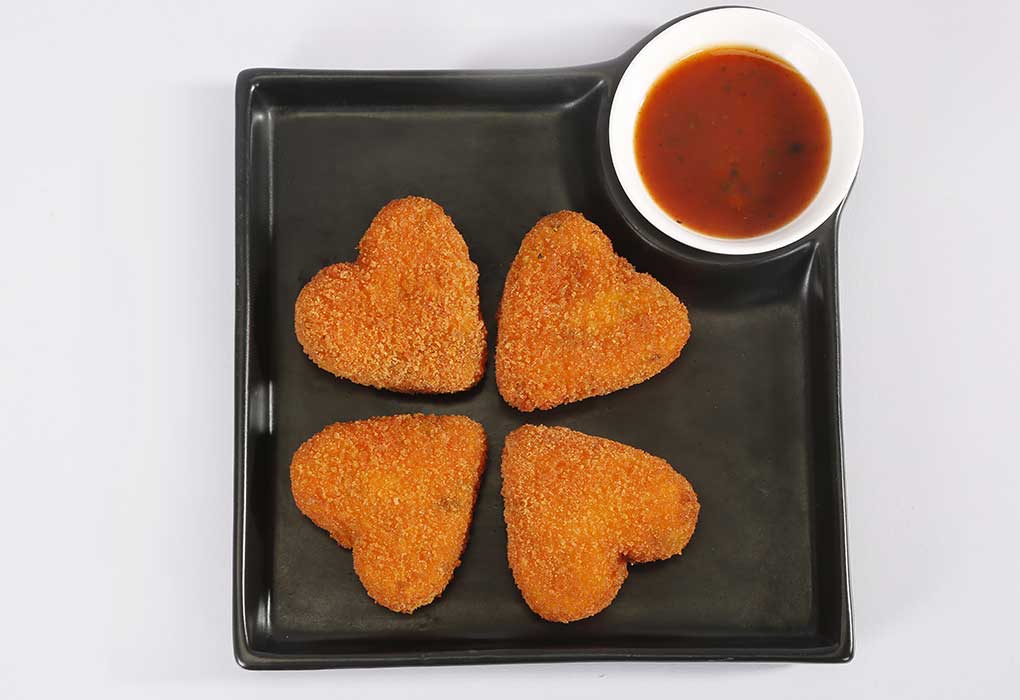 In this Article
Paneer or fresh cheese is a very popular dairy product that can be savoured in more ways than one. This soft cheese made by curdling of milk is packed with nutrition and can be one of the best weaning food for a baby. Apart from being used in traditional cuisines, it can be served as cutlets or thin slices of patty commonly called paneer cutlets. This North Indian style recipe is easy to cook and is usually accompanied by ketchup, dip or chutney. Made by mixing grated paneer and boiled, mashed vegetables, paneer cutlets can be the best finger food for travel, playtime or even mealtimes. Mothers interested to know how to make paneer cutlets in the simplest way, can check out the recipe given below and treat their child and family with this crispy and flavourful vegetarian delight.
Cooking Time
| | |
| --- | --- |
| Type | Time (hh:mm:ss) |
| Preparation Time | 00:15:00 |
| Cook Time | 00:15:00 |
| Total Time | 00:30:00 |
Cooking Method
Gas
Type of Meal
Vegetarian
Suitable For
Babies older than 12 month of age
Meal Schedule
Lunch, playtime or dinner
Recipe Type
Side Dish
Ingredients
| | |
| --- | --- |
| Type | Quantity |
| Potatoes | 3 Small to medium |
| Carrot | 100 grams |
| Green Peas | 1/3 rd cup |
| Water | 2 Cup |
| Salt | As Per Taste |
| Grated Paneer | 200 grams |
| Garlic Cloves | 2 Medium |
| Ginger | 1 Inch |
| Turmeric Powder | 1 Pinch |
| Coriander Powder | ½ tsp |
| Cumin Powder | ½ tsp |
| Garam Masala | 1/4 tsp |
| Rice Flour/Corn Starch/Arrow Root Flour | 3-4 tablespoon |
| Coriander Leaves/Cilantro Leaves Finely Chopped | Two tablespoon |
| Breadcrumbs/Crushed Oats/Crushed Corn Flakes/Sooji | Three tablespoon |
| Oil | Three tablespoon |
Instructions
Follow the step by step directions given here and present the best paneer cutlets that are sure to become your family's favourite snack.
Peel and put the potatoes, carrot and green peas into the pressure cooker.
Add 2 cups of water and pressure cook for 3-4 whistles on medium flame.
Drain out the water and mash the vegetables after it cools down.
Take the garlic cloves and ginger in a mortar pestle and crush them to a semi-fine paste.
Add the paste along with spice powders like turmeric powder, cumin powder, and coriander powder and garam masala to the mashed veggies and mix well.
Now throw in the grated or crumbled paneer and add the rice flour, salt, coriander leaves and mix everything well.
Take a portion of the mixture and shape them to form patties.
Take sooji in a plate and place the patty over it. Coat it thoroughly and dust off the excess sooji from the cutlets.
Heat oil in a pan and fry the pattie on low to medium flame till golden brown.
Gently flip them over and fry on both sides.
Place the cutlets on a paper towel and remove excess oil.
Serve them hot.
Recipe Tips
This simple paneer cutlets recipe can be made spicier by using green chilli paste or black pepper powder for older children.
Sweet Corn can be used instead of green peas.
This homemade paneer cutlets baby food recipe can be made healthy by baking the cutlets
Skip the garlic for a no-garlic version
Any vegetables of your choice can be used for making the cutlets
You can even skip coating the cutlets for a more gluten-free option
These crunchy starters can accompany any main meal.
Roasted sesame seeds can be sprinkled on top
Oregano seasoning enhances the taste of the cutlets.
Nutrition Information (Per 1 Paneer Cutlet)
| | |
| --- | --- |
| Type | Value |
| Carbohydrates | 28 gm |
| Calories | 446 Kcal |
| Sodium | 895 mg |
| Fibre | 4 gm |
| Fat | 31 gm |
| Potassium | 367 mg |
| Calcium | 430 mg |
| Vitamin C | 16.5 mg |
| Calcium | 430 mg |
| Iron | 5.5 mg |
| Protein | 13 mg |
| Vitamin A | 5760 mg |
Health Benefits
Paneer cutlets can be a great way to include all the vegetables that your child must consume. So the health benefits given here will help to understand why you must include them in a baby's daily diet.
Paneer is a good source of phosphates, protein and calcium that is of utmost importance for the growth and bone development of your child.
Carrots have beta-carotene that is good for the eyes. Peas have iron that helps to combat anaemia while keeping fatigue at bay.
Potatoes contain a significant amount of fibre as well as vitamins and minerals. They are incredibly filling and keeps hunger pangs away. Besides potatoes can be mixed with a variety of other veggies.
Sooji converts food into energy that is needed by your baby.
Buying Guide
When you're venturing out to purchase the necessary ingredients required for making paneer cutlet, you must keep the following guidelines in mind for maximum health benefits for your child.
Use only fresh vegetables bought from a reputed organic store.
Buy spices only in small quantities after checking their expiry date.
Look for healthy oil for frying the cutlets.
If you're using packaged paneer, then tofu can be a good option.
So instead of buying packaged paneer cutlets that have an adverse effect on the health, opt for these homemade paneer cutlets for babies that tastes simply delectable with every bite.