Chickoo Milkshake Recipe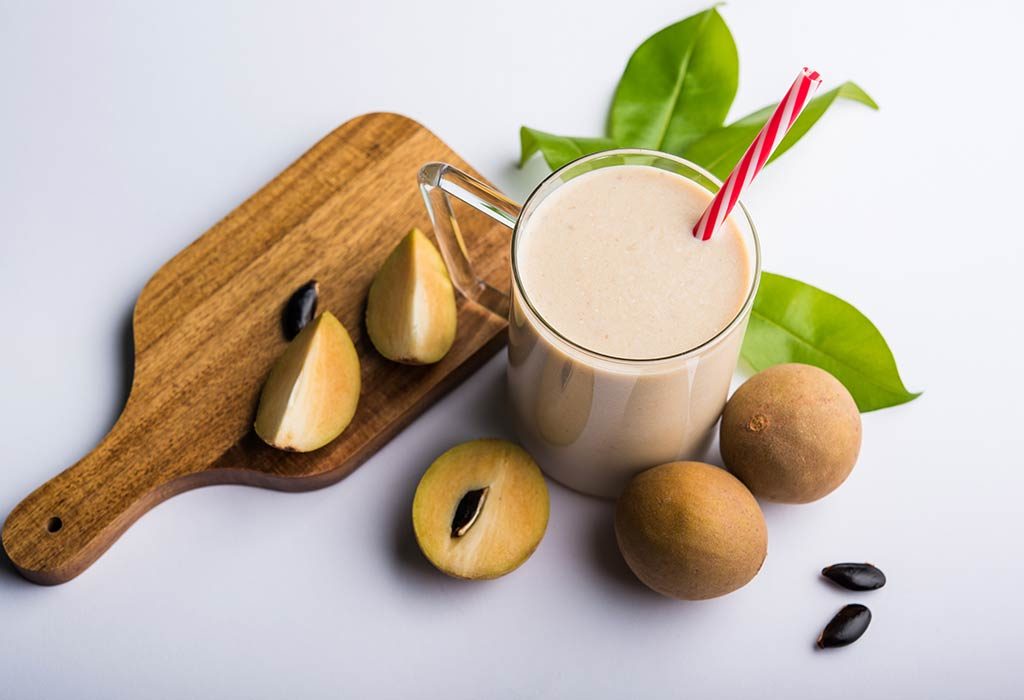 In this Article
Chickoo milkshake for toddlers is something that would not need much cajoling from your side for your munchkins to eat. Chickoo or sapota is a fruit with a mild sweet taste and a soothing texture that would go well with kids of any age group. A relatively easy dish to make, this is full of calcium and protein from milk and a lot of good minerals like iron and potassium from chickoo. This dish can be had any time of the day and is quite filling and full of energy for the little powerhouses at your home.
Cooking Time
| | |
| --- | --- |
| Type | Time (hh:mm:ss) |
| Preparation Time | 00:05:00 |
| Cooking Time | 00:05:00 |
| Total Time | 00:10:00 |
Cooking Method
Gas stove and blender
Type of Meal
Vegetarian
Suitable For
Babies above 13 months of age
Meal Schedule
Breakfast
Recipe Type
Main Dish
Ingredients
| | |
| --- | --- |
| Ingredients | Quantity and Volume |
| Chickoo | 3 medium-sized |
| Milk | 1 cup |
| Honey (optional, for kids above 18 months) | 1 tbsp |
Instructions
Now we will see how to make Chickoo milkshake which is appetizing and can be cooked in a jiffy.
Boil and cool the milk.
While the milk is cooling, peel off the pith of all chickoos, along with a real thick layer underneath.
Take the pulp out by removing all seeds from the chickoo.
Chop the chickoo pulp in small pieces as big pieces might not blend very well.
Put both milk and chickoo pieces in the blender, if you choose to add honey then put that too and blend on high speed for 30 seconds to get a smooth paste-like consistency.
Serve the milkshake immediately.
Recipe Tips
We are sure you would find this a very easy Chickoo milkshake recipe to make. Babies and toddlers would love it as chickoo has a rich sweet taste which kids would surely relish.
Do not serve the milk cold from the fridge, as cold does not go well with most kids.
Wash chickoos thoroughly and make sure no dust is left on it and wipe it nicely.
Make sure you have removed all the seeds from the chickoos, as the seed would impart a bitter taste to the milkshake.
When taking out skin, take a whole lot of upper layer out since that part is difficult to blend into a smooth texture and also hinders digestion in kids.
If you want to keep it dairy-free for your child for lactose or casein intolerance then you can replace milk with coconut milk, almond milk or hemp milk. These different kinds of milk will bring about their unique goodness to the recipe.
If the baby is still nursing then you could use breast milk to make it even healthier for your child.
Honey is not needed as chickoo has a sweet taste, so in case you feel it is too sweet, you can omit it. Honey should be used for kids above 18 months.
You can replace honey with jaggery to give a twist to the taste. Jaggery should be used for kids above 12 months.
It is important to clean and sterilize all the utensils used for blending as well as feeding the kid.
Nutrition Information (per bowl)
| | |
| --- | --- |
| Nutrient | Value |
| Energy | 213 cal |
| Protein | 5 grams |
| Carbohydrates | 26 grams |
| Fat | 7.6 grams |
| Sodium | 24.8 grams |
| Cholesterol | 16 mg |
Health Benefits
This home-made Chickoo milkshake baby food recipe makes sure that your little ones should relish taste as well as nutrition, packed in one meal. A glass of this milkshake has all the energy that these tiny tots need for their action-packed day. Let us look at some of the major benefits of this dish:
Chickoo is high in vitamin C, A and a good source of essential minerals like iron, copper, and potassium which is required for a developing child.
It has a lot of fiber which is good for digestion and helps in relieving constipation.
It will keep your child's immune system in great shape and avoid catching a cold and cough.
Buying Guide
Always consider buying organic food as your precious one needs the best and no toxins.
Buy fully ripened chickoos that have smooth skin and are round or oval with no bruises.
Chickoo should be firm to touch but should give in when pressed lightly.
We hope the step by step procedure of making this milkshake is easy for you to follow and brings a big smile on your child's face.