Date and Tomato Chutney Recipe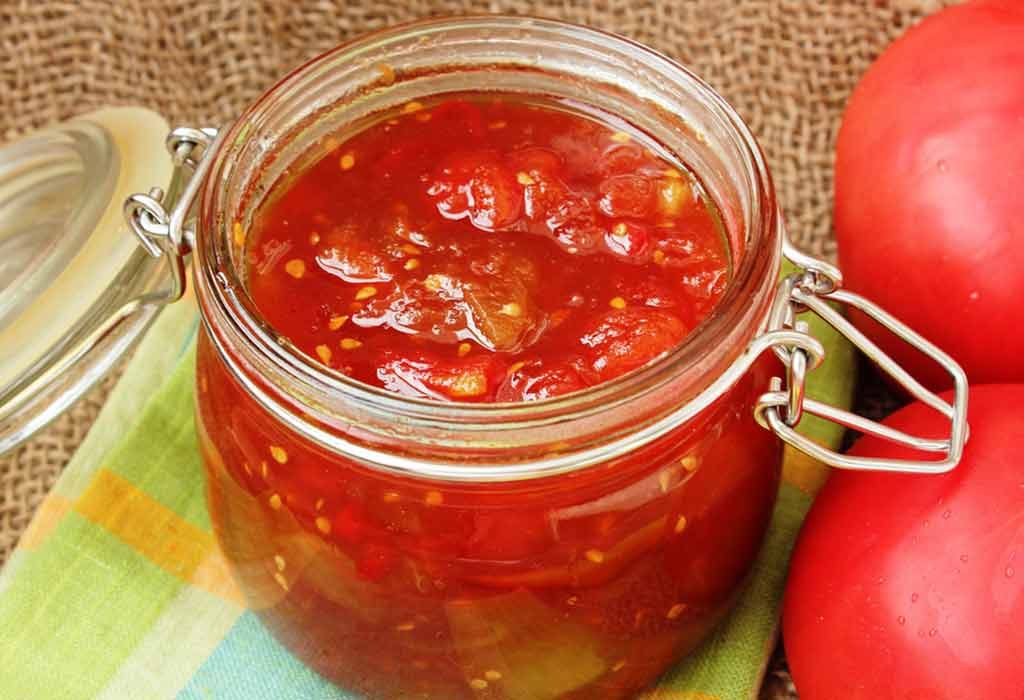 In this Article
Traditionally tomato date chutney will be served after a meal as a condiment or can be relished after a soul-satisfying hearty meal. An absolute winner in both preparation and taste, there are many variations to this dish as each household makes it in their unique way. Usually, this tomato chutney is eaten with a side dish, chapati, or fried papad. Children love its sweet flavour with a hint of sourness that makes it one of their favourite treats. Find out how to make date and tomato chutney most simply and brag about your incredible cooking skills.
Cooking Time
| | |
| --- | --- |
| Type | Time (hh:mm:ss) |
| Preparation Time | 00:10:00 |
| Cook Time | 00:30:00 |
| Total Time | 00:40:00 |
Cooking Method
Gas
Type of Meal
Vegetarian
Suitable For
Babies older than 12 month of age
Meal Schedule
Breakfast, Lunch or dinner
Recipe Type
Main Dish
Ingredients
| | |
| --- | --- |
| Type | Quantity |
| Mustard Oil | 2 tsp |
| Mustard Seeds | 1 Tsp |
| Red dry chili | 2 |
| Water | 1 Cup |
| Salt | As Per Taste |
| Raisins | 1 Tsp |
| Dates, Deseeded and cut into half | 10-12 |
| Cumin Seeds | 1 Tbsp. |
Instructions
The step by step directions given here will assist you in preparing the yummiest date and tomato chutney you've ever tasted.
Wash tomatoes and chop them into small pieces.
Dry roast a spoonful of cumin seeds and grind it in a blender. Keep it aside.
Heat oil in a heavy-bottomed pan. Add red dried chili and mustard seeds.
Once it splutters, throw in the tomatoes and stir.
Add salt and give it a good mix. Cover the pan and wait till the tomatoes turn mushy and soft.
Sprinkle sugar and cook for another 5 minutes.
Finally add the dates, raisins, and water.
Cook the chutney till it boils and thickens. Check for the desired consistency and add more water.
Add some roasted cumin powder on top and serve at room temperature or chill it in the refrigerator.
Recipe Tips
This simple date and tomato chutney recipe can be made with jaggery, brown sugar or molasses instead of sugar.
Add finely grated ginger along with mustard seeds to add an extra flavor.
Add cranberry along with dates for increasing the nutritional value of this dish.
You can make this chutney in Bengali style by using panch phoron (a combination of 5 spices)
This homemade date and tomato chutney baby food recipe can be made pulpier by adding mango leather as an ingredient.
It is advisable to wash the vessels thoroughly that are used for cooking your baby's meal.
Nutrition Information (Per 1 Serving)
| | |
| --- | --- |
| Type | Value |
| Carbohydrates | 10gram |
| Calories | 82 |
| Protein | 1gram |
| Sodium | 197mg |
| Fiber | 1gram |
| Fat | 5gram |
| Potassium | 150mg |
| Calcium | 6mg |
| Vitamin C | 6mg |
| Sugar | 8gram |
| Iron | 1mg |
| Phosphorous | 16mg |
| Magnesium | 8mg |
| Zinc | 1mg |
| Vitamin A | 39IU |
| Vitamin B1 | 1mg |
| Vitamin B2 | 1mg |
| Vitamin B3 | 1mg |
Health Benefits
Discover the health benefits of this date and tomato chutney:
Mustard oil contains powerful antibacterial properties that kill off harmful bacteria as well as anti-fungal properties that kills fungus. Historically it soothes pains and body aches. Mustard oil decreases inflammation from chest conditions for babies.
Tomatoes have a low risk of causing any allergy in babies and hence can be introduced as early as eight to ten months. The presence of Vitamin A in tomatoes helps in good eyesight. The antioxidants in tomato help to strengthen the immune system and prevents frequent illness in children. Tomatoes also have Vitamin K that helps to build healthy bones in an infant.
Dates are a super-food with high nutritional benefits. The dietary fiber in dates relieves constipation while potassium helps in brain growth and development. Its high iron content improves hemoglobin levels in the blood. Other minerals like sodium, calcium, magnesium, and zinc boost the immunity levels and help a baby to recover from fever or smallpox.
Sugar and salt should be avoided for a baby less than one year of age.
Buying Guide
Buying good quality food products ensures value for money and the good health of your children and family. Hence this buying guide can be followed while you step out for shopping the ingredients needed to make this dish:
Buy soft meaty dates that shouldn't feel hard. Branded dates produced in the Arab countries are best among the date varieties.
Spices need to have a strong aroma and can be bought in small quantities to maintain freshness.
It is always better to choose tomatoes that are grown organically.
Look for tomatoes with smooth skins that do not have cracks or blemish on them.
While buying oil, look for sealed packs that have an expiry date mentioned on the label.
Homemade date and tomato chutney for babies is a hot-spicy palate cleanser that can be stored in the refrigerator for about a week. A healthy substitute for packaged products, this classic dessert will surely tingle your child's taste buds and become their favourite dish.